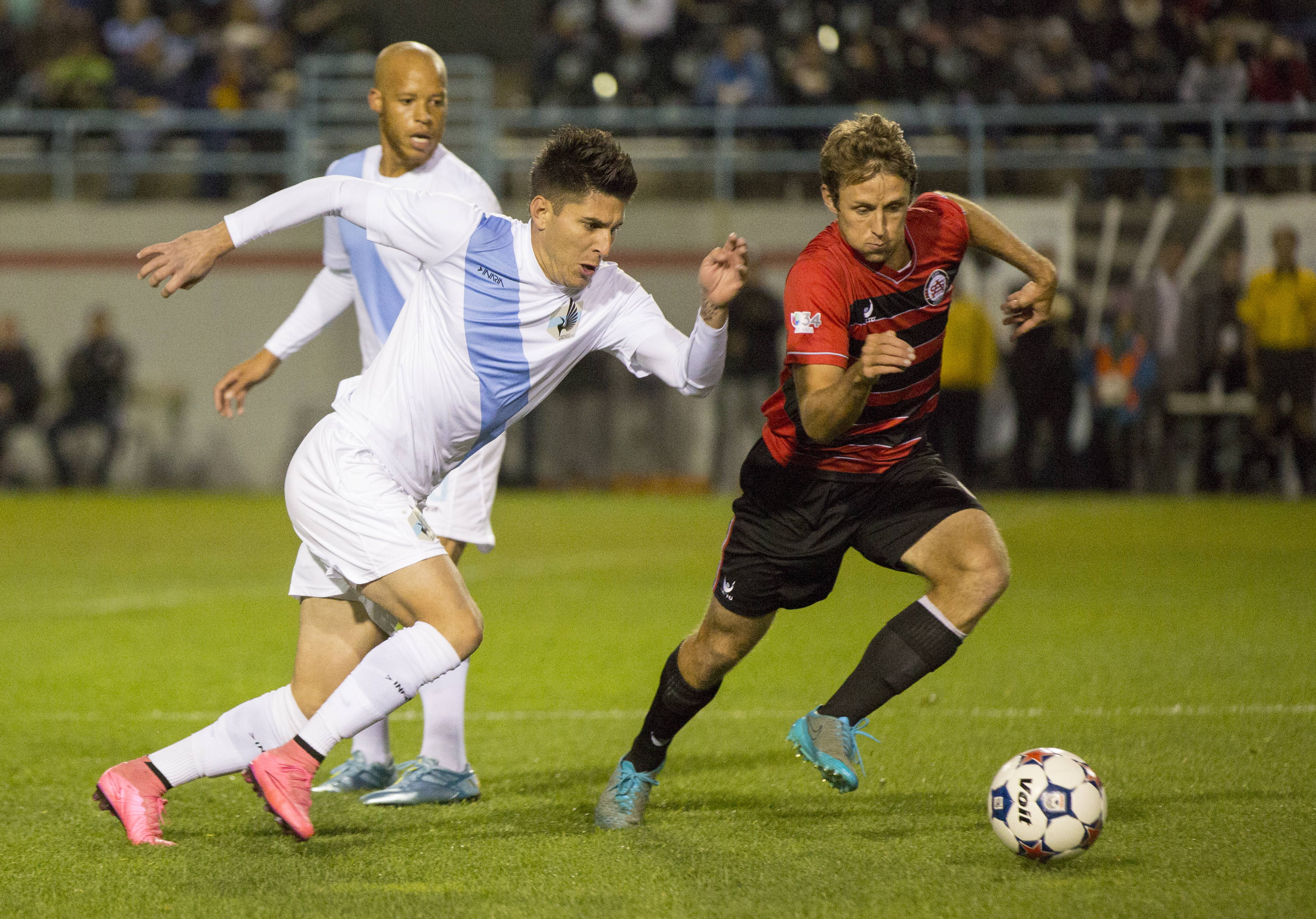 Recap: Minnesota United easily dispatches Atlanta
Minnesota United 1 – 0 Atlanta Silverbacks
Location: NSC Stadium, Blaine, MN
Attendance: 9212
Goals: 
9′-PK, Christian Ramirez (MNU)
Cautions:
9′-Rauwshan McKenzie
33′-Simon Mensing
Substitutions: 
MNU
77′- Alejandro Vela (left winger) for Kalif Alhassan (left winger)
83′-Pablo Campos (forward) for Christian Ramirez (forward)
87′-Juliano Vicentini (defensive central midfielder) for J.C. Banks (attacking central midfielder)
ATL
46′-Matt Horth (forward) for Pedro Mendes (forward)
62′-Kyle Porter (left midfielder) for Michal Mravec (central midfielder)
71′-Paulo Mendes (right midfielder) Paul Black (right wingback)
Highlights:
[youtube http://www.youtube.com/watch?v=UAevV4AG5_g&w=560&h=315]
Major Themes: 
A soft penalty drawn by Minnesota's Kalif Alhassan in the ninth minute set up forward Christian Ramirez to score the lone goal of the match (his twelfth of the season and a gift for his mother on her birthday). Although Minnesota didn't score again, the team didn't take their foot off the gas creating chances, pressuring Atlanta while still keeping tight on their own end. A wonderful reactionary save in the twelfth minute by goalkeeper Sammy Ndjock denied Atlanta centerback Rauwshan McKenzie an equalizing header. As the match progressed, Minnesota dominated possession and were clearly the superior technical side. The win was thoroughly professional and stark contrast with the poor play Minnesota showed on the road at Indy last week. Going into the final game of the regular season against bottom dwellers San Antonio, Minnesota have the opportunity to round itself into form going into the playoffs.
In Form:
Winger Kalif Alhassan has solidified his place on the left of Minnesota's midfield. Technically gifted, fast, and deadball master, Alhassan has rounded into form at just the right time arguably creating the strongest left side in the league.
Atlanta goalkeeper Steward Ceus has like his team had an up-and-down season, but this night against Minnesota only a penalty kick could beat him.
Liabilities:
 Finished is the only slight concern for Minnesota. There were more than a few chances that simply weren't put away against Atlanta. A team like the New York Cosmos, who Minnesota will most likely face in the first round of the playoffs, will always make a team pay for not converting chances when they have them. Given that the Ottawa Fury hardly ever allow more than a goal in a match, Minnesota have to be more clinical in front of goal.
Lessons Learned:
Yellow card accumulation kept Minnesota captain Aaron Pitchkolan from playing. Last week, yellow card accumulation saw the other half of the centerback pairing, Tiago Calvano, sit out. Each time the slot was taken up by Brent Kallman, who filled in more than adequately. Kallman is making a case for himself to be the next in line centerback should the current experienced duo (Pitchkolan, more of a defensive midfielder than a true centerback, is 33 and Calvano 34) falter for whatever reason. As Minnesota goes into the playoffs, it vital that a player like Kallman be in-form and ready to step in a moment's notice to keep up the level of play and intensity.