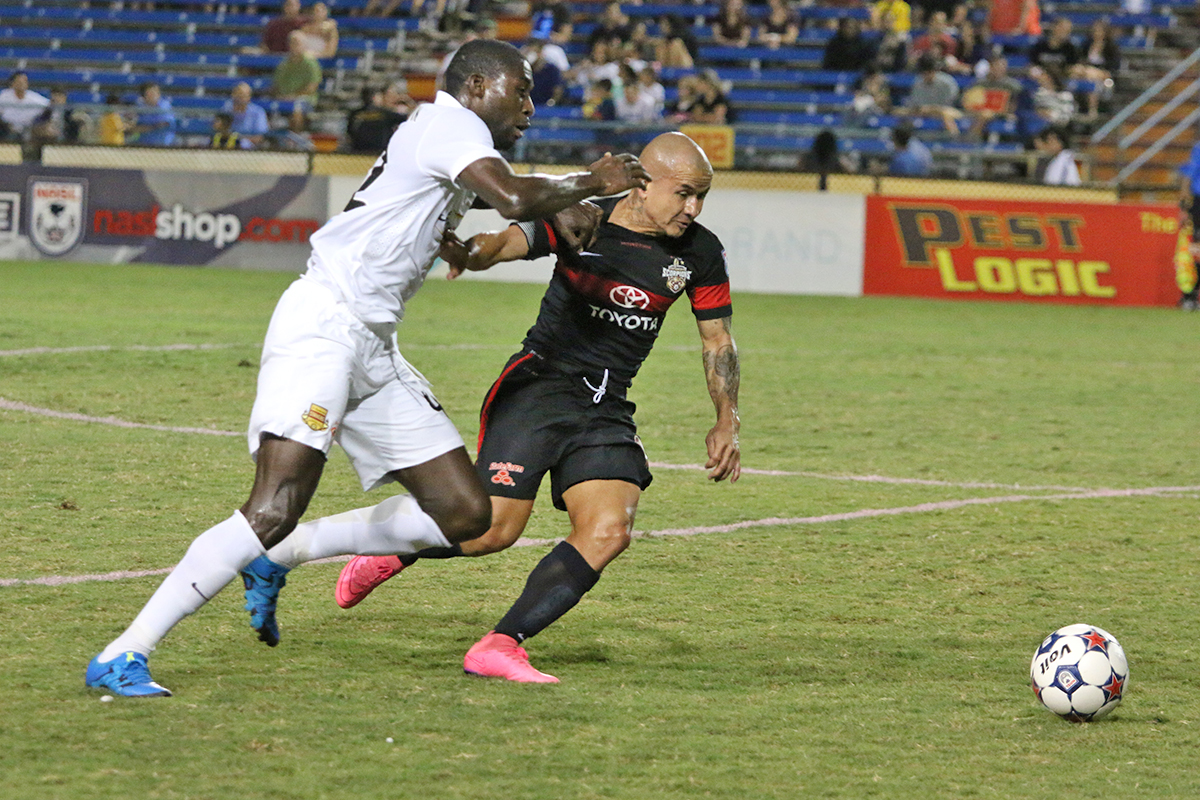 Recap: Strikers squander opportunity to break away
Ft. Lauderdale Strikers 0 – 0 San Antonio Scorpions
Location: Lockhart Stadium, Ft. Lauderdale Strikers
Attendance: 2632
Cautions:
78′-Marvin Chavez (SAS)
Substitutions: 
FTL
61′-Gabriel (right midfielder) for Shawn Chin (right midfielder)
69′-Jose Angulo (forward) for James Marcelin (central midfield)
83′-Bruno Nunes (forward) for Stefano (forward)
SAS
45′-Zourab Tsiskaridze (centerback) for Stephen DeRoux (leftback)
61′-Omar Cummings (forward) for Rafael Castillo (central midfielder)
66′-Giuseppe Gentile (forward) for Kris Tyrpak (forward)
Highlights:
[youtube http://www.youtube.com/watch?v=JncGS0gu0rg&w=560&h=315]
Major Themes: 
Going into the match, Ft. Lauderdale Strikers could have eliminated five teams from the playoffs and gone a good way to secure its spot in the postseason with a win. Unfortunately, the Strikers squandered possession and failed to be clinical in front of goal. A goalless draw with the worst team in the league this season is the epitome of dropping points.
In Form:
When Hendry Thomas signed with Ft. Lauderdale Strikers the central midfielder brought stability to the team taking the weight off the shoulders of James Marcelin. If not Marcelin, then it is Thomas who is springing the attack, winning balls, and stifling opponents.
San Antonio winger Billy Forbes is the best player on a mediocre-to-poor team. All of the Scorpions' threat came from Forbes. The young man has had another excellent season and will (hopefully) close out the 2015 strong.
Daniel Fernandes was stellar in goal for San Antonio. His saves versus Marlon Freitas and Stefano are what earned San Antonio its point on the road.
Liabilities:
The San Antonio Scorpions have given up on Omar Cummings. Once a serious contender for the NASL Golden Boot, Cummings is now a bench option stuck at ten goals for the last two and half months.
Lessons Learned:
Urgency is lacking with the Ft. Lauderdale Strikers. I fully believe it will make the playoffs, but the team lacks consistency or that killer instinct. Without these qualities, it's difficult to see them go beyond the first round in of the playoffs. Of course, that assumes that their opposition doesn't implode. San Antonio remained calm and collected, refuse to give into sloppy tackling, and bid its time. Keeping collected neuters the Strikers.