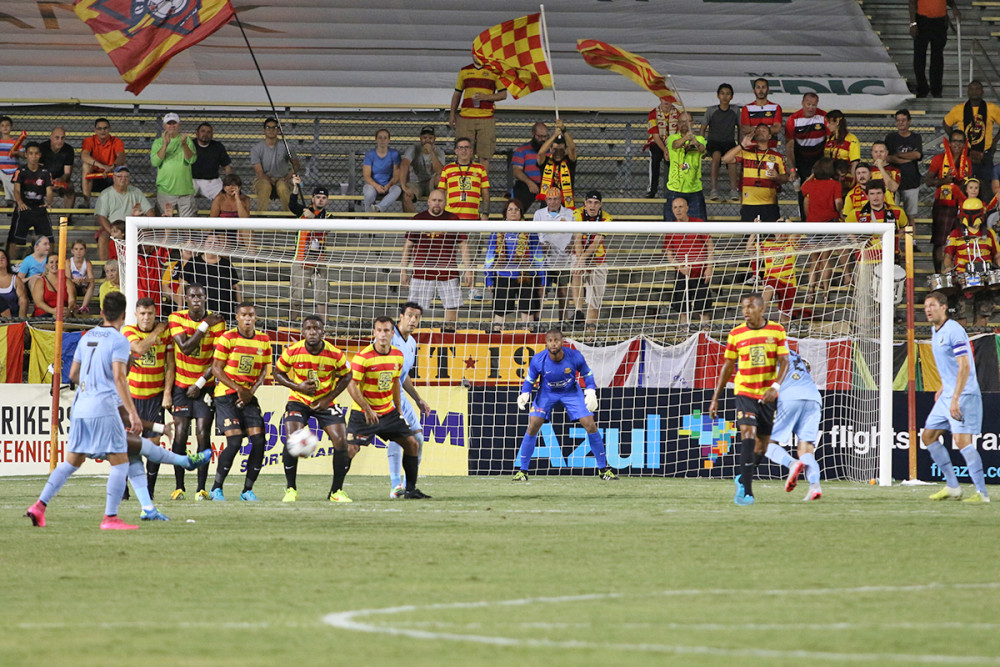 Preview: Strikers travel to Minnesota with a win needed
Minnesota United – Fort Lauderdale Strikers
Major Themes:
– The stakes are high for both teams. With a win or a draw, Minnesota will secure a play in the 2015 NASL Championship. 5 points off the top spot in the Fall, the Loons' chances of securing a home semi-final depend on Ottawa dropping points. Considering the Fury's recent form and with only 4 games to go, the odds of that happening are low. Still, if an opportunity does arise, the Loons will need maximum points from these last 4 games to capitalize.
– The stakes in this game are much higher for Fort Lauderdale. With a game in hand the Strikers sit tied for 4th place with FC Edmonton and the Rowdies. Losing to the Loons means giving up the game in hand and throwing in their lot with goal difference (which is favorable). Their final 4 games (after facing the Loons) feature the 4 worst teams in the Combined Table and 2 home games. That's arguably a easier run-in than the Eddies and Tampa face but nobody in Fort Lauderdale will want their playoff chances to come down to that.
In the last game:
Keep An Eye On:
– The Strikers' scoring pattern – In both their previous matchups this year, Fort Lauderdale have scored within the first 10 minutes and then again in the final 10. The difference has been how well Minnesota has played between minutes 10 – 80.
– Stefano Pinho (FTL) vs. Christian Ramirez (MNU) – Presumptive 2015 Golden Boot vs. 2014 Golden Boot. Pinho's hat trick this past weekend meant he's now in a commanding lead of the goalscorer list this year. Sitting 4 goals behind, Ramirez will hope lady luck smiles his way this weekend allowing him to catch up.
– PC (FTL) – The Brazilian dynamo was suspended the last time these two teams met and Minnesota had the run of the midfield. That will not be the case today. Expect much more attacking prowess from the Strikers and for more of Minnesota's attacks to be broken down in the middle third.
– Greg Jordan (MNU) – Minnesota's enforcer will be a key player against a team that depends on fast flowing attacking play. He was extraordinarily successful in breaking down the Rowdies in midfield last weekend and with Juliano Vincentini still a question mark, Jordan might get the nod as a holding mid.
– Tempers – The Championship semi-final last year was a crushing defeat for Minnesota and then the Strikers ruined the Miguel Ibarra farewell party in Spring 2015 with a late win. Then United went over to Lockhart and thrashed Fort Lauderdale at home. I'm not saying it's a rivalry but the players might go into this one with a bit of a chip on their shoulders.
– Lionel Brown (FTL) – With Josh Ford's return to Orlando City, Brown now finds himself once again in the starting spot. Odd considering that David Meves began the year as #1 with Joe Nasco (now injured) as #2. Brown will be extra motivated and his propensity to seem a little raw might interfere.
You Won't Notice:
– James Marcelin (FTL) – The midfielder is off on international duty with Haiti.
You Probably Won't See:
– A low scoring game – These are two of the three top scoring teams in the league and both have inconsistent defensive strength.