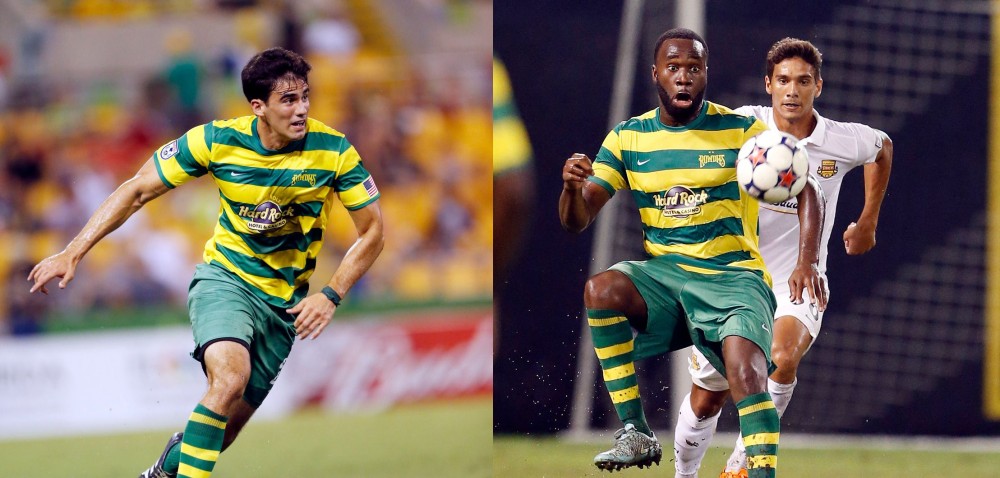 Rowdies let go of Gale Agbossoumonde and Omar Salgado
With the NASL's October roster freeze looming this week, the Tampa Bay Rowdies made two major roster changes. Defender Gale Agbossoumonde was released from his contract and forward Omar Salgado's loan from Liga MX's UANL Tigres was terminated.
It's a mystery as to why Agbossoumonde was released from the Rowdies, but it would be surprising if the move was performance related.  Initially the 23 year old former USYNT player was used as depth for an injured Stefan Antonijevic, but Gale turned out to be solid in defense; He had a near dominating ability to block shots and frustrate opposing offenses. With his large size and height, he became a formidable defender pairing particularly well with Tamika Mkindawire. His chances for signing with another team for the remainder of 2015 are unknown but he would be a strong addition if picked up.
Omar Salgado's tenure with the Rowdies was brief, but in his one opportunity before injury, impressive.  He was only able to play a few minutes in relief up top, but was able to launch several shots and a few breakaways that showed promise.  Unfortunately, a severe and lingering hamstring injury, compounded by the ouster of his benefactor and coach Thomas Rongen, meant that Salgado never crawled up out of the depth chart. How much the former #1 MLS SuperDraft pick has left has been hard to judge thanks to this and with his being 4th on the depth chart with Tigres in Liga MX. However you can make a safe bet that wherever Rongen lands, Salgado will at least get a trial.