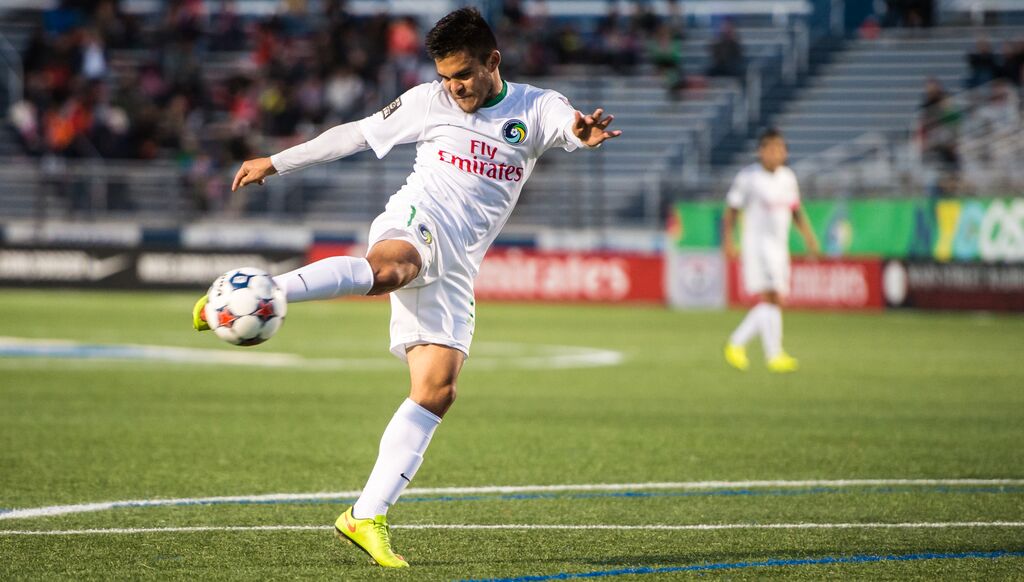 Recap: Silverbacks save selves, then Cosmos in road draw
New York Cosmos 1 – 1 Atlanta Silverbacks
Highlights:
[youtube http://www.youtube.com/watch?v=_Z3-3MPztJE&w=560&h=315]
Goals:
38′ – ATL – Michal Mravec (Assist by Junior Burgos)
70′ – ATL – Simon Mensing (Own Goal)
Major Themes:
The Cosmos were the better team for most of the evening with every stat in their favor, notably shots (15 to 3) and shots on goal (7 to 1). They kept Atlanta contained for nearly the entire first half and a solid portion of the second in their own area. Despite all that, they remained unable to score and every chance and Raul left the playing field minutes into the second half with an ankle injury.
The Cosmos are now winless in two games at home and have not been able to muster more than a goal per game at home across their last three home matches. Perhaps more startling for Cosmos fans, they have logged only one win in their last six games and are winless in four straight games. This is the second time this has happened to the New York squad with a five-game streak earlier this season that spanned across spring and fall. They have scored four goals across their last six games; one came on a penalty kick another on an own goal in this match. New York is in a serious slump and it's unclear how they will shake it.
Atlanta did everything right to force result against a number of odds. With head coach Gary Smith suspended after last week's game and assistant coach Steve Guppy away with the Republic of Ireland, Director of Scouting and Player Recruitment Ricky Clarke filled the task of directing the side.  Smith was with them in spirit, and more, as Clarke wore an ear piece connecting him with the temporarily exiled head coach. Rounding out the bench? A trainer and four subs. Despite that, Atlanta capitalized on a Junior Burgos free kick into the area found by an unmarked Michal Mravec who headed it in. The defending was excellent for most of the night, staying compact and frustrating the Cosmos. The only blemish on their evening was when central defender Simon Mensing, under minimal pressure, missed an attempted clearance of a corner kick and had the ball bounce off his back leg and into the net for an equalizer.
Three shots, one shot on goal. That was all it took for the Silverbacks to find the net. Add that to a solid outing by Steward Ceus who stopped seven Cosmos shots on goal. Subtract from that one poor attempt at clearance by Simon Mensing and it is undone. Fantastic outing by the Silverbacks who many had written off for this match.
In Form:
Silverbacks defense – Mensing's gaffe aside, strong defending by the Silverbacks continuously frustrated the Cosmos throughout the evening and played a huge part in keeping them off the score sheet. In fact, the play before the Mensing own goal involved him deflecting a Flores shot on goal out of play. But, they were only half of the equation.
Steward Ceus – Ceus played a big part in stifling the Cosmos for the second time this season and technically has allowed no goals scored by the Cosmos in the two games played in 2015.
Andres Flores – Another impressive outing for the Cosmos midfielder. Couldn't find the net, but came very close twice, set up Leo Fernandes on an empty net, and looked dangerous all evening.
Liabilities:
Cosmos Final Touch – The numbers speak for themselves. Four goals in six games. One of them a penalty and another an own goal. Plenty of chances but a severe lack of finishing, including a stoppage time chance that involved Gaston Cellerino, an empty net, and a backheel over the crossbar.
You Won't See on the Highlights:
Ricky Clarke and his earpiece tug-of-war. While connected via a headset to coach Gary Smith, the referee addressed him early on and told him to remove it. While he complied, moments later he put it back on and that's where it stayed until the end of the match.
Jonathon Okafors running to the sidelines for assistance from the trainer in getting his contact lens back in.
At halftime, an overzealous t-shirt cannon wielder fired a shot that landed on the rooftop by the camera crews. One lucky cameraman probably went home with a souvenir that evening.