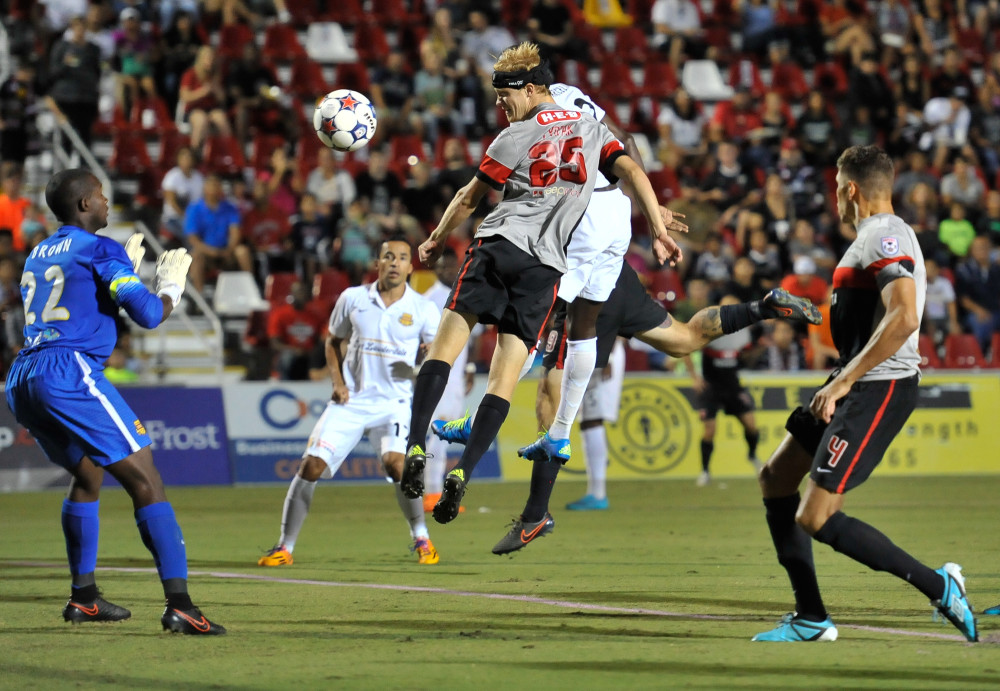 Recap: Scorpions put up a fight but Strikers earn the win
San Antonio Scorpions 2 – 4 Fort Lauderdale Strikers
Goals:
10′ – Stefano Pinho (FTL)
15′ – Marlon Freitas (FTL)
40′ – Stefano Pinho (FTL)
56′ – Kris Tyrpak (SAS)
79′ – Stephen DeRoux (SAS)
86′ – Stefano Pinho (FTL)
Major Themes
– The Strikers controlled the first half and exploited San Antonio's defensive weaknesses to score 3 goals going into half. Pinho in particular repeatedly found himself in miles of space. Rafa Castillo had a chance to make it 1-2 when Lionel Brown was too harsh going after the ball and earned a penalty. Unfortunately just as Julius James (in the commentary box) said, "Not a lot of Scorpions players there [i.e. near the box] because of the confidence in Rafa Castillo…", the Colombian knocked the penalty wide.
– A lot of teams would throw in the towel when down 3-0 but San Antonio came into the second half a team possessed. An unbelievable goal from Kris Tyrpak only increased the pressure on Fort Lauderdale who remained on the back foot right up until the Scorpions scored again to make it 2-3. That seemed to wake the Strikers up who then began to steadily win back possession and make more attacking runs. The insurance goal to make it 2-4 seemed a mere formality when it went in.
In Form:
– Stefano Pinho (FTL) – The man of the hour. After a disappointing run of games, Pinho exploded back onto the center stage in this game. He opened the scoring with a clever run off a long Freitas pass and ran circles around the San Antonio defense. His latter two efforts were the result of short passes in the box from Shawn Chin and PC who exploited the Scorpions defense to allow Pinho to score from short range.
– Kris Tyrpak (SAS) – The 23rd year old central Texas native was making a name for himself with USL's Austin Aztex in 2015 after ending last season with Chivas USA. The Scorpions signed him on Thursday and started him Saturday (signature headband and all) thanks to injuries to Cesar Elizondo and Billy Forbes. Tyrpak heated up as the match went on and in the 56th minute put in a world class lob to score what will likely be the NASL Goal of the Week.
– PC (FTL) – Sidelined with a suspension against Minnesota last weekend, PC burst back onto the scene with two assists. He was quieter in the second half but by then the damage had already been done.
Liabilities:
– Adrian Cann, Nana Attakora and Milton Palacios (SAS) – With the notable exception of 'Mr. Scorpion' Stephen DeRoux (see below), the San Antonio back line looked dazed and confused. They bumbled around the box and rolled out a red carpet for Pinho and Freitas. Ball Watching and awful positioning was the most common complaint which left the Strikers (pun intended) with far too much space in the box to receive crosses. The first goal included an almost comical moment where Pinho (chasing a long overhead pass) slowed down to let Attakora and Palacios (who were on diagonal intercepting runs) bump into each other and then went through after they'd knocked each other out of the way.
– Omar Cummings (SAS) – Where oh where has Omar gone. Oh where oh where can he be? I only remember one moment where he made an impact and even there a short run late in the game led to the attack fizzling out in the box. On the other hand, Eric Hassli was all over the pitch looking hungry for the ball and showing the agility of a player half his size. Once Cesar Elizando and Billy Forbes are fit, it's time for San Antonio to drop the former league leading scorer. Cummings just isn't getting it done any more.
You Won't See On The Highlights
– Just how much Julius James interrupted the other two commentators – I appreciated Julius' footballing insights, particularly pertaining to defense. He was able to properly able to diagnose San Antonio's weak points and break them down for the viewers. Unfortunately that was somewhat overshadowed by how he wasn't able to effectively play off his partners in the booth. He frequently spoke over them or brought up topics that interrupted the flow of the conversation. There were also issues with his non-verbal exclamations which while appropriate when watching a game at home, were too excessive in the booth. Still, he's a player not a commentator so I can cut him a bit of slack; I'd even say his speaking style is pretty good when he's contributing at the appropriate time. He just needs more experience and training on how to maintain flow while on a commentary team.
– Stephen DeRoux's Records – With this match Stephen DeRoux is now the Scorpions leader in both appearances and minutes played.
Lessons Learned
– The Strikers ownership might not care if they miss the playoffs – When asked at half-time about the pressure on the Strikers, head coach Gunter Kronsteiner responded, "I was hired back and what the owners from the club told me is, "the first season isn't important for us. We don't need to make the playoffs." Second season…This is when I should bring in a little bit <unintelligible> knowledge about certain players in the league maybe. And then we will attack for making the playoffs. But of course when it's possible right in the first season I have nothing against it."

– San Antonio still have the pieces – I feel like I've banged on this drum all season. The Scorpions are individually talented (particularly in attack) but their teamwork is lacking. If their defense was anything short of shambolic, they might be challenging for the playoffs.