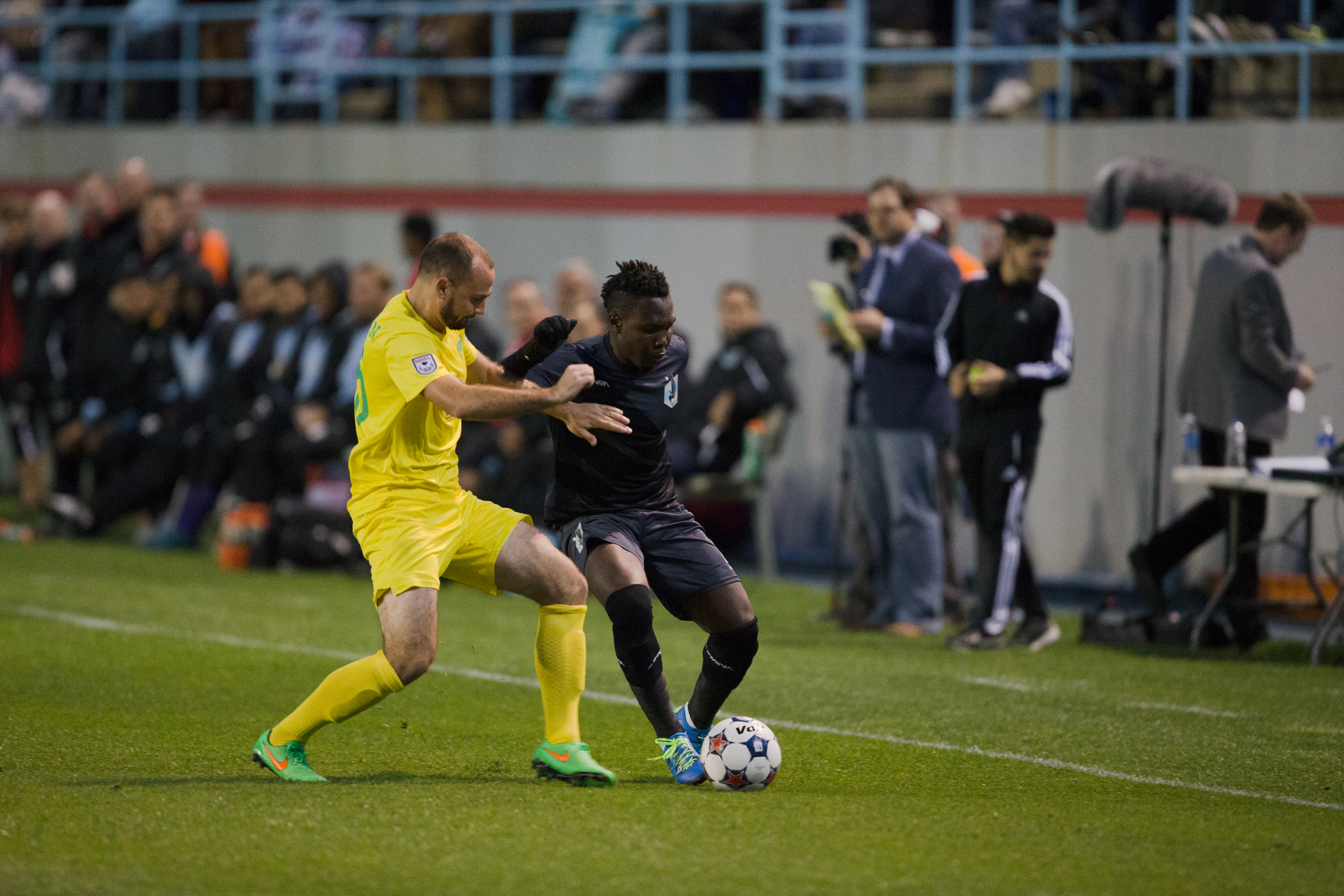 Recap: 10-man Rowdies fall to United on the road
Minnesota United FC 1 – 0 Tampa Bay Rowdies
Goals:
44' – Christian Ramirez (MNU)
Major Themes:
In what could have been a major opportunity to stake their claim for the fourth and final playoff spot, with Edmonton ultimately falling to Ottawa, the Rowdies failed to rise to the occasion. Minnesota, meanwhile, kept in the hunt for regular season silverware and briefly went to the top of the Fall and Combined tables before Ottawa earned their three points the following afternoon.
The match pivoted after leftback Ben Sweat was sent packing with a second yellow in the 41st minute. Minnesota had the best of the chances before the ejection, but failed to make that critical final pass to put the game away. United scored shortly after the red card and was able to lock up possession in the second half to keep the game out of reach.
Highlights:
In Form:
Christian Ramirez (MNU) – The game's lone scorer makes for an easy MOTM choice, but Ramirez always provides value beyond his goals. He is the team's assist leader (6) as well as goals leader (11), and consistently makes smart plays such as a first half moment in which he could have charged headlong into open space but instead made a clever layoff pass to pace the build up and gather more support going forward. Very physically talented, but a good soccer mind as well.
Ben Sweat (TBR) – Ok, ok, calm down. Sweat's two yellows in ten minutes obviously closed the door for the Rowdies on Saturday. But while on the field, the fullback did a terrific job at the unenviable task of reigning in the talented midfielder Daniel Mendes as well as always-streaking Kevin Venegas. Sweat cut out several attacking opportunities with physical play and well-executed tackles. Though his first foul was an easy yellow, his second card was hardly a criminal offense except that it occurred while the ball carrier was moving on goal. Tampa Bay will miss having this young defender patrolling the flank this week as he serves his suspension.
Liabilities:
Minnesota defending speedy wingers. United is feared more for its vaunted attack than for its work on defense. Although the team's fall season has brought a major improvement in defending and it is less likely to give up devastating late goals, there is still a specific weakness for Minnesota: quick wide attackers. The team's predilection for sending its fullbacks forward into the attack leaves acres of space behind them in the meantime. This is especially tough against a team like Carolina with a player like Tiyi Shipalane, San Antonio with a winger like Billy Forbes, or Saturday against Tampa Bay's Darnell King. King got behind leftback Justin Davis several times to create some havoc. The danger was alleviated as the Rowdies went down to ten men, but given more time one can see King taking advantage of the space and needing only one good cross to make the difference.
Tampa Bay executing one-touch passing. Even while still playing 11v11, the biggest difference on the field between the two teams was the speed of passing. Minnesota appears to be thinking two steps ahead and passing on one or two touches. The Rowdies needed to bring the ball in and control it before considering what to do with it next. Missing was that mind reading ability that develops when good players consistently play along the same people in a stable formation. Tampa Bay's 4-5-1 formation, one it is unused to playing with, probably didn't help things.
Tampa Bay crossing. Cross after cross went nowhere. Whether there weren't any Rowdies in position to receive the cross or whether the cross itself was lobbed too high or off target, Tampa Bay squandered its few opportunities (usually coming on their right side) through poor execution in the last moment.
You Won't See On The Highlights:
Juliano Vicentini went down with an injury early and was subbed off in the 20th minute. Vicentini has been a strong catalyst in building from the back by playing at the bottom of the midfield, and it will be a significant blow if he misses a lot of time.
The Rowdies did a good job of keeping things at one goal. They became compact in the center of the field and became a wall that couldn't be scaled. Minnesota, for its part, was confounding in its refusal to spend more time pushing out wide and stretching the Rowdies defense. United stuck to the middle of the field, admittedly a strong suit of theirs, and could have paid for it if Tampa Bay could have struck on the counter. Luckily for them, that was never really a danger.
Lessons Learned:
Minnesota doesn't know how to play against ten men. If that hadn't been clear when the team played most of a game up a man only to give up the draw against Edmonton, it is only clearer with this slim win. United didn't play poorly necessarily, but it's problem nailing coffins shut continues to be an issue. Hard to complain too hard when you've won 7 out of 10 games, though.
Tampa Bay is in the playoff hunt in numbers only. FC Edmonton is in the better form (despite an inevitable Ottawa loss this weekend) and Ft. Lauderdale is the better team. The Rowdies are too inconsistent to make that stretch run and pull off the miracle this year.