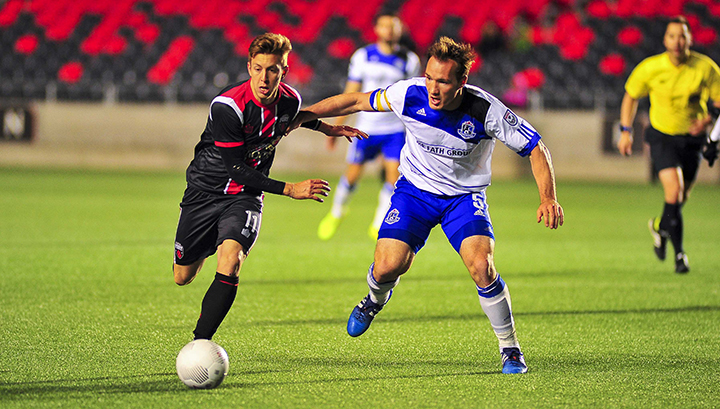 Preview: Ottawa host Edmonton in Canadian Showdown
Ottawa Fury FC vs. FC Edmonton
Major Themes:
Both Canadian clubs are in the hunt for one of the three remaining NASL Championship positions alongside the New York Cosmos.
FC Edmonton dumped Ottawa Fury out of the Voyageurs Cup earlier this year, and since those results Fury have turned things around and pushed themselves to the top of the combined standings.
Edmonton have recently reintroduced themselves to the playoff race with a big win over the New York Cosmos, just days after Ottawa also beat the Spring Season champions.
In the last game:
Keep An Eye On:
For Ottawa Fury, Tom Heinemann and Paulo Jr have both been in fantastic for recently, including several goals between them in the past few weeks and an NASL Player Of The Week away for Heinemann.
Lance Laing and Tomi Ameobi have 15 goals between them and are likely FC Edmonton's best chance at breaking down a stubborn Ottawa Fury defense.
Colin Miller and Marc Dos Santos.   Both coaches know the league well and have built strong teams with smaller budgets.   Keep and eye on their tactical use of subs as well as their strong passion from the touchline.
You won't notice:
Mauro Eaustaquio is still missing from the Ottawa Fury line up as he is off on international duty, playing for Canada in the Olympic Qualifying matches.
You Probably Wont See:
You likely wont see a lackluster performance or dominating play from either team.   The match will be fast, physical and very tight tactically.  Both clubs will be waiting for the other to make mistakes, and although a low scoreline is usually the case between these two clubs,  the matches themselves are usually very heated and enjoyable to watch.