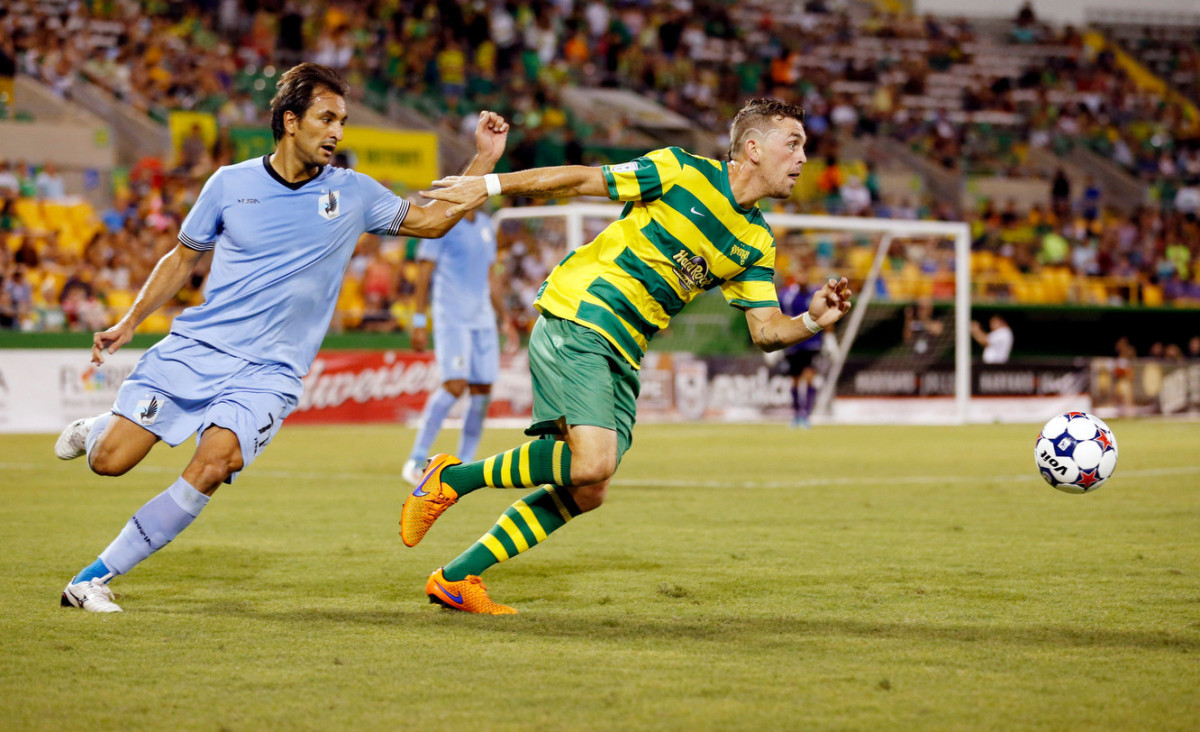 Preview: Rowdies Travel Northward to Minnesota
Location: NSC Stadium "Nessie", Blaine, MN
Weather Predictions: High of 61 Low of 40, 0% Chance of Rain
Major Themes:
– Rowdies must figure out who they are, put together a consistent game, and give a consistent and strong performance
– Loons gotta loon. Seriously. This team is firing on all cylinders and is a fantastic team to watch. Don't change a thing.
– Both the Rowdies and the Loons need this game, but for different reasons – Minnesota to try and take the Fall season, and Tampa Bay, to stay in playoff contention for the final 4th spot.
In the last game:
Keep An Eye On:
– You know him. You love him. It's Freddy Adu. After a strong performance against a below average squad in Indy 11, the former #1 pick will have to step his game up when facing a very strong midfield in Minnesota. To his advantage, the Loons defense is old and crotchety, and are no match for Adu's athleticism and skill, so expect Manny Lagos to come up with a bizarre formation that will pull some midfielders back to help.
– GK Sammy Rock N'Djock – The man is on another level as far as skill is concerned, and will easily make the transition to MLS now that he's gotten his feet under him this season. He's the kind of next tier keeper that teams dream about, and has been a fantastic pickup for the team.
– Midfielder Giorgi Hristov – After a dismal outing last week where effort and desire were almost non existent, the Bulgarian menace needs to bounce back with an all out passion play to regain form. Both he and Brian Shriver have struggled mightily in the last few weeks, and if head coach Stuart Campbell is watching tape on their lack of effort, the leash to pull them both should be very short.
– Thank you little 8 pound, 6 ounce newborn infant baby Jesus – This game will actually be played on real grass, instead of artificial turf. While this doesn't seem to affect Minnesota at all, the Rowdies have found most of their success on the real stuff.
– The Return of Darwin Espinal. The young striker is expected to return from international duty again, and will have a major impact. He's the southern version of Miguel Ibarra
You won't notice:
– Just how good the Rowdies defense can be with Tamika Mkindawire, Stefan Antonijevic, Rich Balchan, and Darnell King. However King has shown so much speed, and so much versatility that he may not only move into the midfield role, but the front 3rd as well. How that changes the lineup is anyone's guess, but much like Adu, he's the kind of player you want on the field no matter where.
– The weight lifting off of last year's Golden Ball winner Christian Ramirez. While he's not on pace to break his 21 goal mark that he set in 2014, he's well on his way to being a dominating force up front, with the help of famous / notorious testicular boxer Pablo Campos. The entire front and midfield of Minnesota falls under the "scary good" rating for fluidity and field vision.
You Probably Won't See:
– A boring game. Minnesota is a scoring machine, and Tampa Bay is a counter-attack liability machine. These things generally do not bode well for the weaker team, so unless Tampa Bay comes out blazing and lights up the scoreboard within the first 10 minutes, expect some bunkerball from Stuart Campbell, complete with actual bus parking. Still, it's a high stakes game of chess that unfortunately does not appear to favor the visiting team.