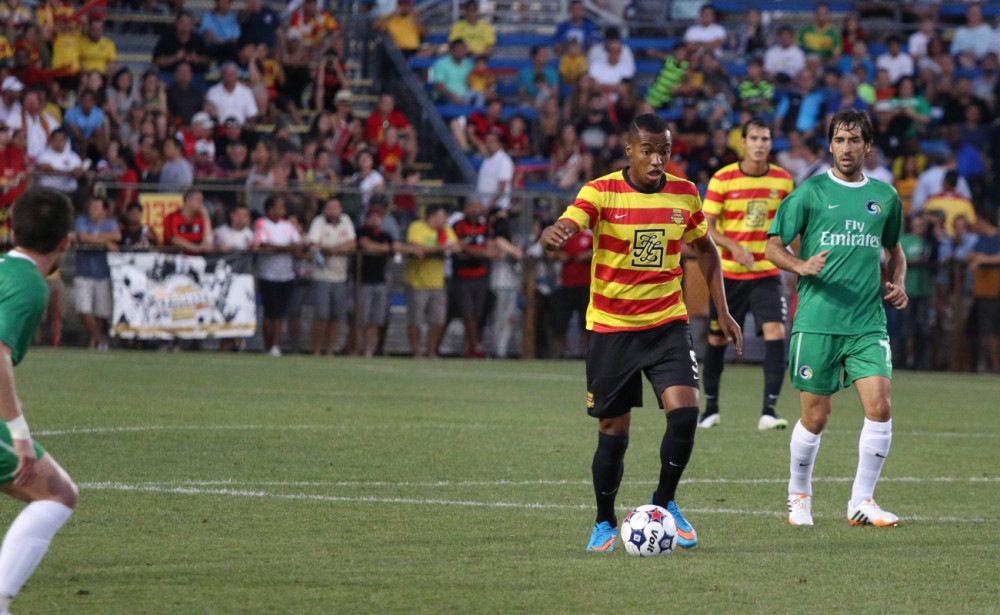 The NASL End of the Year Awards, Part 2 – Young Player of the Year
There is a lot of young talent in the NASL. Since the league's inception, it has become a place where youth can come, compete for a starting role, earn minutes, and blossom. Player development is perhaps one of the most important factors in domestic soccer. What we're lucky to see in the NASL are players being trusted by their managers and trotted out nearly every week to get the minutes they need. Domestically, regulars like Real Salt Lake midfielder Luke Mulholland, Toronto FC fullback Mark Bloom, Columbus Crew fullback Chris Klute, and New York City FC midfielder Kwadwo Poku all were able to hone their talents in the NASL first before catching the eye of MLS, which often had ignored them originally.
NASL also develops talent to export. Fafa Picault spent three season in the league before transferring to Czech giants Sparta Praga. The twenty-four year old currently plays for indie darlings German side FC St. Pauli. But perhaps the league's greatest development success story is Miguel Ibarra. Now twenty-five, Ibarra spent nearly four years in Minnesota developing his skill. The result was being the first second division player to be called up to the US Men's National Team since 2005 earning three caps after winning the NASL Golden Ball (MVP award) in 2014. Ibarra has transferred to LigaMX's Club Leon and now plays in the best league in North America.
All this is to stress that winning the Young Player of the Year award in the NASL isn't some hollow accolade. The players in the conversation for this award are on the verge of the kind of success that most young players can only dream of achieving. My criteria for consideration is simple: the player entered into the 2015 season under 24 years old and appeared in at least 15 games. Such a criteria excludes a cadre of players who are having a fantastic season but are just above the line like Ft. Lauderdale Strikers' Stefano Pinho, last year's winner Christian Ramirez from Minnesota United, and San Antonio Scorpions' Billy Forbes.
For me, there are eleven young players to seriously consider as contenders for this award: 
Marlon Freitas, Ft. Lauderdale Strikers, attacking midfielder
Part of Ft. Lauderdale's dynamic Brazilian triad (Stefano and PC being the others), Freitas has scored five goals and provided three assists over twenty-four games. At only 20, the central attacking midfielder has the potential to become a superstar in the league. However, whether or not he becomes Young Player of the Year will have more to do with how the Strikers deploy him than on his talent (this is true of teammate PC as well).
PC, Ft. Lauderdale Strikers, left winger/leftback
Although a leftback by trade, 21 year old PC has seen the most success this season as a left winger. This should come as no surprise given the American proclivity to consider wingers and fullbacks to be interchangeable. However, PC is technically gifted, and although slight in build, he has the courage and tenacity of a much beefier player. With the Strikers playing more than half the season with a makeshift squad, PC has appeared in twenty-three games racking up four goals and two assists splitting his time between leftback and as a left winger. 
Marco Franco, Indy Eleven, rightback
Goals and assists are sexy. I would argue that it's just as sexy to deny them to others. Here's where we get into considering defensive players for this award. My first fully proper defensive candidate is Indy Eleven's every game rightback. As a position, defensive fullback is not en vogue. It's also difficult to make a case to prasing any Indy defender as the team has given up the third most goals in the league. But given the fact that Indy has barely been able to field the same starting four in its backline, we should pay attention to the one part of that defense that is consistent–Franco. After leaving MLS's Chicago Fire where he had developed a reputation as a bit of slacker, Franco has matured and turned into a quality player. If he stays healthy, the 23 year old will have a long career ahead of him. 
Leo Fernandes, New York Cosmos, left winger
After enduring the organizational chaos that was MLS's Philadelphia Union, Fernandes settled with the upstart Cosmos heading into the season. The 23 year old winger has excelled this season scoring seven goals and providing three assist in just over sixteen hundred minutes. The past few matches, Fernandes has fallen into a platoon with Walter Restrepo on the left wing due less to the youngster's form and more to the need to get the journeyman proper minutes to round out his form going into the playoffs. Fernandes is a constant goal scoring threat whose energy and tenacity harries opposing defenses making him the Cosmos leading scorer. 
Darwin Espinal, Tampa Bay Rowdies, forward
Freitas isn't the only 20 year old on the list. Tampa Bay's Espinal is a rather slight striker who's been deployed out wide as well as in a kind of withdrawn forward position (one that's nearly a central attacking midfield role, which might actually end up being a better slot for him the future). Much like Minnesota's Miguel Ibarra, Espinal has a motor and is eager to be unleash. With only thirteen starts under his belt, he has still been able to score four goals and notch an assist. He's become a sort of supersub for the Rowdies and I doubt he'll catch fire enough over these last few games to win the award. Yet, Espinal like Freitas he could bloom into a star for his team. 
Ben Sweat, Tampa Bay Rowdies, leftback
The second defender on my list is leftback Ben Sweat, teammate of Darwin Espinal. Sweat came to the Rowdies from MLS's Columbus Crew. This season he's been ever present for Rowdies and when the backline has been iffy, Sweat has typically been the one bright spot. A good defensive fullback will grant wingers and other attacking players the freedom to focus nearly exclusively on their offensive duties (whether or not those offensive players finish is on them). Sweat has shown a level head and good vision on the pitch, a trait that is difficult to train or cultivate. He may not like Indy Eleven's Marco Franco have the sexy stats but he's been thrown into the deep end and is swimming.
Nazmi Albadawi, Carolina Railhawks, attacking midfielder
Before the season began, I was certain that Albadawi was going to have a breakout year. The midfielder who is equally adept on the wing as in a more central attacking role has good technical ability and isn't afraid to push to his advantage. However, this season has been an inconsistent one for the young Railhawk. Even though he has played most of Carolina's games and has three goals and two assists, he has had long stretches of poor form hemming by moments of glory. Such a trait can be maddening for supporters. Albadawi needs to find a balance and if he does, not only will he strengthen his case for the award but also he'll have helped lift Carolina out of its end of the season funk. 
Kalif Alhassan, Minnesota United FC, attacking midfielder
Over the Fall portion of the season, Alhassan has solidified his place in Minnesota's starting eleven. The attacking midfielder who usually is tasked to patrol the left wing has become a free kick specialist and provided the Loons with a much needed spark. The now 24 year old Ghanaian has scored four goals and notched five assists in just under fourteen hundred minutes. With the release of Jonny Steele and the sale of Miguel Ibarra, the question of who would step up has been answered. Alhassan is playing MLS quality every week on one of the best teams in the NASL. 
Mauro Eustaquio, Ottawa Fury, central midfielder
The Ottawa Fury have defied expectations to still at the top of the league table firmly lodged in the postseason. A lot of that has been due to Ottawa's defense and goalkeeper, but many overlook the fine job the Fury's central midfield has been doing. This midfield hasn't just been Sinisa Ubiparipovic, who has gotten hot of late. A major contributor to Ottawa's success has been the 22 year old Canadian Mauro Eustaquio, the central midfielder has been above par in his tackling, marking, and positioning leading to a call up to his national team as Canada looks to qualify for the 2016 Olympics in Rio. 
Dylan Mares, Indy Eleven, central midfielder
Injury has kept Dylan Mares from having a monster season. Only healthy for half the season playing just under twelve hundred minutes, Mares has still been able to score three goals and provide four assists. He is one of the few serious offensive threats on Indy Eleven. As a true homegrown product, Mares is carving out a name for himself with his local club. Even though Indy Eleven aren't playing for the postseason, if Mares can get to fitness soon enough he could help his team earn back some respect before all is said and done. 
Mallan Roberts, FC Edmonton, centerback
FC Edmonton once has an amazing defense. Unbreakable, it was. This season that has not been the case. However of late the Eddies have plug the holes in the dam and clawed its way back into the playoff conversation. Credit need to be given to 23 year old Mallan Roberts, who has been quietly honing his craft in Edmonton for three seasons. This year more responsibility has been heaped on the young man's back. Although things haven't gone anywhere near perfect, Roberts has acquitted himself well bouncing back from every mistake to improve. This last week in the NASL saw twenty-seven goals scored; being a centerback is a tough job. But if FC Edmonton hold on to make it to the postseason, it'll be due to the defense of Roberts and his veteran partner Albert Watson.