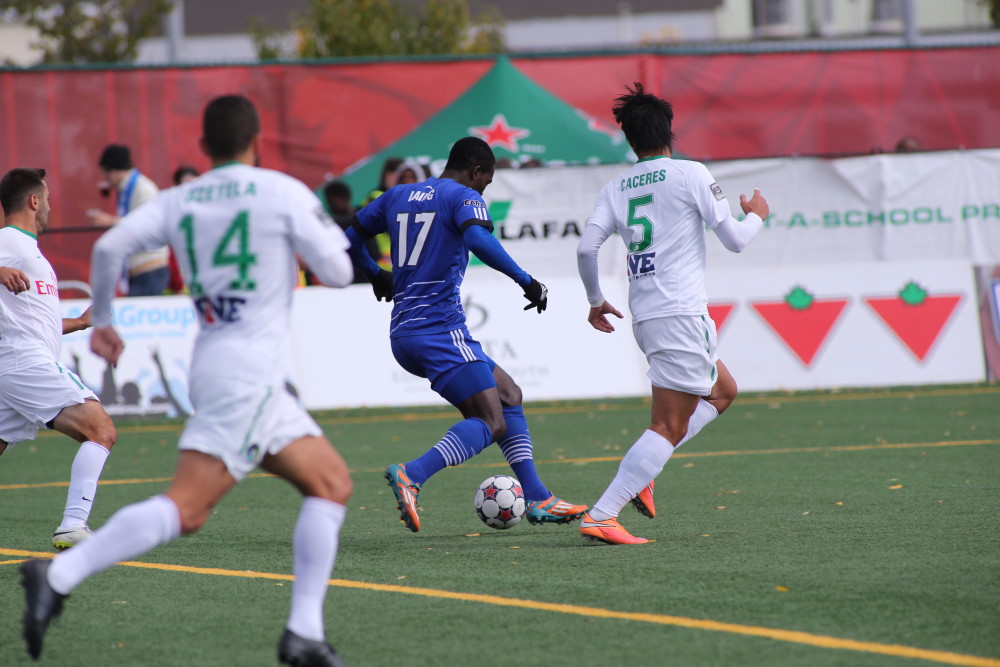 NASL Fall Season Power Rankings – Week 13
It was not a week for the faint of heart in NASL. More balls found more nets than a weekend in the NBA, big teams toppled while little guys puffed up their chests, and Indy enjoyed its best possible weekend. We moved closer to certainty on three teams that will be enjoying extended seasons this year, and took five steps backward on who the hell the fourth team is going to be. It's an important question: playoffs are an utter roll of the dice, and as Ft. Lauderdale showed last year, it only takes a single moment to knock off the big favorites. If any of the three contenders for that spot decide they want it bad enough to try for more than two weeks in a row, it might be enough to be that spoiler this year. It's the NASL Fall Season Power Rankings – Week 13.
1. Ottawa Fury
If I walked down the street with my kids hand in hand, and I saw Ottawa Fury walking toward us, I would cross the street. This club couldn't look more dangerous if its players emerged from the tunnel with flaming swords held aloft. More terrifying, this group played three games in eight days, all on the road, against some of the best competition NASL has to throw at them, and absolutely flattened each opponent into the dust. Last week's victory at Lockhart was important and came against a top four team. But no one saw the group driving a stake into the hearts of the Cosmos in midweek, handing them their first home loss in over a year and their biggest loss ever as a club. After their bite from the big apple, Ottawa strolled to a 3-1 victory in Cary with three first-half goals seeming to need all the effort of a nice stretch before taking a nap. Their next performance, tentatively titled "Way 2 Goddamned Fast and Furious Part 3: Furies Reloaded 5, The Sequel to the Prequel Spinoff" is against kind-of rivals Edmonton, playing for all the poutine. Not optional viewing.
2. Minnesota United FC
Not to be outdone in either redness or hotness, the Loons soared high above the Strikers, leaving them wiping away the volley of hot white globs from the sky. United has won six of its last nine matches and delivered one of its most convincing performances against Ft. Lauderdale after coming from behind to eventually lead 5-1 before conceding the sympathy goal late on. As I noted in the game recap, what is exciting about Minnesota is that it boasts a team in which about eight of its starting eleven players are legitimate threats to score in any given game (and this assumes other offensive lightning rods like Pablo Campos and Yago Silva are on the bench). With Ottawa's big week, it is unlikely that Minnesota will challenge for the fall title and would thus be relegated to hitting the road for one or both of its playoff matches. A shame, as the only thing making a bigger noise than Minnesota's offense this year has been it's nearly 10,000 fans at each game.
3. New York Cosmos
Ok…Hmm. Perhaps the infinite and eternal mystery of the heavenly cosmos, the wrinkles on the very face of God, was getting psyched up for the super moon blood or whatever and turned its back on the soccer club of its namesake. The 'smos have lost three of five (remember they didn't lose a single time all spring) and has looked flatly unconvincing for that entire stretch. In looking for the antidote, New York's offense should be of primary concern: the team only has three goals in its last five. While not quite shambolic, the club has also allowed two or more goals in four of its last six games, so they really just aren't getting it done all around. One fascinating question – who do you think is the team's leading scorer right now? Raul? Mkosana? Restrepo? Senna? Flores? Nope. Leo Fernandes, with seven, followed by Raul with six and Mkosana with five. That's hardly cause for alarm, but it raises the question of what precisely is the team's identity? Is this the club of high-paid stars that it is frequently billed as, or does the club hinge on its Leo Fernandeses and Hunter Freemans?
4. FC Edmonton
We'll just leave this FC Edmonton right here. Fourth place in the Combined Table seems to be a throne no one wants to sit on, but Edmonton has staked a firmer claim than anyone by winning three straight including victories over the Cosmos and the Rowdies. Edmonton has played an extra game over its nearest competitors, though, and has a schedule as hard as any with games against Ottawa, New York, and Jacksonville on the road. A hot Daryl Fordyce is key in the club's resurgence, and it increasingly seems likely that this team's playoff credentials hinge not on its obvious stars – Lance Laing will always give you some value – but on players like Fordyce or Albert Watson and the kind of day they are going to have. The club currently sits fourth in the table. With New York, Ottawa, and Minnesota currently in the other playoff spots, we at least can count on one thing: freezing our asses off for any and all Championship games this year.
5. Ft. Lauderdale Strikers
Last week I suggested everyone have a cigarette and calm down because one loss wasn't reason to panic. I was wrong; buy more cigarettes. The Strikers had lost to Ottawa…so does everyone. But Ft. Lauderdale not just lost to Minnesota (still, another stiff test) but got a titty twister, wedgie, and wet willy all at once. At home, no less. Caveats abound: PC missed the game, the back line was a Picasso, and even goals-leader Stefano Pinho played out of position in the midfield. If this was an experiment, the explosion set the lab on fire. The good news is that with the exception of the tough task of retribution in a trip to Minnesota, this team has a cakewalk closing schedule and a game in hand over Edmonton. The Strikers are still in good position, but these losses were such crucial points. Last thought: the Strikers have a -5 goal differential over its last two games. That puts it merely two goals ahead of Edmonton in the GD column, meaning that in case of a tie for fourth place, it's on like Donkey Kong for goals right now.
6. Tampa Bay Rowdies
Tampa Bay is the Edmonton of NASL. Two goal win, one goal loss, two goal win, two goal loss; back and forth goes the existential see-saw, round and round goes Boethius' wheel of football fortune. The most I can glean would be that Al Lang is a fortress, but hitting the road just devolves into a Bob Seger "Turn The Page" situation for the team. The Rowdies return to the fortress to take on wounded duck Indy Eleven on Wednesday night, with a win being enough to push the club clear into fourth place. My suggestion to Stuart Campbell – put the ball at Corey Hertzog's feet early and often.
7. Atlanta Silverbacks
No monkeying around: the Silverbacks are in trouble. Any hope of postseason football evaporated faster than a 3-1 lead this weekend. Turning the club's attention to the offseason provides little succor. The future of the team remains uncertain, though we may know more very soon with important organization meetings underway that could determine whether the league will keep inflating the raft the team is floating on. Of course even if it does, the long-term feasibility of that solution is uncertain at best. Losing the Atlanta market would be a blow to the league, but the writing on the wall seems to be growing more visible. Those, including this writer, who had hoped this team could end the year with an incredible blaze of glory on its way to the finals have lost that opportunity by this point.
8. San Antonio Scorpions
Great comeback for San Antonio against Atlanta, and encouragingly the goals came from less likely sources. Cesar Elizondo was the hero with the stoppage time equalizer, while Nana Attakora and Martin Chavez also contributed to the scoresheet. Most noteworthy in the game was the starting lineup, with Elizondo joining Eric Hassli and Giuseppe Gentile as the three heads of the weird 5-2-3 or 5-2-1-2 dragon. Golden Boot contender Omar Cummings started on the bench after a month-plus of ice cold form, and Billy Forbes again did not dress. At least fans in San Antonio went home with a thrilling spectacle, even if it was ultimately meaningless and lacked the star power that has defined the team's best moments.
9. Jacksonville Armada
Armada was glad to pull back into the harbor after an ugly road trip during which the team was outscored 6-0 and suffered three defeats. Again at home, Jacksonville earned a 2-0 win against de jure rivals Tampa Bay which included the grateful return of a scoring Pascal Millien. If you were keeping score at home (it was easy to do), the team had not found the net in over five games, ultimately leading to the dismissal of coach Guillermo Hoyos and his entire staff. The scoreline is a relief to the team and fans alike, but too little too late to make a difference. At least Jacksonville makes it fun for its home crowd; while Armada has been stellar at home this year, last year's expansion darlings Indy Eleven waited almost the entire year before rewarding its faithful with a home win. Now it is on Armada to think about its coaching situation, the direction of the team, and how to avoid becoming Indy Eleven in its second year in the league.
10. Carolina Railhawks
At WakeMed Soccer Park on Saturday, supporters saw neither wakefulness nor soccer, though there may have been some meds and clearly one team was in park. Carolina was already down 3-0 when it lumbered into the locker room, and a second half consolation goal from "Spicy" Nacho Novo only came once Ottawa had applied the brakes. I had an interesting exchange a few months ago with Midfield Press contributor and Railhawks devotee Ian Foster. We were discussing power rankings. At that time, I had Carolina as first or second in the league, while he had them pegged all the way down to sixth. The results spoke for themselves; I didn't see how he could undervalue the team so strongly when they were so high on the table and in the absence of other truly strong contenders. He could see it coming a mile away. He talked about the lack of depth, about what would happen if Tiyi Shipalane stopped producing. The wheels were already wobbling even if they hadn't come off yet, and he noticed before I ever could.
11. Indy Eleven
God? It's me again. I know it seems like every day I come back to you, begging for relief, or forgiveness for whatever I've done that you deemed it best to move me here. I should be praying for my loved ones back home, or for the hungry or the sick, but I wake up each morning and feel nothing but emptiness. Emptiness in my heart for this shell of a town I live in, emptiness for this job I used to love. Back home in Jamaica, I remember the poverty, the hunger of so many. When I came to America, I believed it was truly a land of opportunity, and it didn't disappoint. Until I came to Indiana. Lord, deliver me from this team without hope, this city with blackened cavities where dreams used to live. Bring me back to New York, or even back to Jamaica. I could bear it all if I knew I could leave, that there could be some light at the end of this dark tunnel. My only refuge has been this single week off from playing for Indy Eleven, without which I may have flung myself sinfully into the White River until the water eclipsed my lips, then my nose, and I disappeared into forever. Thank you for this bye week. Please deliver me to a place where my soul can be at peace. Your most humble servant, Dane Richards.
Disagree with our rankings?  Let us know in the comments.