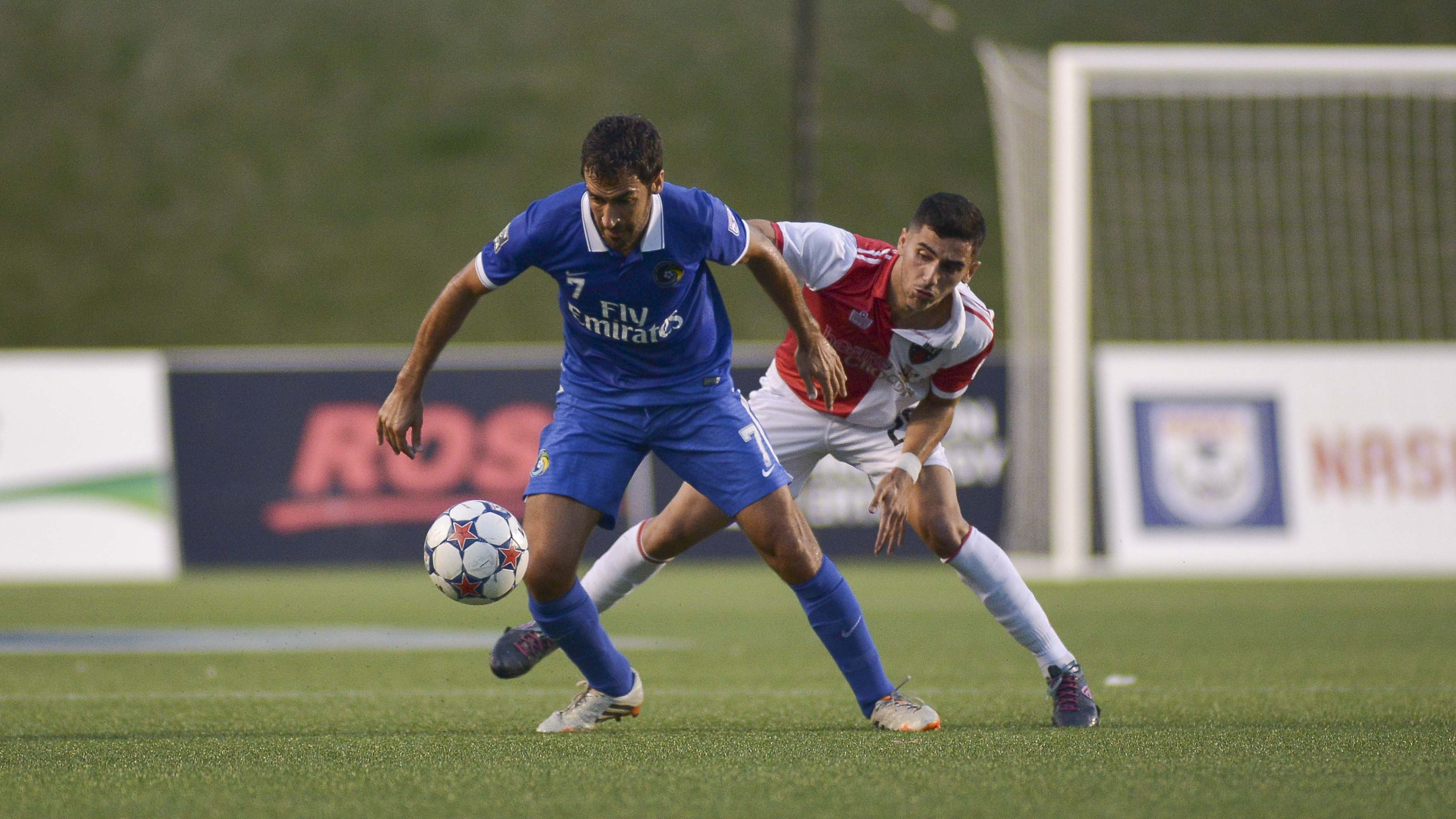 NASL Fall Season Power Rankings – Week 12
The lead may remain unchanged atop the Combined Table, but there is a new king where it really matters: these power rankings. After unraveling the Cosmos on Tuesday night, Ottawa Fury hoisted high the NASL Title Belt, a thing that exists, and left no possible doubt about its superiority. Everyone else is either playing for second, barely treading water, or welcoming the cold comfort of eternal darkness. So goes the wrath of our league. It's the NASL Fall Season Power Rankings – Week 12.
1. Ottawa Fury
What a statement win for Ottawa. In the shadow of the news of its head coach's imminent departure, on the road against the league leaders who had not lost at home in eighteen matches, the club furiously thumped the Cosmos in a 4-1 beat down on Tuesday night. The team is now unbeaten in six games which included two battles each against New York and playoff-caliber Ft. Lauderdale. Better, their final six games come against a slew of beatable teams like Carolina, Edmonton, and San Antonio. After Tuesday's win, the home stretch feels more like a parade route for the Fall Season leaders.
2. Minnesota United FC
The albatross of the Cosmos continues to hang around the neck of Minnesota, but it should feel good about the game it played on Saturday. Minnesota was the better team, and had two goals pulled back that probably shouldn't have been. But then again United hadn't even earned a red card all year until last week, a statistically unlikely run for a team that can't even stop fighting among themselves. Shitty refereeing falls on the just and the unjust alike over the long haul, and Minnesota were on the short end against the Cosmos. But the Loons are unbeaten in eight and have shown it can compete against the league's top teams. Playoffs are all but a given at this point, and in the small sample lottery that is playoffs, United knows it can be good enough on two consecutive weekends.
3. New York Cosmos
Though the Cosmos will probably won't be shedding any tears over its prospects for the Soccer Bowl, there are more than just chinks in the armor at this point. There were reasons to call the 2-0 road loss to Tampa Bay several weeks ago an anomaly, but a 4-1 shellacking at home doesn't come with any caveats. Sure, New York played a tough one against Minnesota only days earlier, but Ottawa also played a competitive game against Ft. Lauderdale with equally short rest. The most important statistic: if we look at New York's last four games against teams currently qualified for the playoffs, they are 0W-2L-2D. A season of success will be a bitter consolation if this team can't get it done in the Championship.
4. Ft. Lauderdale Strikers
Have a cigarette, calm down, Ft. Lauderdale haven't fallen that far. Sure, the club lost to Ottawa in fairly decisive fashion at home. But they were playing their third game in eight days (above I give Ottawa and New York a pass on the fatigue factor, but only because they each played in an equally congested timeframe), and they are still the same team that had won four of its previous five including strong showing against playoff teams. The club isn't struggling through stifling injuries that are threatening to derail their season. They may be two points below the line, but have a fairly favorable schedule coming in and are the more consistent performers if compared to Tampa Bay. They'll be just fine.
5. Tampa Bay Rowdies
Every point matters in the fight for fourth, and after a tough loss to fellow contender FC Edmonton the Rowdies rebounded with a crucial three points against a poor San Antonio team. The club now is two points clear of the drop off point and has a game in hand over everyone who matters except nearest contender Ft. Lauderdale. But the club is still too inconsistent to be the obvious number four in the power rankings. Stuart Campbell has certainly added stability to the ship, whatever your feelings about the Thomas Rongen firing. The club is adrift around .500 since he took over, and it had been sinking deeply before then. But with Ft. Lauderdale surging and the top three looking to eliminate hope of an extra opportunity, Tampa Bay can't afford to concede many more points.
6. FC Edmonton
Edmonton continues to defy my belief that they suck; that is, until I reach the conclusion that they are good. The Eddies will either earn a 3-0 win over Bayern Munich or a humiliating defeat to your Monday night pickup team, depending on what's opposite of what you expected. Two consecutive wins, with two consecutive defensive shutouts, and the Eddies are on a run at a critical time. The only problem? Edmonton faces New York/Ottawa/New York over the next three weeks. With that tough stretch, an extra game played over the teams ahead of it, and generally inconsistent play over the long haul, don't put any money on the Montons to make the playoffs. But if you are looking to spot a spoiler, this could be it.
7. Atlanta Silverbacks
Nothing makes as good a tourniquet as a home game against the Railhawks. And this team had been truly bleeding. Not only had it lost three of five, but it had gone over a month without scoring more than one goal in a game (it's defense has been generally respectable, to be fair). Junior Burgos and Pedro Mendes can still be dangerous, but no longer are they intimidating. Teams have found a way to stifle Atlanta's attack and keep the club on its heels for long stretches of time. The team isn't out of it: it's only four points back of the promised land. But there are a lot of teams in contention, which have games in hand, and a win against Carolina doesn't provide much hope when Atlanta lost to that same Railhawks team only a couple of weeks prior. Good on Atlanta for clawing out of the basement and playing competitively this fall. Not many expected them to do that. That trophy will need to keep the team and its fans warm over the winter.
8. San Antonio Scorpions
I've said elsewhere that I don't think America is primed for promotion and relegation just yet. But imagine how phenomenally exciting the bottom of this table might be if it did! There is enough parity among the have-nots to make them difficult to stratify, but this ranking is banking on the Scorpions to win the title for "fourth worst team" this year. With players like Omar Cummings, Rafael Castillo, and Billy Forbes back from injury, this club shouldn't sink deeper into the mire. Still, we'd like to see them come out of the five-man defensive back line they've been touting lately. We get it, you are bad at defense. We'd love to at least see you stay good at what you are good at.
9. Indy Eleven
There was probably already a final nail in the coffin for Indy, but the loss to Edmonton at least put a curse on that coffin lest it ever be opened. Despite perhaps the easiest schedule in the league heading back to the clubhouse, the club will have their minds on Indy Eleven 3.0 from here on out. The team needs a coach with a tactical vision and the funds to sign players that fit that vision. No other team this year felt so much like an amalgamation of spare parts that weren't meant to go together, and that includes even expansion side Jacksonville who at least were built with a purpose in mind. It isn't even just about the skill of the players themselves – I believe that on their own, the Indy's players are not terrible – but rather a matter of the sum of the parts somehow being greater than the whole.
10. Carolina Railhawks
After careful analysis, we have identified the sound of a Railhawk is a rather nasal "Skwaaaa!" A wounded Railhawk, however, emits more of a limpid "Skrrraaahhh!" That is the sound Carolina is making right now. How many times has Carolina conceded fewer than two goals since August 1st? Only once. Even when the club has a strong offensive performance, it is too far buried under an avalanche of goals for it to matter. That one time the team gave up fewer than two goals? That was also its only victory since July 18th, over two months ago. Combined with the looming ownership issues hovering over the club, it looks to be fretful offseason ahead.
11. Jacksonville Armada
The fleet stayed in the harbor this weekend, and was probably the better for it. This team has lost four of its last five games and hasn't scored in any of them. The front office used the additional down time to spend an afternoon with Human Resources before asking Guillermo Hoyos and his staff to gather their things into a box and return their badges. A very tough week for the expansion side, but even an expansion team needs to do better than these last five games have shown. Armada's strength, if it's had one, has been in its attacking prowess, and earlier in the year you could count on the team to make a game exciting even if they didn't win in the end. Those days are past. The team is lacking from top to bottom, and even worse is that it has the talent to be better than it is. This fan base deserves the best from its team; perhaps a new coaching situation will help deliver.
Disagree with our rankings?  Let us know in the comments.