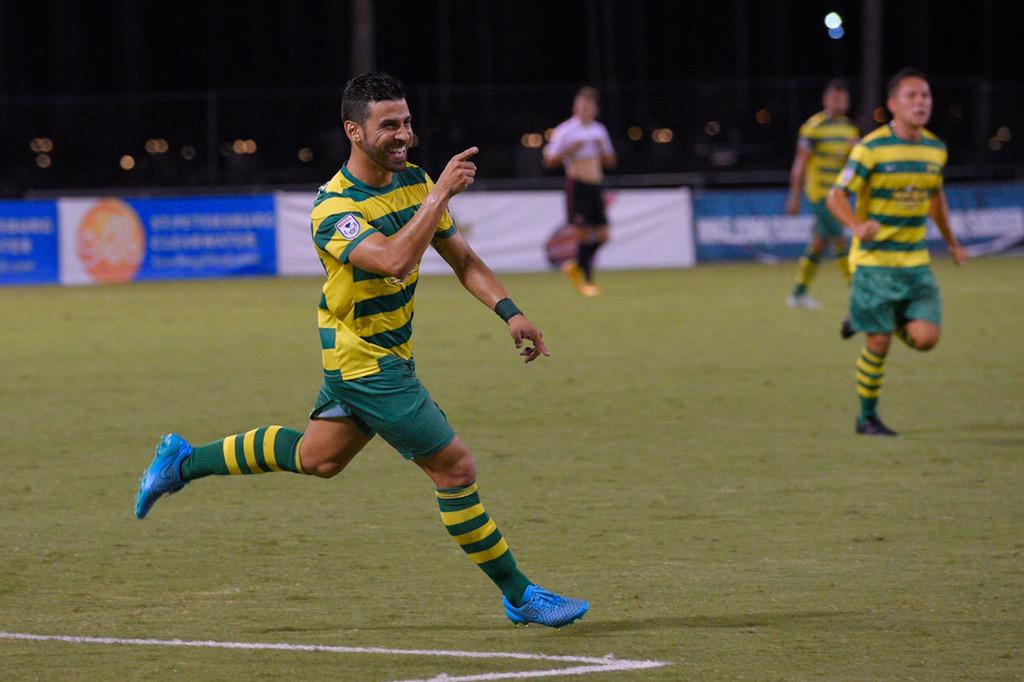 Recap: TBR: 2 | SAS: 0 | PRO: 3
Tampa Bay Rowdies 2 – San Antonio Scorpions 0
Location: Al Lang Stadium, St. Petersburg, FL
Cautions:
TBR – 69' Gale Agboussomonde, 82' Darnell King
SAS – 77' Stephen DeRoux
Substitutions:
TBR – (M) Espinal for (M) Hertzog 88', (M) Menjivar for (F) Shriver 78'
SAS – (D) Gentile for (D) Tsiskaridze 59', (D) Hassli for Cann 75' (M) Soto for (M) Gibson 87'
Goals:
50′ – Corey Hertzog – Penalty Kick (TBR)
88' – Juan Guerra (TBR)
Highlights:


Major Themes
– The Rowdies are dominant at home, losing only twice all year, and this was no different. They were clearly the better team throughout most of the match
– The Scorpions put a clinic on the Rowdies at their last match, with a 3-1 victory in San Antonio.
– The PRO team was in rare form, killing off two obvious goals with bad calls, and a third that could have been called either way. Goal differential matters to the Rowdies who, despite being in the final playoff spot, only lead by points, and could lose that slot if there is a tie with Ft. Lauderdale
– The field at Al Lang was finally dry for the first time in what seemed like forever. Ball movement was quick, and while there were a few damp spots, nothing like the sloshing sponge-like conditions of previous matches.
In Form:
Darnell King – It's hard not to notice what a change in position has done for the speedy defensive player, now midfielder. He's clearly been working on his footwork and passing, because it has improved significantly. His presence was obviously missed in the previous week's match versus Edmonton.
Gale Agbossoumonde – Stepping in for the injured fan favorite Stefan Antonijevic, "The Boss" has been absolutely spectacular alongside Tamika Mkandawire at defending the goal. No official stats, but the number of blocked shots by both of these players has been impressive.
Corey Hertzog – The Energizer Bunny on the field continues to make things happen just out of sheer effort, this time notching a goal on a penalty kick, and having one wrongfully denied by a terrible offsides call.
Scorpions GK Daniel Fernandes – Despite the scoreline and two obvious goals called back (we're going to harp on that), Fernandes had a solid outing with a grand total of 8 saves in the match. Had he not been up to snuff, things could have looked a lot worse for the Scorpions. The good news is that former Rowdies player Daryl Sattler was available in relief, so there would have been no talent level drop off in the event of injury.
Liabilities:
– The Scorpions Defense – Despite coming out in a bunkered down 5-4-1, the defense seemed incredibly porous especially in the first half, giving up two goals in the first ten minutes (yes, still talking about it!)
– PRO Referees – This is the part where we complain about the terrible officiating, especially by linesman and assistant referee Miguel Martes and referee Robert Sibiga. Remember their names. You're going to be yelling them again, most likely in disbelief and anger.
– Scorpions Head Coach Alen Marcina – Maybe it's the hangover from last year's successful season, but the Scorpions have not looked good at this year. It would be easy to pin this on the departure of players like attacking midfielder Walter Restrepo (New York Cosmos) and keeper Josh Saunders (NYCFC), but this team looks lost at times, and cannot seem to put together a decent attack at all.
You Won't See On The Highlights
– Freddy Adu – Yes, the superstar was on the bench again, and yes, he was not used as a sub. Fans are wondering if this is just a matter of being outplayed in practice, or simply a doghouse situation since the changes in formation no longer suit his skillset. It's pretty clear that the team does not have any long term plans to keep the dynamic player on the roster after the year.
– The absence of Julius James – While he has sometimes been a one man red card machine, his attitude and aggression was sorely missed during this match. The San Antonio defense seems anemic without his thirst for blood, and has a tendency to ball watch.
– The sheer size of the Scorpions players – These are not small Brazillian dudes. Defender Nana Attakora is a solid 6'1" and close to 200lbs. Adrian Cann is 6'3" and also close to 200lbs. Unpronounceable midfielder and Jason Statham standin Zourab Tsiskaridze comes in around 6'1" and officially weighs 185, but that must have been after one of those cayenne pepper and lemon juice cleanses, because the man is intimidating in size. Compare him to Juan "Honeybadger" Guerra who is ambitiously 5'9" and 162lbs officially, and you've got a serious size mismatch. Unfortunately for the Scoprions, Guerra is one of the most ferocious and fearless players on the pitch, and it showed at times.
 Lessons Learned
– The Rowdies can win at home, but their true test comes against a reeling Armada squad in Jacksonville this weekend. With dramatic changes in the coaching staff, and most likely a formation shift, it will be a true test for newly minted coach Stuart Campbell.
– You have to wonder what is in store for the San Antonion Scorpions at this point, who have been all but eliminated from any post season contention this year. Do they keep their head coach? Do they keep their owner? Do they keep their stadium? Hell, does the NASL keep them with the persistent rumors of wanting desperately to be part of the big kids club in MLS? This is not a terrible team going in the wrong direction, but just one that has been unable to find its footing all year. The good news is that they face an equally struggling Atlanta Silverbacks who are being posed some of those same questions. Off field distractions appear to have taken a toll on both teams.