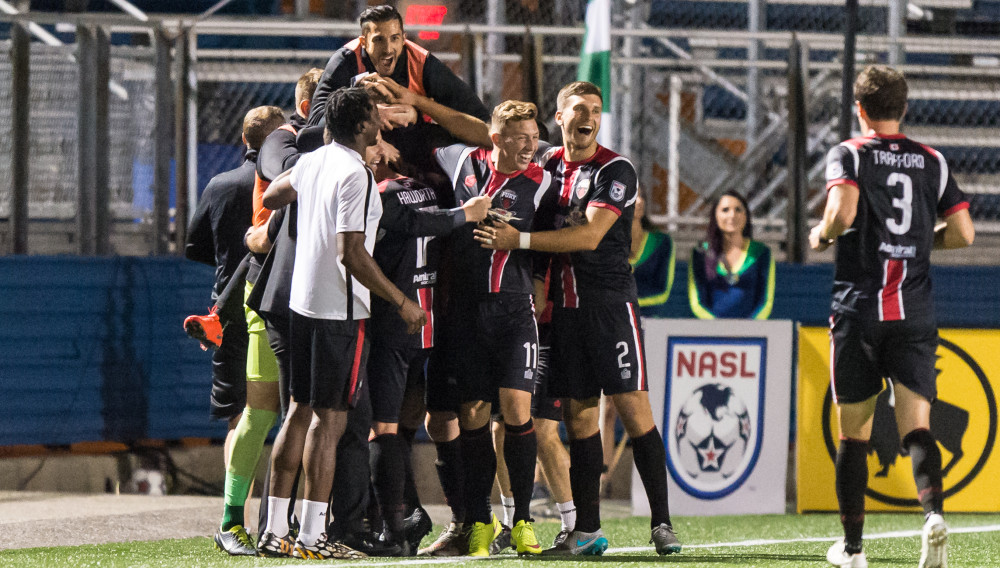 Recap: Ottawa halt Cosmos' home unbeaten streak
New York Cosmos 1 – 4 Ottawa Fury
Location: James Shuart Stadium, New York
Attendance: 3438
Cautions:
30′-Senna
42′-Cellerino
77′-Mendes
Substitutions: 
NYC
46′-Gaston Cellerino (forward) for Lucky Mkosana (forward)
69′-Hunter Gorskie (rightback) for Hunter Freeman (rightback)
80′-Leo Fernandes (right midfield) for Walter Restrepo (right midfield)
OTT
79′-Carl Haworth (forward) for Oliver (forward)
85′-Mauro Eustaquio (midfield) for Drew Beckie (midfield)
85′-Sinisa Ubiparipovic (midfield) for Andrew Wiedeman (forward)
Goals:
31′-Paulo Junior (OTT)
47′-Flores (NYC)
56′-Paulo Junior (OTT)
77′-Mendes, own goal (NYC)
78′-Heinemann (OTT)
Highlights:
[youtube http://www.youtube.com/watch?v=OO4Aa15XhK4&w=560&h=315]
Major Themes: 
Going into the match, the New York Cosmos were riding an eighteen game home unbeaten streak (Aug 2, 2014–Sept 22, 2015). Fortunately, the draw with Minnesota that New York recorded on Saturday allows it to take this loss but still stay atop the combined table. The win not only puts five points between Ottawa Fury and Minnesota United in the race for the Fall title but also puts the Fury one point behind New York in the combined standings for the top spot. A six match unbeaten run is nothing to sneeze at, neither is the fact that Ottawa hasn't lost on the road since May 2nd.
In Form:
Ottawa goalkeeper Romuald Peiser

 had six saves (most coming in the second half) giving the Fury the time it needed to counter and score on New York. 

Ottawa forward Paulo Jr notched a brace and each goal was well-struck and seemingly out of the blue.
After being named Player of the Week this last week, Sinisa Ubiparipovic added two assists (on Paulo Junior's second goal and Tom Heinemann's goal) in this early week match to give him the early lead for this week's Team and Player of the Week.
Liabilities:
Gaston Cellerino, the New York Cosmos forward looked out of place and lack chemistry with his teammates leading to his subbing off at the half. The Argentinian is still acclimating to life in the NASL, so it would wrong-headed to read too much into this night's performance. Yet, Cosmos fans are justifiably expecting more from the striker.
Lessons Learned:
Absorbing pressure and finishing on the counter wins matches. This isn't a new insight. Ottawa didn't look good defensively and were it not for Peiser could have been down by quite a bit. Yet, the defensive was good enough and when it sprung the attack, those in the final third made the most of it.