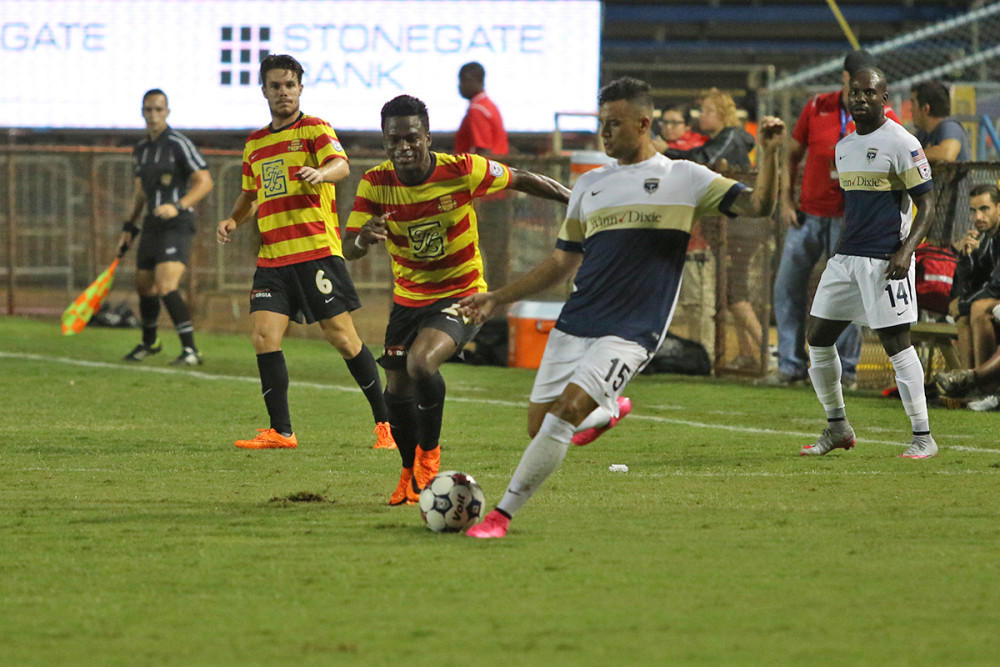 Recap: Armada Sink Lower In Fort Lauderdale
Fort Lauderdale Strikers 2-0 Jacksonville Armada
Goals:
– 18′ Marlon Freitas (FTL)
– 90′ James Marcelin (FTL)
Major Themes
– The Armada can't score: They were billed as the strength of Jacksonville since the start, but the Armada attack force is not who we thought they were. The Armada have been held scoreless in eight of the Fall Season's thirteen matches. Over the entire season, Jacksonville has been shut out in almost half of their matches. Perhaps it's time to rethink the tactics.
– Jacksonville is still winless away from home. Two is the grand total of pouts that the Armada have earned on the road in 2015. In fact, in all matches this year, the team has only won two matches outside of Community First Park. One was the week one home opener in Everbank Field, and the other was an away game against Jacksonville University.
– The Strikers are putting together a solid fall campaign. They are fourth in the fall table and, if the season ended today, would just edge the Rowdies for the final playoff spot. Clearly, Günter Kronsteiner should have never been released from his managerial position after last season, and bringing him back in that role over the summer was probably the best move made by the team.
In form:
– Stefano Pinho (FTL): The league's leading scorer tallied an assist on Marlon Freitas' goal and probably should have scored a goal of his own, but his efforts were all saved.
– Josh Ford (FTL): The Fort Lauderdale goalie has two straight clean sheets, and although he was not tested much by the Armada, he still earns the mention here.
Liabilities:
– The Armada: Pretty much everybody from the team has earned a mention here. Miguel Gallardo is not the answer between the sticks, and Guillermo Hoyos' insistence on playing him is unreasonable. The attacking players can't score, and the defense is the third worst in the league. It's all bad.
Lessons Learned
– The answer to the Armada goalie problem will not be found on the current roster. Hoyos has seemingly been experimenting and waffling between Miguel Gallardo and David Sierra, and the only thing we have learned is that neither are good enough to hold the position down for more than a few games at a time. Unless Sebastian Evers has something, we will be seeing a bunch of new faces in Jacksonville next season.