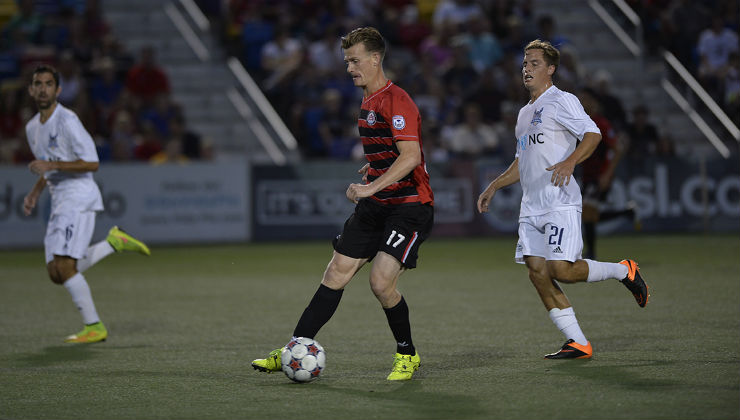 Atlanta takes advantage as Carolina Railhawks itself
Atlanta Silverbacks 2 – 1 Carolina Railhawks
Highlights:
<Not yet available as of Monday morning at 8:15 am EST>
Goals:
1' – Tyler Engel (CAR)
31' – Pedro Mendes (ATL)
34' – Kyle Porter (ATL)
Cautions:
25' – Jaime Chavez
49' – Tyler Engel
90' – Michal Mravec
90' – Connor Tobin
Major Themes:
Atlanta ends a two –game skid to re-enter the wins column, also the first time in five games the Silverbacks have scored more than a goal in a match. With Abdul Bangura starting in place of suspended Rauwshan McKenzie, the Atlanta defense held strong and overcame an early mistake by goalkeeper Steward Ceus to win 2-1, looking dangerous and keeping Carolina on the back foot for much of the evening.
Carolina fell back into a familiar, but disturbing pattern. For the third straight match, they took the lead and then failed to hold it, as goalkeeper Akira Fitzgerald was hung out to dry. While chances were presented, they failed to look dangerous in nearly any of them .They resorted to shots from distance for the most part and only got on the scoreboard due to a fluke goal from Tyler Engel.
The Silverbacks currently sit in seventh-place, but are only four points out of the final playoff spot. A solid run could carry them into postseason, but they will have to earn their way there with a difficult stretch ahead of them: Rowdies, United, Fury and two games against the Cosmos.
The Railhawks sit in eighth-place, out by seven points. They're still in the hunt, but those chances continue to dwindle with their inability to hold leads or stop the bleeding. On a more positive note, this was the second time in eight games they DIDN'T give up three goals to their opponents. It remains to be seen how that will hold up in matches against the Fury, Strikers, and Rowdies in the remaining weeks.
In Form:
Atlanta defenders – Playing with only three defenders, and one of them a substitution, the defense did a great job of restricting most of Carolina's chances outside the box, keeping Ceus from being tested for much of the evening. The only Carolina goal came from a mistake by the goalkeeper.
Jaime Chavez – Setting up both goals and connecting passes across the evening, Chavez was vital in creating both goals and chance creation throughout the evening and kept the Silverbacks looking dangerous across the evening.
Liabilities:
Steward Ceus – Ceus made this list 50 seconds into the game. His play across the evening kept him on it as he made mistakes across the evening. Not to say he didn't have some good stops, but not enough to undo the poor play, especially with much of Carolina's shots not on target.
Pedro Mendes – Despite scoring the game-tying goal, Pedro looked indecisive and slow to react on many occasions. He failed to keep many of his chances on frame and was the reason that several of Atlanta's chances were deaded.
Carolina Attack – With most of their shots forced from outside the box and failing to be on frame, I have to ask what attack?