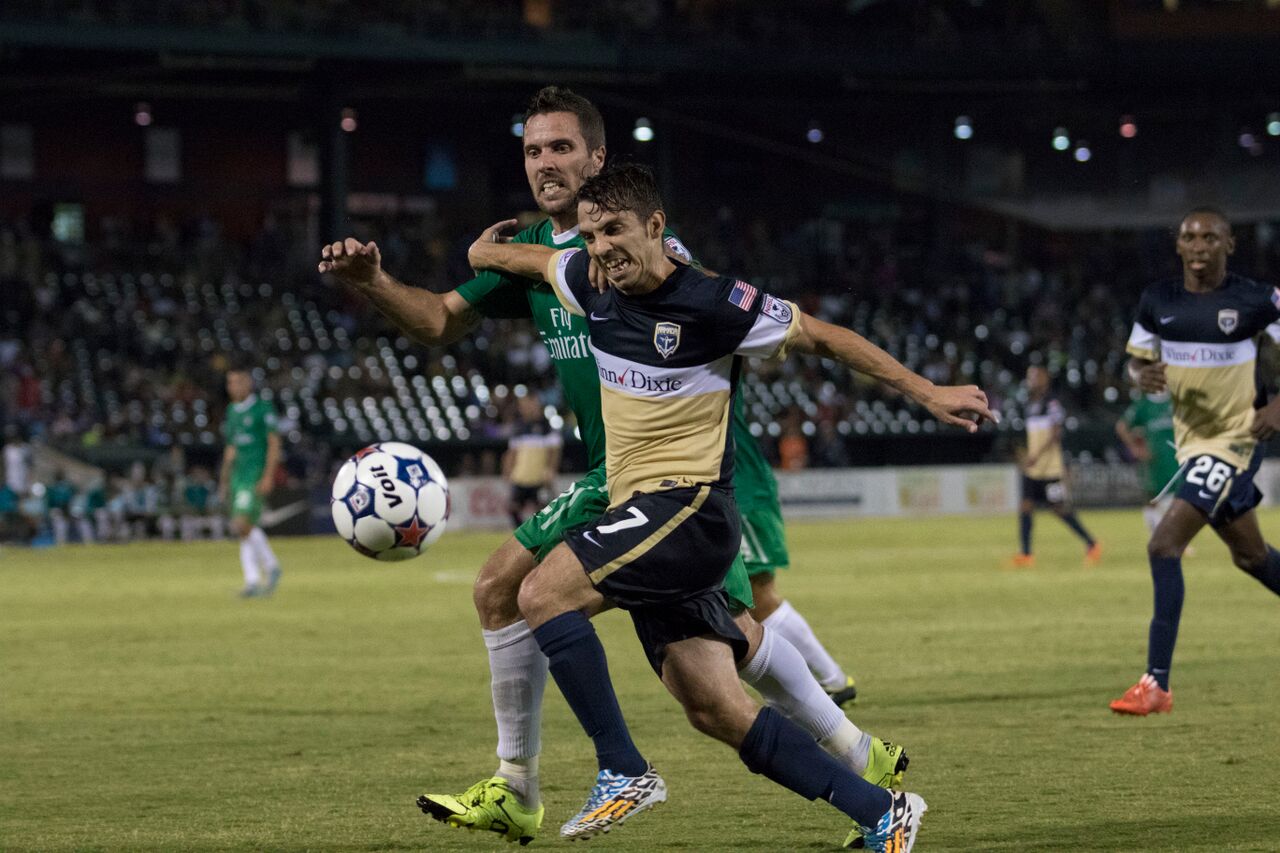 Preview: Cosmos scour seas for first win over Armada
New York Cosmos – Jacksonville Armada
Major Themes:
The New York Cosmos are coming off a loss, only their second of the season. It could be argued that this was their worst league loss of the year and abnormal of the consistently solid play they've demonstrated. They'll look for a win to keep them on top of the combined standings, while continuing to work on a fall title.
Jacksonville seeks to climb out of its three-game winless streak after crawling away from Indy with a 3-0 loss, the sixth time this fall they've been on the wrong end of a shutout. Despite only three wins and ten goals scored (last in NASL) in their eleven matches this fall, not everything is a negative: they are one point above last place and are only eight points out of a playoff spot.
On paper, it's pretty clear. A talented and capable Cosmos team sitting atop the table should easily wipe the floor with a 10th place Armada with scoring issues. But New York faces the dual challenge of shaking off a bad loss and facing a team that's only surrendered one point to them in two matches, despite missing key starters in each. This will be the first time Jacksonville faces them after a loss, so it remains to be seen how much fire the Cosmos bring to the match.
In The Last Game:
[youtube http://www.youtube.com/watch?v=-teL_TLj4yg&w=560&h=315]
Tommy Krizanovic scores and David Sierra hangs on to the shutout as Jacksonville win 1-0.
Keep An Eye On:
Pascal Milien – The speedy forward returns from a successful World Cup qualifying round with Haiti to increase the Armada's firepower. The last time he visited New York, he returned with a few souvenirs: two goals and an assist. Having forced a result in New York in the spring, he will undoubtedly look for a match in the fall.
Jaime Castrillon – With an assist on the game-winner in the last outing against the Cosmos and a two-goal, Player of the Week performance in mid-August, Castrillon has been unable to affect the outcome of the last few matches for Jacksonville but will seek to change that this weekend.
Jacksonville's goalkeeper – You really don't know who you're going to get. Miguel Gallardo and David Sierra have both seen plenty of time this fall and it's difficult to predict who gets the start. Sierra's seen six starts; Gallardo five. Sierra is 4-0-2. His four wins, all by shut-out, include the win over the Cosmos, but his two losses have been blowouts, including their last game. Gallardo is 1-1-3 with a goals against record that's difficult to gauge. He also has the nasty habit of committing himself far off his line at the wrong time. The lesser of the two evils should be David Sierra and coupled with his shutout of New York, he probably gets it.
Jimmy Maurer – Last week's match was a debacle for the Cosmos goalkeeper. Scoreline aside, he had trouble controlling the ball and looked nothing like the player hes's been for most of the season. Facing an opponent who's been effective against him in both meetings, he'll be looking to make a statement of his own.
New York's holding mids – With Marcos Senna returning to the lineup, New York fielded the familiar duo of Senna and Danny Szetela for their loss against the Rowdies, a pair that had worked closely and well for most of the spring. With Senna's absence due to injury and visa issues, Szetela was eventually seated in favor of a lone defensive mid alignment featuring Adam Moffat. After a great deal of success with Moffat in this role, the question is whether New York will stick to what has worked this fall with Moffat, or the duo that won them a spring title with Senna and Szetela.
Ayoze – The Cosmos' starting left back contributes greatly to the attack, but has been caught out of position on counters as a result. With a speedy Milien ready to pounce, it remains to be seen how Ayoze will adjust to keep Milien's opportunities limited.