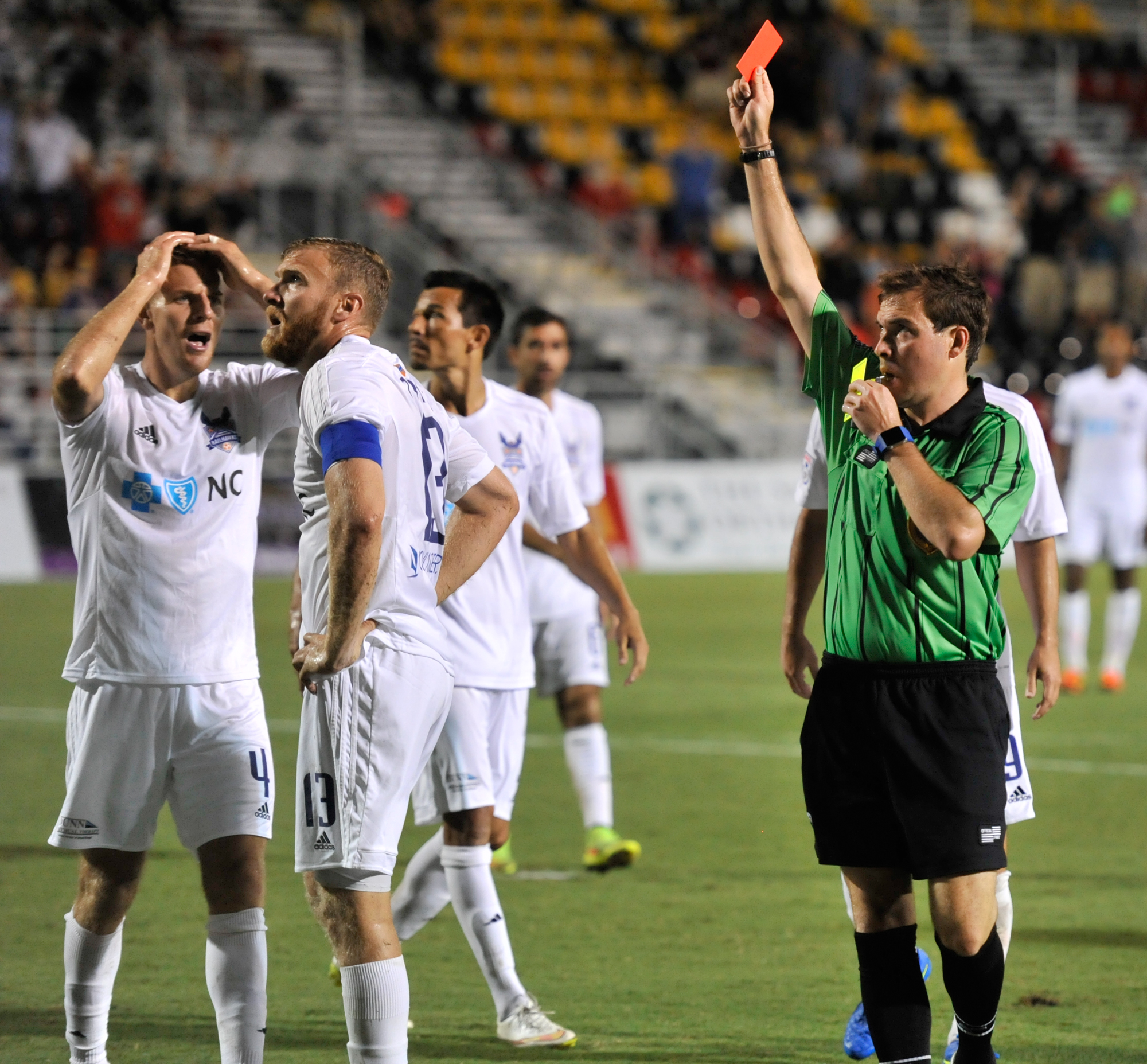 Recap: Brutish draw between San Antonio and Carolina
San Antonio Scorpions 3 – 3 Carolina Railhawks
Location: Toyota Field, San Antonio, TX
Attendance: 4192
Cautions:
19′-Red Card – Adrian Cann (SAS)
19′-Rafael Castillo (SAS)
37′-Brad Rusin (SAS)
40′-Connor Tobin (CAR)
41′-Cesar Elizondo (SAS)
43′-Nana Attakora (SAS)
43′-Nazmi Albadawi (SAS)
54′-Red Card (Second Yellow) Connor Tobin (CAR)
54′-Blake Wagner (CAR)
84′-Milton Palacios (SAS)
90′-Stephen DeRoux (SAS)
90′-Gabriel Da Silva (CAR)
90′-Nacho Novo (CAR)
Substitutions: 
SAS
73′-Omar Cummings (forward) for Giuseppe Gentile (forward)
77′-Marvin Chavez (right midfielder) for Josue Soto (central midfielder)
CAR
56′-Neil Hlavaty (central midfielder) for Futty Danso (centerback)
73′-Chris Nurse (central midfielder) for Tyler Engel (forward)
87′-Nacho Novo (forward) for Gabriel Da Silva (central midfielder)
Goals:
21′-Nacho Novo (CAR)
25′-Tiyi Shipalane (CAR)
28′-Marvin Chavez (SAS)
56′-Rafael Castillo (SAS)
65′-Rafael Castillo (penalty kick, SAS)
77′-Nana Attakora (own goal, SAS)
Highlights:
Major Themes:
It was the second match in a row where San Antonio had a centerback sent off before halftime. This night, the honor went to Adrian Cann for deciding to tackle Nacho Novo while he was in the middle of striking the ball inside the box. Novo managed to flummox the penalty kick but moved quickly to slot in his own rebound.
Fouls and cards were the theme of the evening. Not to be outdone by San Antonio's standard of play, Carolina earned its own sending off when centerback Connor 'Turbo' Tobin got his second yellow not ten minutes after the half. 10 v 10 quickly turned into two penalty kicks for San Antonio, the first stopped by Akira Fitzgerald and the second not so much.
To heap insult upon insult, San Antonio centerback Nana Attakora gifted Carolina an own goal to bring the whole farce to its inevitable conclusion–a meaningless draw. San Antonio still sit at the very bottom of all standings while Carolina float in the middling-to-poor nethers.
Winger

Billy Forbes

was absent the starting eighteen due to the injury he suffered against Ottawa over the weekend. Cesar Elizondo proved to be the equal of Blake Wagner the entire night proving once again that without Forbes, San Antonio struggles for honest chances on goal.
In Form:
No one in this match for either side deserves or earned a lick of praise. Every moment of success was buttressed by a slew of grotesque failures.
Liabilities:
When you combine two teams with noticeable lack of discipline with a referee notorious for being a disciplinarian, you get what we saw Wednesday. There were two red cards and twelve yellow cards handed out. One of which was given to Carolina striker Nacho Novo when he had already been subbed out and was sitting on the bench! This was the referee who infamously oversaw the Seattle Sounders vs Portland Timbers US Open Cup match where Clint Dempsey was sent off for reaching into the referee's pocket and tearing up his notebook.
Grips about officiating are easy to come by in the USL, NASL, and MLS. The referees of North America are only as good as the players they see every week. But let's be clear here, not a single one of these cards was undeserved. In fact, Nana Attakora should have been given a straight red for grabbing a fistful of Nazmi Albadawi's jersey, pulling him up to his face, and then throwing him down to the ground. Quite simply, both teams decided to call the ref's bluff, to see if he had the gall to continue to card them. He did. Horrible teams fail to adjust their game plan to the refereeing and conditions; these were two horrible teams.
Lessons Learned:
Alen Marcina should be fired, posthaste. It has become painfully obvious that the success San Antonio Scorpions experienced last season when they fought to become league champions was a fluke. Marcina has zero tactical understanding (evinced by his continued insistence on a poorly orchestrated 5-4-1 formation no matter the competition faced) and players know there aren't any consequences in hurting the team by being sent off. Under Marcina, San Antonio Scorpions are in danger of becoming a joke. Marcina hasn't lost the plot, he's lost the Cliff Notes.
Carolina are in crisis. Even though Nazmi Albadawi is rounding into late season form and Tiyi Shipalane has stayed one of (if not the) most dangerous winger in the league, the midfield, which had been stellar throughout most of the season, is now a mire of confusion. On top of this, lone striker Nacho Novo is going through a phase worse than the yips; he's a complete ghost on the pitch.