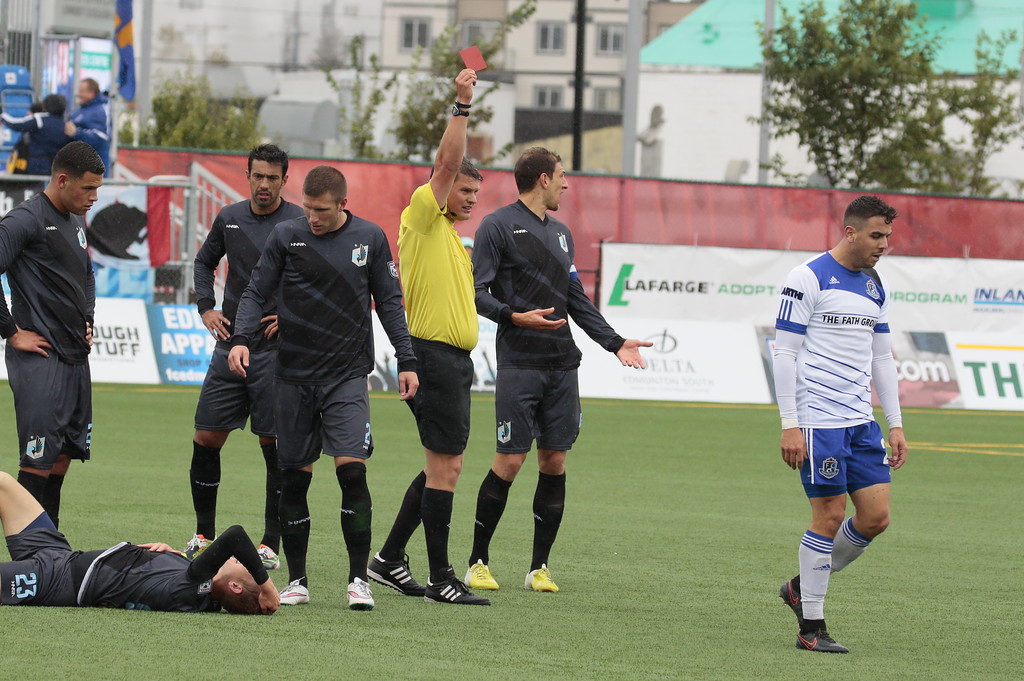 Recap: Minnesota sputters to a draw against 10-man Edmonton
FC Edmonton 1 – 1 Minnesota United FC
Goals:
11' – Kalif Alhassan (MNU)
90'+ – Daryl Fordyce (FCE)
Major Themes
For the eighth time this year in all competitions, Minnesota transformed a win into lost points after the 70th minute as it gave up a set piece goal at the close of stoppage time. The foul that led to the free kick may have been suspect officiating, but in truth Edmonton had pressed for ten minutes and had themselves been hard done by the referee only moments earlier when the advantage was not given on a clear goal scoring opportunity.
Two early, deserved yellow cards to Michael Nonni saw the player heading to the locker room in the 25th minute. Minnesota had already dominated possession to that point, and seemed poised to not only win but pad its goal differential. Instead, Edmonton finished the first half with the better of play and ultimately United was made to pay for its failure to apply pressure.
The game was marred by terrible playing conditions, including rain, temperatures just above freezing, and a stiff 30 mph wind. This made passes difficult to weight and led to some very sloppy play. The weather also made goalkeeping challenging and forced the Eddies' Matt Van Oekel to parry away shots he might otherwise have caught.
In Form:
Matt Van Oekel (FCE) – For most of the second half, Minnesota controlled possession and put several challenging attempts on frame. Not only did Van Oekel make some great reaction saves, but he did so with wet gloves and slick, unpredictable turf conditions that can cause the ball to react in unexpected ways. Kudos to Van Oekel for limiting the damage and keeping his team in the game.
Ibson (MNU) – The Loons midfielder was among the best on the field passing in the challenging conditions, and he put a strong shot on goal that began a relative torrent of pressure for Minnesota in the second half. Ibson's decisive passing has been key to his and his team's resurgent consistency this fall.
Liabilities:
Making a wall. Each team conceded its goal on a free kick. Alhassan found the net as the Edmonton wall parted under pressure from Minnesota players, with the midfielder's shot finding the gap and the back of the net. Daryl Fordyce found the net on a skipping strike that actually skipped under the United wall.
It is difficult to identify specific weak points in a game played in such unfavorable conditions and with a man advantage or disadvantage for most of the game. However, it was clear early on and has been for weeks that FC Edmonton cannot succeed when opponents congest the action in the midfield. Whatever is lacking for the Eddies – clever overlapping runs, speedier decision making, simple geometric ball circulation – it needs to be addressed to give the club a consistent way forward to get back to its scoring potential.
You Won't See On The Highlights
Each of FC Edmonton's three substitutions was spent on an attacking substitution, with Pablo Cruz and Hanson Boakai adding value in pace and striker Frank Jonke getting involved late. The strategy not only paid off, but shows that Colin Clarke believes in his players and their ability to play with the best clubs. They will need that confidence for the home stretch, with Edmonton currently on the outside looking in at the postseason.
Lessons Learned
If it hadn't been learned yet, Minnesota needs to score at least twice to feel comfortable. The club has only turned in a shut out a few times this year, and its propensity to yield late goals has turned a team that could be atop every table into one still insecure of its playoff position.
FC Edmonton earned a point against a very good team, down a man, without key players Lance Laing and Sainey Nyassi. The team was without players like these for a stretch already this season and felt the pinch of those absences. Edmonton is good enough to compete on any given day without its best players. It remains to be seen, however, if they can compete consistently without them should it come to it.