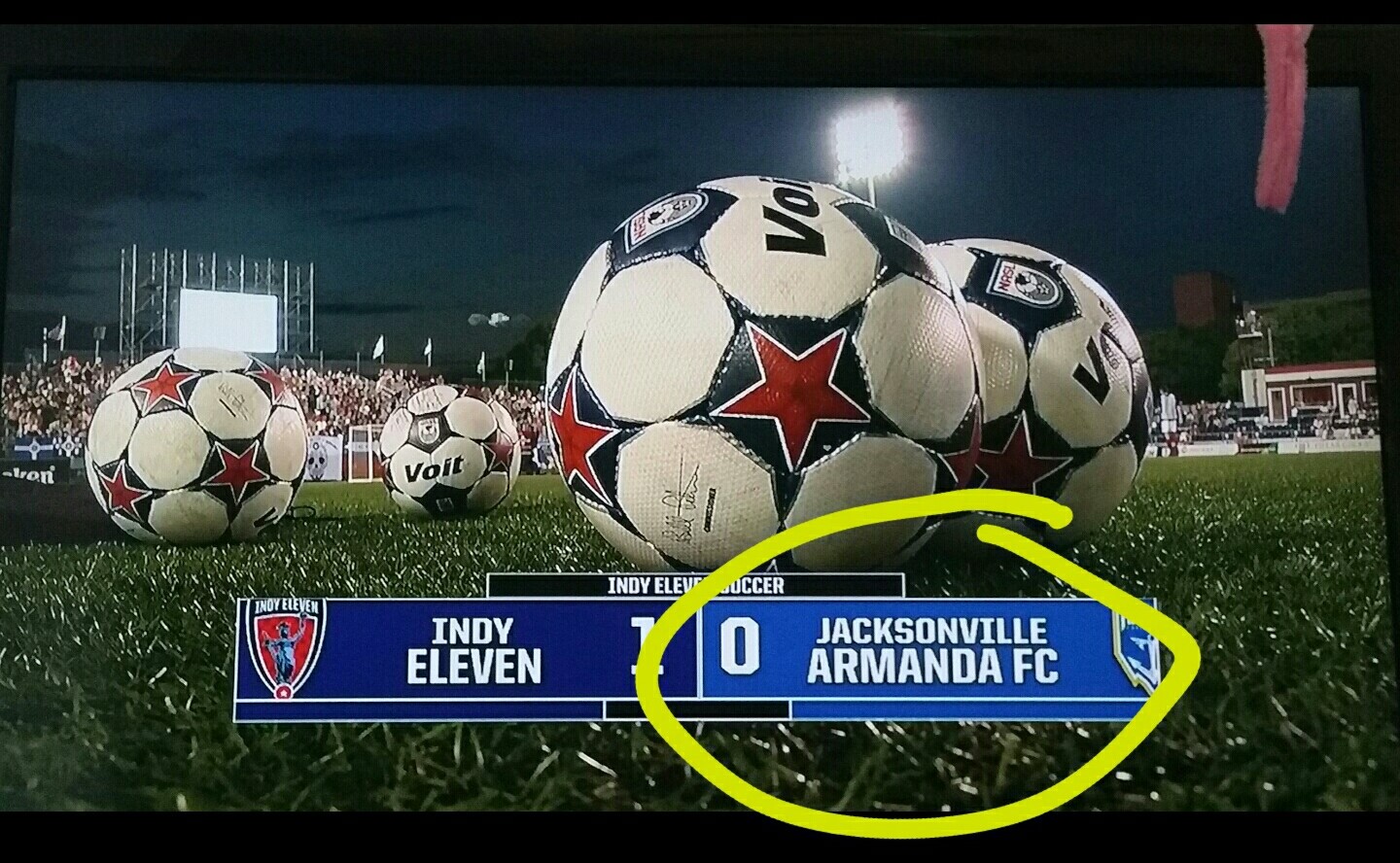 Around the League – Fall Week 10 Blooper Edition
Here's a quick round-up of some of the low lights around the NASL in Fall Week 10.
Indy Eleven – Jacksonville "Armanda" FC
Indy may have dominated on the pitch with a 3-0 shutout of the Jacksonville Armada, but the broadcast booth missed the mark a few times, including with field audio over the commercials (that might have been a win, actually) and a missed chance at proofreading.
San Antonio Scorpions – Ottawa Fury FC
The home team may have lost the match, but the water works started early in the 37th minute, as the first few rows of Toyota Field transitioned into the Splash Zone!
To be fair, in that heat, it was probably a welcome surprise.
The entrance to the locker rooms at Toyota Field is a Corner Store facade.
Which is why a red-carded Zourab Tsiskaridze, who had tossed his kit into the crowd and is entering the locker room, just looks like an angry man in need of beer.
No shirt? No problem, man.
The San Antonio broadcast booth was quick to jump in on the action. To the left is Martin Nash, Ottawa Fury FC assistant coach. To the right, being interviewed, is Ottawa Fury head coach Marc Dos Santos.
Didn't matter to the broadcast crew who referred to Marc as Coach Nash.
No biggie, guys. Just the head coach of the opposition and best club this fall, so far.
FC Edmonton – Minnesota United:
Probably the most difficult game of the week to watch, there was an exciting finale as Edmonton dug out a goal in the dying moments. The fans lost control of themselves in the celebration.
How about this guy who air-humped his way into the hearts of many?
Or this guy who gave us the bottom line, then made it clap?
BONUS ROUND!
Not to be outdone, the Midfield Press crew made sure to put a collective foot in their mouth when EVERY SINGLE MEMBER who submitted predictions picked the Cosmos to roll into Tampa Bay and win.
Yes, Rowdies. Whoops, indeed.
Did we miss anything? Make sure to let us know!