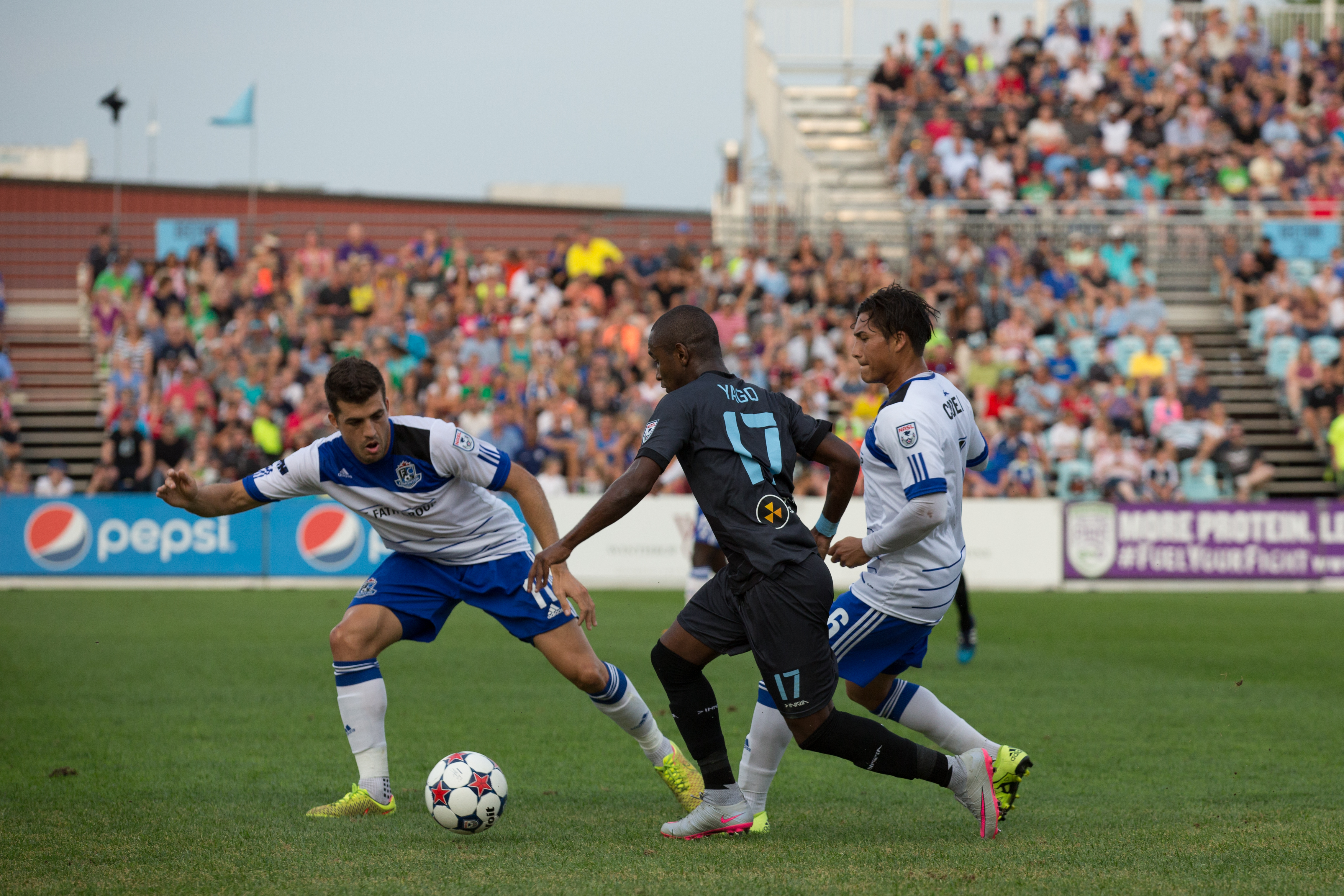 Preview: Eddies moving in circles as they host Minnesota
FC Edmonton – Minnesota United FC 
Major Themes:
Hot and cold. Edmonton hosts United with two tough shutout losses in the rear view mirror. Minnesota, however, is riding a three game win streak and cementing its status as a Championship contender.
Strong offense against strong defense. Minnesota is currently first in the league in goals scored all season (36), and have seen great offensive runs by Christian Ramirez, Ibson, Daniel Mendes, and even left back Justin Davis recently. Edmonton, despite its uneven form this fall, has tightened up its once porous defense and has allowed only eleven goals in eleven games in the Fall Season.
Home field advantage? Edmonton has historically been considered a tough place to play in NASL. The distant travel and windy conditions have made for unpredictable results over the years. In 2015, however, the Eddies have only one more win than losses at home. Including Sunday, three of Edmonton's next four games will be at Clarke Field.
In the last game:
Minnesota and Edmonton have been unable to break free of each other this year. The first game of the season series saw leads change hands back and forth before ending in a draw after a controversial penalty was awarded to Minnesota. More recently, Edmonton made the latest entry in a Loons season marred by allowing late goals as Tomi Ameobi earned another draw. Sunday will be the rubber match in what has been a competitive battle between the clubs this season.
Keep An Eye On:
Edmonton's goalkeeping situation. Van Oekel is certainly the club's number one man between the posts currently and played most recently in in Edmonton's 1-0 loss to the Atlanta Silverbacks. The prior game, however, saw Tyson Farago earning his first start of the year, backed up by Christian Kaiswatum. You likely will not see NASL's defending Golden Glove winner John Smits, who has started four times this year and has not been seriously in the picture for coach Colin Clarke all season.
Minnesota United's fullbacks. With leftback Justin Davis scoring twice and adding an assist in his last two games and rightback Kevin Venegas' skillful box-to-box runs and good service from the flank, the Loons' high flying offense is as dependent on its defenders as on its attacking players. When Edmonton defenders close down on United midfielders, watch for one of these players to appear as an attacking outlet to relieve that pressure.
You won't notice:
Lance Laing and Sainey Nyassi (FCE). International duty will once again tax the Eddies' squad as two of its best attacking players will miss Sunday's game. Edmonton will need to rely on Tomi Ameobi to find his scoring form, and we may see midfielders like Tomas Granitto and Daryl Fordyce asked to support the attack more. Sometimes defender Johann Smith will likely find time in the left midfield, as well.
Juliano Vicentini (MNU). Though the United midfielder provides definite value and can occasionally push higher on the pitch, his traditional role is at the bottom center of the midfield as a distributor in the attack and a disruptor on defense. He has had generally strong play this fall, but you may not notice him if he isn't scoring a goal from 25 yards out.
You Probably Won't See:
An Edmonton win. With its tough recent form, missing key players, and against a good team getting hot at the right time, the smart money would avoid betting on an Edmonton victory. Edmonton has shown repeatedly this season that they can surprise, but a win today would be just that: a big surprise.