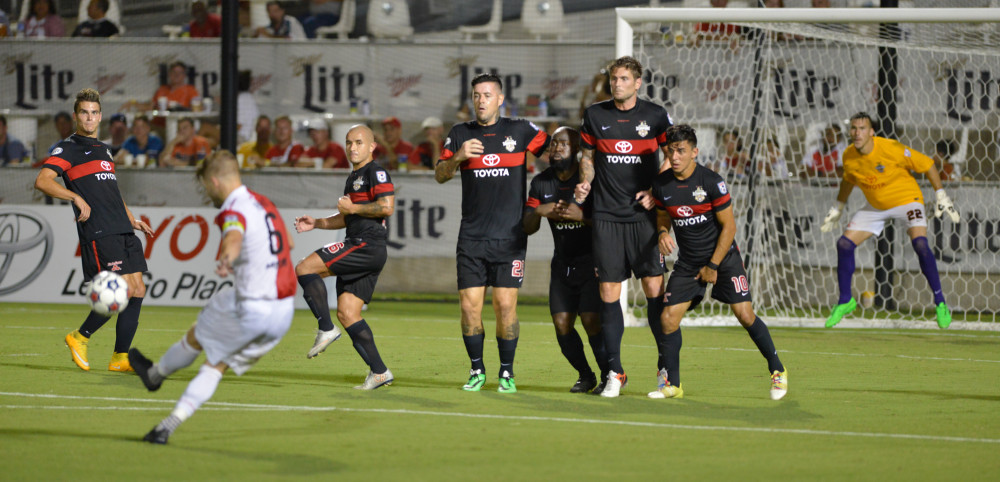 Recap: Ottawa dispatches San Antonio with ease
San Antonio Scorpions 0 – Ottawa Fury 1
Location: Toyota Field, San Antonio, TX
Attendance: 6473
Cautions:
22′-Zourab Tsiskaridze (SAS)
38′-Zourab Tsiskaridze, second yellow/red card (SAS)
45′-Rafael Alves (OTT)
55′-Nana Attakora (SAS)
85′-Rafael Castillo (SAS)
Substitutions: 
SAS
32′-Billy Forbes (left midfielder) for Cesar Elizando (left midfielder)
61′-Tyler Gibson (central midfielder) for Guiseppe Gentile (forward)
80′-Marvin Chavez (right midfielder) for Eric Hassli (forward)
OTT
68′-Paulo Junior (forward) for Andrew Wiedeman (forward)
90′-Tom Heinemann (forward) for Aly Hassan (forward)
Goals:
50′-Oliver Minatel (OTT)
Highlights:
[youtube http://www.youtube.com/watch?v=LR1I1QRLf0k&w=560&h=315]
Major Themes:
-San Antonio rolled out a rather odd formation that slide between a 5-4-1 and a 3-5-2. At least, it did up until the 38th minute when centerback Zourab Tsiskaridze earned himself a dismissal from the match. In classic San Antonio style, a lack of discipline put the team down a man forcing everyone else on the squad to push themselves harder than they should have had to given the wilting Texas heat.
-Winger Billy Forbes was subbed out in the 32nd minute due to injury. Hopefully, the hurt can be shaken off given the run of matches the Scorpions have before it this week (Carolina Railhawks midweek and Indy Eleven this coming Saturday). There is no one on the Scorpions who can step up and fill Forbes boots.
-Ottawa did nothing spectacular but rather casual went about stifling every San Antonio effort to get back into the match. Saving its energy and effort for more important matches and significant opponents (Ft. Lauderdale two weeks in a row and then the New York Cosmos), the Fury already look playoff ready.
In Form:
Even though the backline of San Antonio has been perpetually makeshift, since signing with the Scorpions rightback Milton Palacios has been dangerous in attack and the only defender worth his salt.
Liabilities:
-Lack of discipline has been a hallmark of Alen Marcina's tenure in San Antonio. This season, suspension combined with injury has meant that San Antonio have yet to field a consistent backline.
-Omar Cummings in the 17th minute failed to pull the trigger on what at the very least should have been a shot on target instead dishing off to fullback Milton Palacios whose shot sailed wide right. Although in the top five for the league's Golden Boot, Cummings hasn't scored a goal in nearly a month (August 8th) and hasn't scored in a winning effort since July 11th.
-Even though Ottawa is flying high in the standings, it should be troubling just how weird of a bench it had for this match. The Fury had two goalkeepers and four forwards, a bench that really should only happen when playing a garbage match in FIFA or Football Manager.
Available subs: DeBellis (GK), Cassis (GK), Poltronieri (F), Haworth (F), Hassan (F), Wiedeman (F)

— Ottawa Fury FC (@OttawaFuryFC) September 6, 2015
Lessons Learned:
-The loss plants San Antonio firmly at the bottom of the Fall and combined standings. There is the rather desperate belief that because the league is so tightly packed a couple of wins will shoot a team up the standings. While true, given that ten or fewer matches remain for all teams, it's painfully obvious that the Scorpions will not make the playoffs. Scorpions need nine points to move into fourth place in the combined standings and fifteen points to win the Fall (assuming, of course, all of the teams above it are some how locked in stasis). Last year, San Antonio Scorpions became champions; this year, San Antonio Scorpions are the worst team in the North American Soccer League.
-Ottawa has blossomed into a patient squad more than willing to allow an opponent to defeat itself. Only the New York Cosmos have been able to master this trait. Coincidentally, Ottawa and New York have been one-two all year.