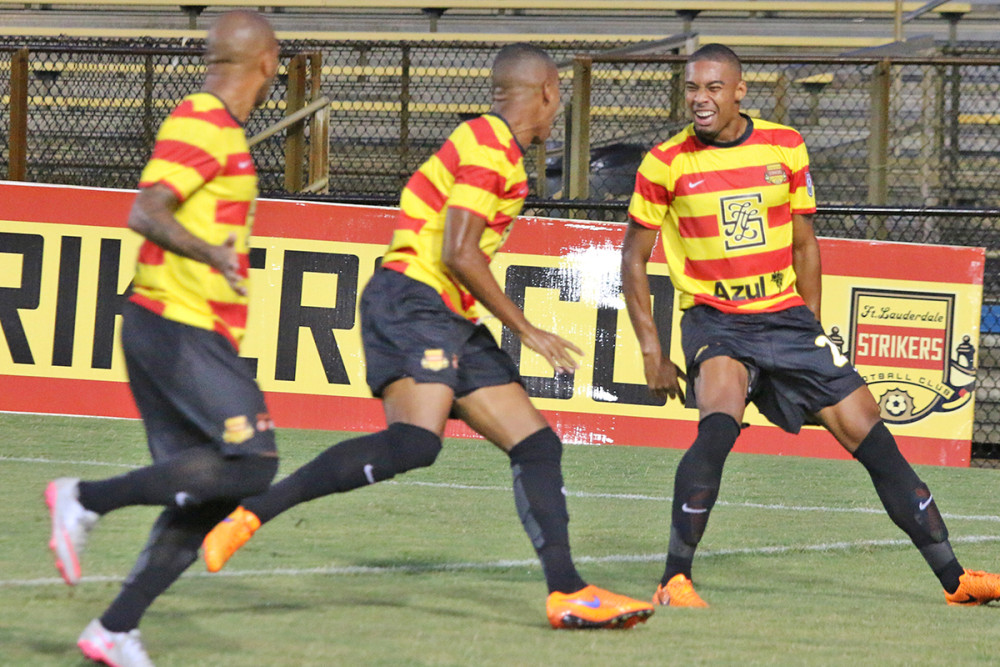 NASL Fall Season Power Rankings – Week 9
I poke fun at NASL's propensity for generating surprising results week-over-week, but ultimately stand by this article praising the league for maintaining parity while still allowing the more competent teams to truly emerge. If the season ended today, three of the teams entering the postseason would be returning from last year. Success in the league is not walled off, but it does take hard work, shrewd moves, and spending money doesn't hurt either. That is what an entertaining, rewarding league should look like.
Nevermind that the seven teams below those top four are an enigmatic mess that is impossible to stratify. It's the NASL Fall Season Power Rankings – Week 8.
1. New York Cosmos
We prognosticated that it would get worse for Carolina before it got better due to a week with two Cosmos encounters, and New York helped to deliver on our prophecies with two come-from-behind wins in eight days. The Cosmos scored three in each of those games, with only a mid-week draw against NASL's undisputed other-best-team to slow it down. In short, it was a seven point week mostly away from home in which neither travel nor match congestion was enough to hold this club back. The Cosmos continue to share the scoring wealth as well as the assists, the defense keeps the team in games despite its imperfection, and even things like health and luck seem to be on their side. The rest of the league is close to just playing for second it feels.
2. Ottawa Fury
It would be easy to mistake the Fury as being off their game right now, and to be sure they are unhappy with their recent results. But the last three since the end of the big streak have been a loss in the final moments, a draw in the final moments, and a tie against the league's best club in which Ottawa may have been the better team. In other words, though the late game collapses hurt, the team has continued to put itself into position to succeed against some of the league's top contenders. The Fury will need to turn "almost" into "victory" against these kinds of clubs, though; Ottawa faces the surging Strikers twice followed by a Cosmos matchup at Hofstra in the coming month. It is the part of the season that will make or break the Fury.
3. Minnesota United FC
This article can usually just address teams of a bye week by copying and pasting "thank God they could regroup after the waking nightmare that just unfolded," but the Loons are one of the rare teams that probably would have wanted to press right on and not lose their solid momentum. Two straight wins against important teams has Minnesota cementing its Championship credentials at the right time. Fears about losing momentum may be unfounded in any case: the club faces shell-shocked Indy, inconsistent Edmonton, and spiraling Carolina in its next three games.
4. Ft. Lauderdale Strikers
Oh my. The Strikers lived up to their name and left the net in shreds Saturday night in the middle of apocalyptic downpour of rain and goals. Stefano Pinho has firmly taken over the lead in the Golden Boot race after a hat trick against Indy and the club has fourteen goals in its last four games. It isn't all the Indy demolition, either. Ft. Lauderdale has won three straight against crucial clubs like Tampa Bay and Edmonton to claw its way into the final playoff berth by virtue of goal differential. What a difference a coach can make. The laurels shall remain unrested upon, however: four of the team's next six matches come against teams named Minnesota or Ottawa. This run could be a time that halts the Strikers in their tracks, or establishes them as one of the leagues very best. Set your dials.
5. Atlanta Silverbacks
A win against Edmonton continues to be like reading James Joyce's Finnegan's Wake. We aren't sure exactly what it means, but maybe we are just richer for the experience? Atlanta will take it, especially as the race for fourth in the Combined Table heats up with Tampa Bay and Carolina both sprinting from the position but Ft. Lauderdale firmly entering the picture. Of concern is that the relative goal machine of Pedro Mendes and Jaime Chavez has slowed to a drip, with the Silverbacks scoring only two goals in three games. The club's defense has turned that poor form into four points somehow, but the results are starting to resemble Atlanta's output from the early Spring Season: a surprisingly good defense shackled by awfully low-scoring games. The Silverbacks cannot let this be a trend if they will truly compete for the postseason. Carolina awaits.
6. Tampa Bay Rowdies
My favorite line from the web series-turned-film Halo: Forward Unto Dawn comes as militarized protagonist Master Chief addresses a severely wounded cadet to whom he's tending. "We're out of biofoam," he gravely and robotically utters in reference to his spray can of medical stop-leak for human bodies. I pictured that unintentionally hilarious line as I watched Tampa Bay claw its way from a two goal deficit to draw still-good Ottawa Fury on the road this weekend. A tie against a strong team will feel like a major relief after the tailspin the Rowdies have faced over the last two months. But with a matchup against the Cosmos on the horizon, can we truly say the bleeding has been stopped yet? Might Stuart Campbell be standing over this club shaking an empty can of biofoam, the only sound being the hollow clack of a marble rattling inside? Let's spare the conversation about further nightmares in the Rowdies' front office related to owner Bill Edwards. Just let the cadet bask in the relative glory of 2-2 road draw.
7. FC Edmonton
FC Edmonton falls within the "maybes." The wins against Indy Eleven and Carolina now look much less impressive with the hindsight of those clubs' fortunes, and Edmonton now sits on a two-game losing streak against two teams that are its biggest competition for the playoff hunt. Not a good look. But there really isn't a dumpster fire burning any less brightly below it, so here it is in the rankings. The offense that was once the envy of the league has gone quiet but for a 3-0 win against the Railhawks. The good news is that the defense isn't making errors in the same volume, or of the same staggering caliber, that it was in the Spring Season. The defense is doing enough to keep the team in most games. The bad news is that if all pieces of the puzzle don't click very quickly and all at the same time, it will be too late for the Eddies.
8. Carolina Railhawks
Where is the bottom for the Railies? Back-to-back matches against New York was always going to be tough, but we spent most of the year believing that Carolina had what it takes to compete with the top teams in the league. Over the last month and more, its lack of depth has put its season in jeopardy. The team has given up three goals in each of the last four games, and only scored a total of three goals for that entire stretch. The midfield has trouble controlling games, and players like Nacho Novo and Nazmi Albadawi are not enough to compensate for it. Questions about the team's depth came to a head when it appeared Tiyi Shipalane might miss significant time due to injury after last week's Cosmos game. He returned anyway to assist on both the Albadawi goals. The feeling was simultaneously one of relief that the team's best player had returned, and dread at the realization of how over-reliant on his skill the club is.
9. Jacksonville Armada
Taking one point out of a two game set against one of the league's worst teams is just not good enough, but Armada have done what it takes to earn the moniker of "respectable expansion side." We know what they are and what they are capable of this year. A talented-if-inconsistent offensive four leaves behind a midfield that cannot do enough to disrupt capable offensive opposition, thus failing to shield an already inadequate backline. If the team puts in a strong defensive shift, too often it is at the expense of some other aspect of the game. That is the kind of play we say against San Antonio this week. Holding the Scorpions goalless is worth celebrating, but the cylinders have yet to all fire simultaneously for the club. If it were ever going to earn its first-ever road win, it may as well be this week against Indy.
10. San Antonio Scorpions
Let's count our blessings. Four points from two games, each of which were shutouts, is a great turn of events for San Antonio. It is too bad the offense couldn't bring its former glory along for the ride. This team which had allowed three or more goals in each of three games has now allowed three goals in an entire three games altogether, a respectable goal-per-game rate that included a match against New York. Barring a miracle, though, the Scorpions are not eyeing a return to the postseason. There is still plenty to play for, however, including Omar Cummings and Billy Forbes chasing the goals and assists titles, respectively.
11. Indy Eleven
Oh my. If the Strikers lived up to their name by striking, Eleven didn't quite live up to their name by going down to ten men to deliver the final nail in a pretty grim coffin. The red card on Marco Franco may have been unjust; I wouldn't argue one way or the other. But this game was already out of reach, if not yet out of hand. Ft. Lauderdale were entirely in control but for a great individual effort and strike from Dane Richards. That the strikers piled on four goals after the red card was a combination of tactics (Tim Regan brought on a striker after the red to attempt to still compete, a gamble that failed) and of inexcusably poor play and attitude. The effort by Indy in the second half felt like children who checked out of a game they knew they wouldn't win. If the table hadn't already done enough to sour fans' hopes of a playoff run, this matchup has to have been their final cue to gear up for Colts season.
Disagree with our rankings?  Let us know in the comments.