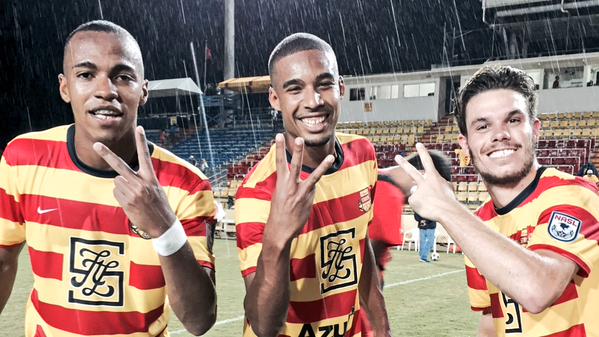 Recap: Indy suffers crushing loss at the hands of Ft. Lauderdale
Ft. Lauderdale Strikers 7 – Indy Eleven 1
Location: Lockhart Stadium
Attendance: 3,819
Cautions:
10′-Hendry Thomas (FTL)
18′-Victor Pineda (IND)
50′-Red Card-Marco Franco (IND)
Substitutions: 
FTL-
65′-Ivan Guerrero (leftback) for Walter Ramirez (left midfielder)
71′-Hendry Thomas (central midfield) for Manny Gonzalez (central midfielder)
76′-Gabriel (right midfielder) for Shawn Chin (right midfielder)
IND-
58′-Dragan Stojkov (right midfielder) for Duke LeCroix (forward)
65′-Victor Pineda (left midfielder) for Charlie Rugg (forward)
72′-Dane Richards (forward) for Brian Brown (forward)
Goals:
2′-Stefano (FTL)
7′-PC (FTL)
16′-Richards (IND)
20′-Freitas (FTL)
67′-Freitas (FTL)
77′-Stefano (FTL)
81′-Stefano (FTL)
85′-PC (FTL)
Highlights:
Major Themes:
Indy was hard done by the refereeing. Richards was erroneously called offside (there were three Strikers ahead of him when the ball was served up) in the 44th minute on a breakaway that looked liked it was going to bring Indy back into the match. Prior to that, Richards had the entire top of his foot stomped on by Freitas, which was rightly called as a foul and free kick but given just how sloppy and physical the 'tackle' was it really should have been a yellow card. But it was the red card given to rightback Marco Franco that changed the entire complexion of the match. Franco made a needless and delayed slide tackle on PC, most certainly a foul and yellow card worthy, but a straight red given the slick conditions on the pitch seemed excessive. If you listen closely, you can hear a voice rightly arguing against the call, a voice that I believe to be Indy's manager Tim Regan addressing the fourth official. Indy never regained its footing and, in fact, seemed to collectively give up.
In Form:
A minute and nine seconds into the match Stefano opened the scoring, notching his 10th goal of the season to tie him with San Antonio's Omar Cummings for the league lead. It was the first Goal of the Week candidate of the match, the others being the 2oth-minute strike by Freitas just outside the box and PC's bullet header in the 85th. Stefano would go on to score his eleventh goal and the 200th in Ft. Lauderdale Strikers' history in the 77th minute and not four minutes later completed his hattrick. Stefano's 12 goals now put him firmly in the lead for the Golden Boot. Over his last three matches, Stefano has scored six goals.
There is but one bright spot for Indy Eleven and that is Dane Richards. The Jamaican loanee has settled into playing as a striker rather than his usual winger position, and it has led to three goals over three matches. One can only wonder just how good Richards would be with a genuine strike partner or someone he could provide service.
Liabilities:
Jordan Graye's pass to his centerback partner Frankie Sanfilippo rolled lazily in front of Dane Richards leading to Indy's lone goal. The goal revealed something about Ft. Lauderdale–even with rightback Jonathan Borrajo back in the line-up and bolstering the backline, the Strikers' defense is barely adequate. There will always be at least one defensive failure by Ft. Lauderdale every half it plays.
At one point, Indy had three forwards on the pitch while being a man down. A risky move perhaps, but the vast majority of us would rather see ambition than tepidity. However, none of Indy's forwards have been able to score more than two goals all season. In fact, when winger-cum-center forward Dane Richards scored his third goal of the season he tied for the team lead (with midfield Dylan Mares who's been out with injury since late July and centerback Erick Norales). Anemic is too generous a descriptor for Indy's attack.
Norales, aside from being tied for the team lead in goals even though he's a centerback, is the only competent defender Indy Eleven have. Before Franco's sending off, the Indy backline struggled to maintain its shape, was too slow to react to Ft. Lauderdale's attackers, and failed at every opportunity to put any pressure on the opposition. Norales was suspended to the red card he picked up against Atlanta last week. Even though Norales will be back on Wednesday when Indy travels to face Minnesota United, they will be without Franco, who has been ever present at rightback for the team.
Lessons Learned:
With the win Ft. Lauderdale Strikers are fourth in the combined standings (on goal differential). After languishing in the doldrums for nearly the entire year, Gunter Kronsteiner's return has coincided or sparked the great run of form from striker Stefano and attacking midfielders PC and Freitas. But it's been the acquisitions of central midfielder Hendry Thomas, a MLS journeyman, and right midfielder Gabriel that have solidified the midfield allowing Stefano, PC, and Freitas the freedom they need to focus on the best aspects of their game. Ft. Lauderdale face the Ottawa Fury on September 9th and 19th: if it can get a result from those matches, then it will most likely solidify itself in the last playoff spot.