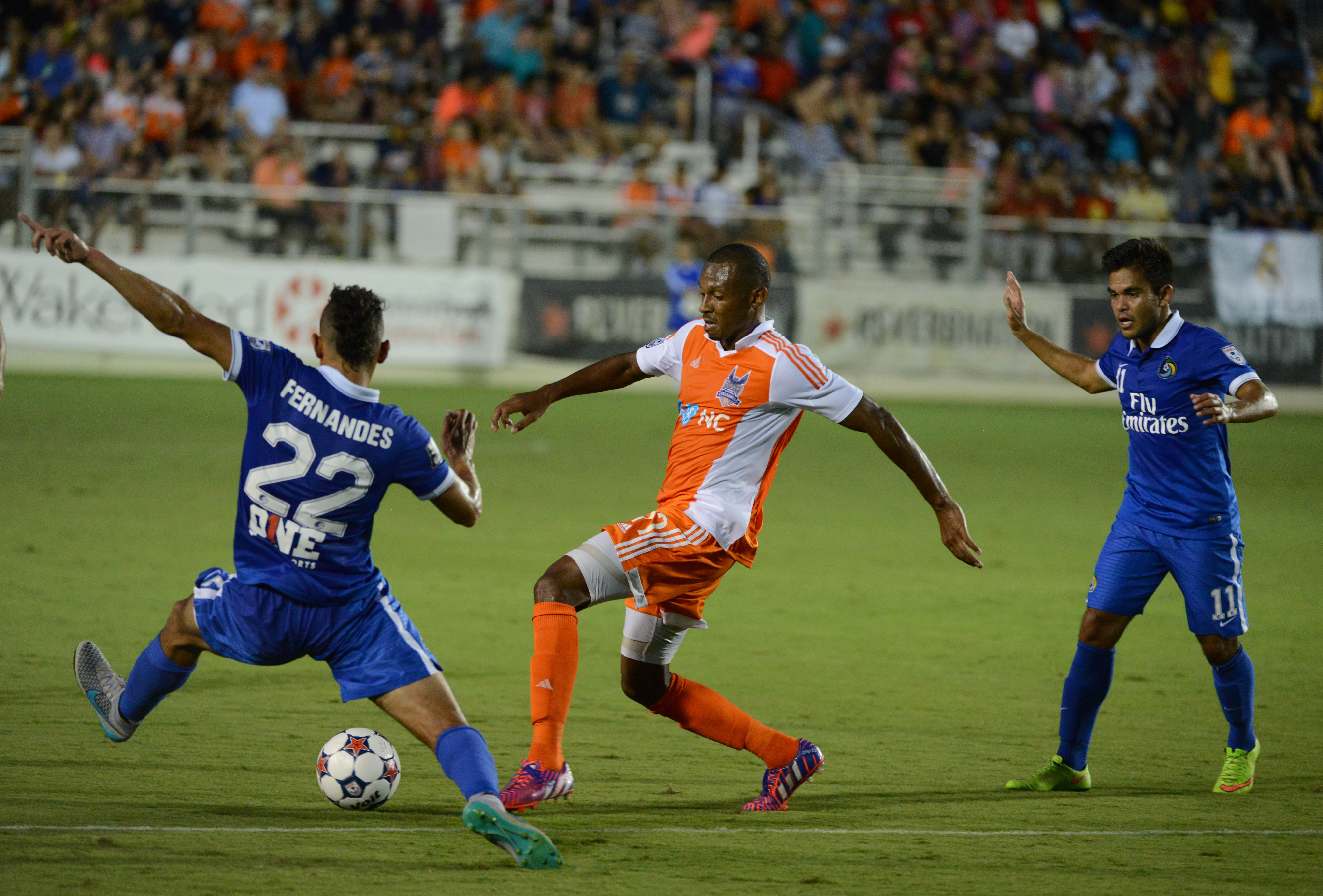 Recap: Cosmos Soar Over Free-Falling RailHawks
Most Valuable Player
The clear answer from the first 45 minutes was Tiyi Shipalane for reasons I'll get into later. But after the half, Lucky Mkosana was causing all sorts of issues for the Railies backline. It was a stupendous effort that gave the Cosmos the lead in the 54th minute, and a minute later he helped protect that lead with a scissor kick clearance.
It was an encouraging performance for a player and a Cosmos team that seemed to have been on cruise control for much of the Fall Season, which is never a great thing. Ask 2013 Atlanta how that turned out.
But the desperation was clear for a team with a mid-week trip to Ottawa imminent. Had the halftime scoreline stayed true, Ottawa could have taken the overall lead Wednesday, leaving New York to chase home-field advantage for the rest of the season. That's not necessarily a bad thing, and unless the Cosmos win in Canada, that fight for the top will probably continue through the season. Either way, Cosmos fans should delight that they're taking Fall seriously.
Biggest Turning Point
Everything was great for the RailHawks when the halftime whistle blew. The supporters were walking toward the mini-breweries excited about a 1-0 lead and the leading RailHawks didn't seem all too concerned about Shipalane still lying on the floor after a particularly nasty challenge that somehow went uncarded. It took Ship a minute or so to get up and walk to the locker room and he limped significantly on his way there, but he appeared to be getting stronger with each step.
All this is to say, no one was particularly worried. At first. Then he was subbed out for relative unknown Tyler Engel at the half. Then Colin Clarke said after the game that the ankle injury appeared significant and that he may be out for a significant period of time. In the meantime, the Cosmos scored less than a minute into the second period. They scored again 9 minutes later and again a few minutes after that.
Was the spirit of the RailHawks broken? Probably not. Despite frequent lip service to hard work, effort, tactics, and chemistry, soccer is a game often decided by quality and talent. Shipalane was one of a handful of players on the RailHawks who could start for the Cosmos, and probably the only one who could do so in an attacking capacity. Take that away and it doesn't matter how good Connor Tobin, Futty Danso, and Akira Fitzgerald are; if a team gives Raul, Walter Restrepo, and Lucky Mkosana 45 minutes to play in an NASL's team's half, they'll concede some goals.
Most Interesting Wrinkle We May Never See Again
It's been a struggle to score lately for the RailHawks. They'd been shut out in consecutive games against teams who are not necessarily known for defensive prowess in Jacksonville and Edmonton. The flash that was apparent in Carolina's first Fall game against Minnesota has never re-materialized, despite Austin da Luz, Nacho Novo, and Shipalane all being available. Something needed to change and it did.
Shipalane normally lives out wide, but on Saturday he and Nazmi Albadawi were continuously switching spots, changing the point of attack and bemusing the Cosmos defense. It was a fun little spark for the Carolina offense.