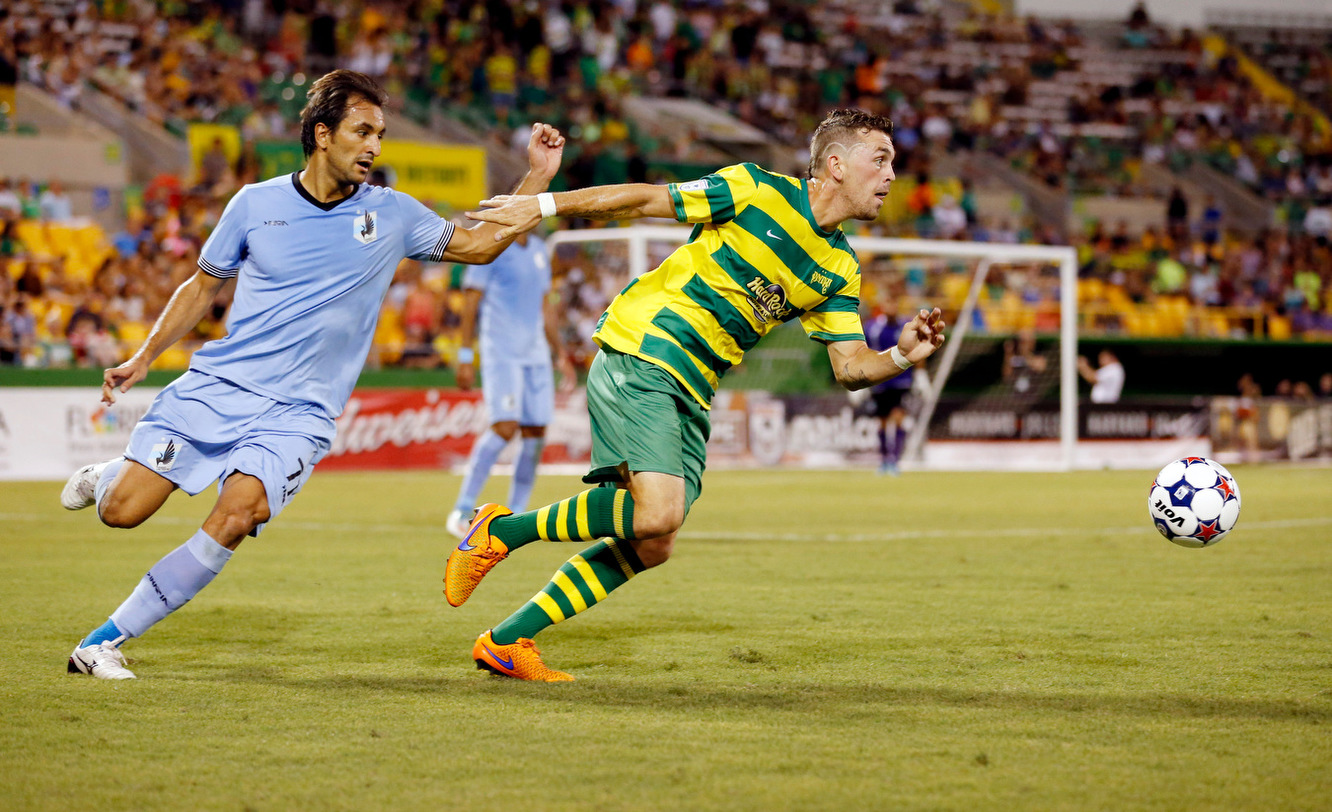 Recap: Loons Dominate Spiraling Rowdies
Tampa Bay Rowdies 1 – 3 Minnesota United FC
Location: Al Lang Stadium, St. Petersburg, FL
Cautions: 51' – Ben Sweat (TBR), 90' Juliano Vincentini (MNUFC)
Substitutions:
TBR – (F) Hertzog for (F) Santos 59', (M) Nuñez for (M) Espinal 67', (M) Menjivar for (M) Saragosa 79'
MNUFC – (M) Mendes for (M) Alhassan 78', (M) Gotsmanov for (M) Yago 75', (M) Banksfor (M) Jordan 89'
Goals:
28′ – Justin Guerra – Assist by Georgi Hristov (TBR)
36' – Ibson – Assist by Kalif Alhassan (MNUFC)
66' – Justin Davis – Assist by Ibson (MNUFC)
90' – Daniel Mendes – Assist by Justin Davis (MNUFC)
Highlights:

Major Themes
After dismissing both head coach Thomas Rongen and General Manager Farrukh Quaraishi, all eyes were on how interim coach Stuart Campbell would come out.
Minnesota striker Christian Ramirez brought in a 7-game scoring streak that fell one game short of tying former Loon Etienne Barbara.
The Rowdies deployed a basic 4-4-2 formation rather than Rongen's preferred 4-3-3, but were caught twice on counter attacks when the defensive backfield pushed surprisingly high.
Crowd and fan in-stadium reaction to the firing was surprisingly non-existent, save for the silent protest and tifo of Ralph's Mob. Attendance remained well above average with more than 5,000 people showing up despite the threat of rain and a Tampa Bay Rays game up the road.
In Form:
Justin Davis – Despite being known for focusing upon the left hand side (yes, you may sing along in your heads) both of his steals and subsequent runs occurred up the middle with significant success.
Kalif Alhassan – After being only used sparingly in the early spring, Alhassan earned his way into the starting XI after a series of impressive efforts as a sub.
Liabilities:
The Rowdies Defense to Counterattacks – The defensive "spine" built by Rongen was stout in protecting the goal during normal play, but aggressive movement by the defense to push high left the team vulnerable, and Minnesota was able to easily capitalize.
The Temper of Juliano Vincentini – Somewhere around the 90th minute, Vincentini earned a legitimate caution after a near perfect hockey style hip check. However his dispute and defense to Referee Rubiel Vazquez was borderline apoplectic. Had he faced an official such as Baboucarr Jallow, it would have resulted in a definite red card and ejection.
You Won't See On The Highlights
The Sound of Silence – For the first 5 minutes of play, Ralph's Mob sat silently and held aloft both Rongen and Quaraishi tifos, before moving into chants supporting long time Rowdie player and now interim head coach Stuart Campbell
Freddy Adu – Word was that the dynamic midfielder would finally be medically cleared to play, but neither he nor Omar Salgado dressed. Questions remain whether either players remain in the team's plans for the future, as both have publicly stated that their only reason for coming to Tampa Bay was to be reunited with the now-fired Thomas Rongen
The Light At The End of the Tunnel – After dropping 6 of the last 8 games in the fall, the Rowdies are so far unable to crack the 'W' column. The next few weeks have a travel match to face the red hot Ottawa Fury, followed by a trip home against the New York Cosmos, and then on the road again to Edmonton. Tampa Bay could easily drop the next 3 games and slip further out of the playoff hunt before seeing an opportunity for points against the lowly Scorpions.  Unfortunately for the Rowdies, the last time they met, San Antonio put a 3-0 beating on them at the feet of Omar Cummings.
Lessons Learned
The first 30 minutes of play showed an aggressive and smart Rowdies team on a mission. However after several missed opportunities, they reverted to their old timid ways and the Loons dominated both possession and scoring opportunities.
Minnesota United is firing on all cylinders. Coach Manny Lagos has once again managed to put together both a team and a game plan that produces wins. The absence of Ibarra was well managed and this revised squad appears to be as dominant as the one that took the field last season.
Social media was devastatingly unkind in their responses to the Rowdies' video press releases related to the high profile dismissals this week, and the loss will only continue to feed that ire.