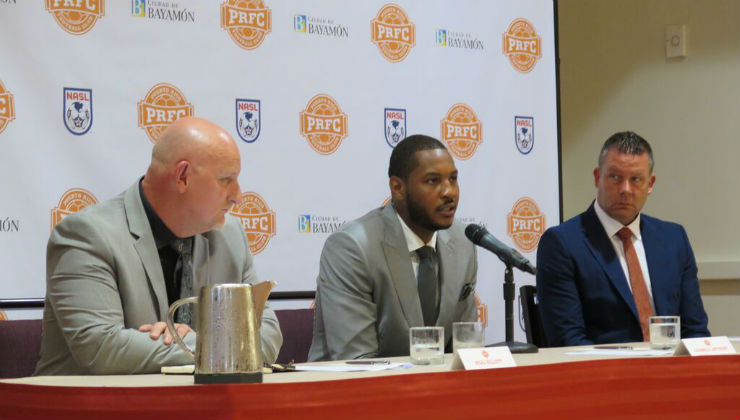 PRFC hires bring in experience; Local and international
Puerto Rico FC owner Carmelo Anthony announced today that Adrian Whitbread and Neil Sillett have been appointed as that team's Head Coach and Technical Director, respectively. While Sillett is a new face to NASL, fans of the league will recognize Whitbread as the former head coach of the Puerto Rico Islanders, the last NASL franchise based on the island. Both have considerable experience working in English soccer.
Whitbread is a former Premier league defender who played for (among others) West Ham United and Portsmouth. After persistent knee injuries forced him to end his playing career, Whitbread took an assistant coaching position under former Pompey teammate Martin Allen at Barnet. He moved with Allen to English sides, Brentford, MK Dons and Leicester City. In 2008 Whitbread was named an assistant for both the Puerto Rican National team and then USL side, the Puerto Rico Islanders under head coach Colin Clarke. When Clarke left the Puerto Rico to be the head coach of the Carolina Railhawks for their 2012 season, Whitbread was given his first career head coach position with the Islanders.
During Whitbread's time as an assistant, the Islanders were quite successful both in league and cup competitions including a fairy-tale run to the CONCACAF Champions League Semi-Final. Unfortunately, at the end of his first season in charge as head coach, financial and political difficulties forced the Islanders to go on hiatus. For his next assignment, Whitbread was given the unenviable task of taking over an Antigua Barracuda FC squad that was significantly undermanned (they had a squad of 16 players), underfunded (they drove across the US to games) and already 11 games into a season where they lost every match, equaling a continental record. When the Barrucuda folded, Whitbread took charge of Bahrain's U-23 Olympic team for 2014.
In June Whitbread was named English League Two side, Barnet FC's first team coach (once again under Martin Allen) but it was announced by the team last Friday that "The well-travelled coach has been offered an exciting opportunity overseas." Speaking to Barnet's official website, Whitbread said that the PRFC job was an "unbelievable opportunity" and "It's basically starting a football club from nothing – no players and no staff.  So I'm going to be going in and actually setting it all up. That process is obviously going to take a lot of hard work."
Working alongside Whitbread to build the franchise will be new technical director, Neil Sillett, who has considerable player management experience from England. Sillett is the director of the 'Sillsport Group' where his biography mentions that, "Over the past two decades he has worked for Portsmouth FC, Coventry City FC and Derby County FC with the likes of Terry Venables, Jim Smith, Steve McClaren and his own father, [legendary Coventry City player and manager] John Sillett."
Puerto Rico FC are scheduled to hit the pitch in the 2016 Fall Season. Carmelo Anthony will hope that by then, Whitbread and Sillett will have been able to leverage their connections to construct a competitive squad.