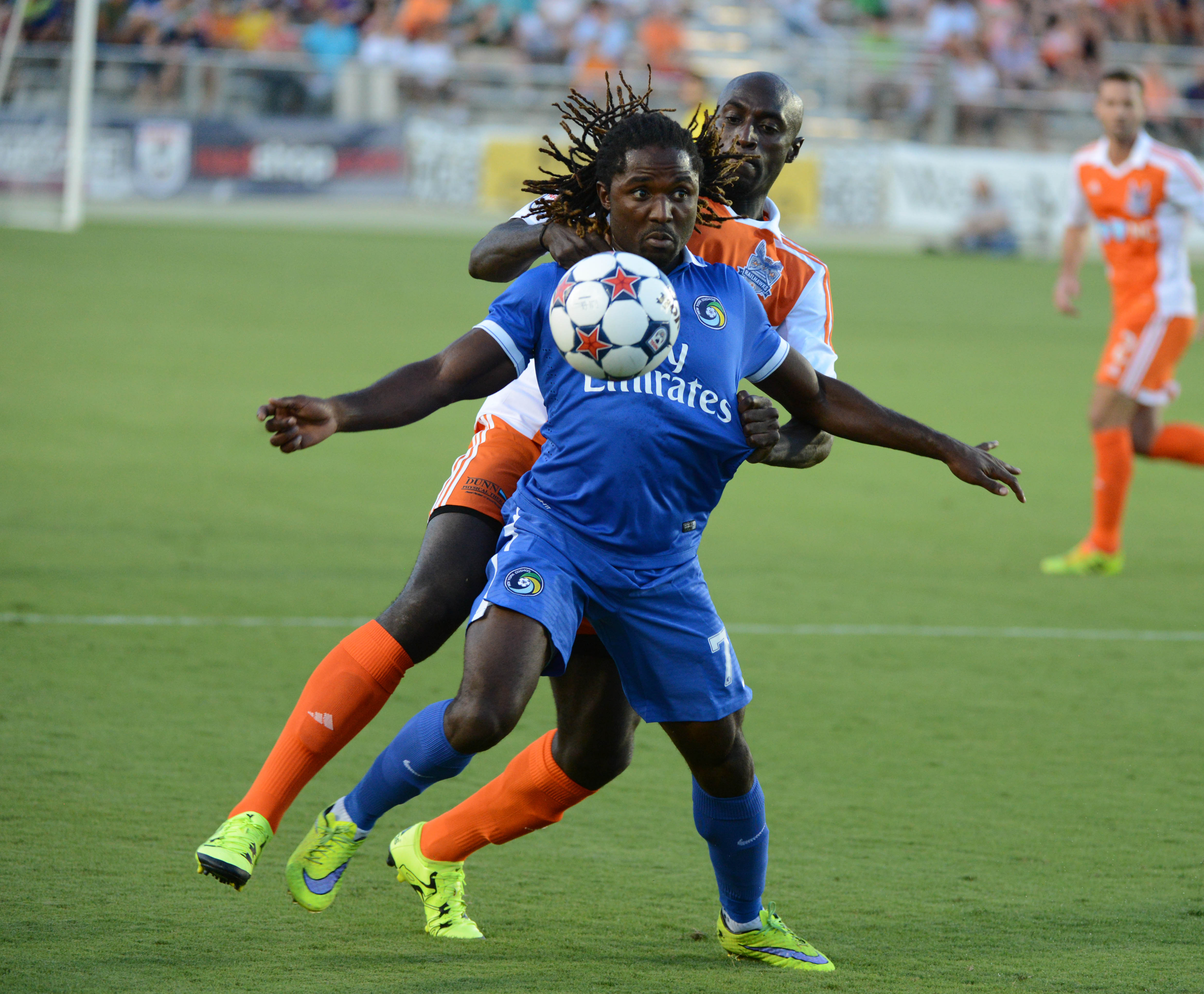 NASL Fall Season Power Rankings – Week 8
Look, how are we supposed to do this every week?  Why are you still reading this article?  We clearly don't know what we are talking about.  Want to know which team is better?  Check your tea leaves.  Consult the I Ching.  But for our clear top three, NASL shot us another week of confounding results.  Edmonton crumbling at home while the Strikers find their groove?  San Antonio shuts a team out?  Atlanta can't muster a win up a man against a drowning Indy Eleven?  Is it possible to just rank the top three teams and have every other team a tie for fourth?  It's the NASL Fall Season Power Rankings – Week 8.
1. New York Cosmos
It is hard to know precisely how much credit to give the Cosmos for their beat down of Carolina this weekend. The Railhawks are in a tailspin, and New York only gained the lead after the half when Tiyi Shipalane was subbed off due to injury. In short, they won against a struggling team without their best player. But make no mistake: this is a fantastic Cosmos side. Leonardo Fernandes has scored in three straight matches and the scoring wealth has been shared for a month among Fernandes, Adam Moffat, and a host of others (Raúl, interestingly, has been more silent on the scoresheet but undeniably provides value beyond goals). Four out of five wins in the last five games and the game of the year so far coming against Ottawa. Clear your schedule Wednesday and do what it takes to get access to Wednesday Night Soccer this week.
2. Ottawa Fury
The Fury had some time off to contemplate a tough-luck loss against Minnesota that snapped their incredible unbeaten run. The opportunity to get fresh legs may be critical as the club faces de facto nemesis New York on Tuesday. While the Cosmos may be considering player rotation in the middle of a stretch of three games in nine days, Ottawa will have the luxury of fielding a starting lineup with some rest. Add that the match is at home, and Ottawa looks to have the best chance right now of putting the Combined Table up for grabs.
3. Minnesota United FC
As with New York, it is a challenge to read too deeply into Minnesota's resounding win against a team in utter chaos. The win matters. We've watched United give away results to much more shambolic teams than this one, and in the early goings it looked as if they could do it again as they went down 1-0 off of some cringe-worthy defensive marking. If we are looking for a solid takeaway in a game with so many asterisks, it may be that it's great to see the resolve of Minnesota to come from behind and earn the win. Too many times the club has seemed to lack the mental fortitude to hold leads late, and it has now come back to earn victories in consecutive games. More than any personnel considerations, it's that resolve that has been needed by United this year. If they've figured it out, they will be very dangerous down the stretch.
4. Ft. Lauderdale Strikers
We stressed previously that the one-point-from-three-games-in-one-week shadow under which Ft. Lauderdale labored to open August was the result of a tight schedule against the league's very best teams, and urged caution against counting the team out based on that sample. That advice seems to have been justified, as the Strikers have won each of their games since that week and have picked up on the momentum it enjoyed prior to that stretch. Ft. Lauderdale's win against Edmonton on the road was a resounding one and the scoreline was deserved. Stefano Pinho (who else?) earned the brace on Sunday to bolster his own MVP credentials (his nine goals sit one shy of league leader Omar Cummings) and his team's playoff credentials (the Strikers are two points behind nose-diving Tampa Bay and equal on matches played). The club plays more games at home than away to close the year, and all its Cosmos matches are in the rear view mirror. Fourth place is a good target, but the team has the talent and the schedule to do much better than that.
5. FC Edmonton
We will emphasize this again: FC Edmonton results are not random, but instead an exact indication of the opposition's current form. As described above, Ft. Lauderdale have had a great fall save for one week against impossible opposition. So naturally, FC Edmonton played like the Strikers were a hot team. The excuse of injury and international play are no longer valid: Edmonton had Lance Laing, Tomi Ameobi, Sainey Nyassi, and Daryl Fordyce all available and played at home. Yet the team that torched Carolina 3-0 was nowhere to be found.  Unsure why the Eddies needed to start Johann Smith, but he is clearly more suited to midfield work than defensive shifts.  Edmonton still has among the toughest marches to the end of any team, playing the Cosmos twice, Minnesota, Ottawa, and Atlanta in their remaining schedule. It needs to win the points it can, and home games against the Strikers have to count as missed opportunities.
6. Carolina Railhawks
We'll be lighting a candle for the Railhawks' season tonight. Four losses in five, and that tie against Tampa Bay is looking more and more like a loss each week the Rowdies take the field. We said last week that it would get worse before it got better for Carolina, and Saturday's 3-1 demolition by New York coupled with a serious ankle injury to Tiyi Shipalane has our staff on the cover of Fortune Tellers Weekly. Worse, the Railhawks face New York in a second consecutive game this weekend followed by Atlanta, Minnesota, or Ottawa in four of its next five games. It may be time to pack a knapsack, leave it all behind, and start riding the rails. #hobohawks
7. Atlanta Silverbacks
Against Indy at home, you are supposed to win. Let's clear that up right away. And on the heels of losing to Jacksonville, this draw doesn't look any prettier. But on a week when most of their midtable competition refused to make the case for themselves, Atlanta should stay confident after this week. The draw moves them within one win of the last playoff spot, currently owned by a Rowdies team that seems all too eager to give that spot away. They are in position if they can only maintain a consistency that none of the others knocking at the postseason door have done yet. It will take better efforts than Saturday's, though. Only by earning an own goal was Atlanta able to take the point, and it had no solutions for Dane Richards at all. But the Silverbacks did put Kristian Nicht to work, and there is reason for optimism entering the final third of the campaign.
8. Tampa Bay Rowdies

Previously, this article briefly mentioned its philosophy of ranking teams. A mix of historical results, recent form, and, to a much lesser degree, likelihood of future outcomes (say three of your best players were just injured despite your good form) factor into the thinking. With varying interpretations of this logic, each Midfield Press contributor votes for rankings among the teams, which are then averaged, giving us a blended ranking that accounts for the varying balances of this thought process.
What that logic does not explicitly account for is the very intangible, or matters off the field (even predicted future outcomes are based around on-field considerations like home vs. away games or injuries). Typically it makes no sense to reward or punish a team based on nebulous considerations such as team chemistry or a renovated stadium as their effect is unknowable and immeasurable.
The release of Thomas Rongen and Farrukh Quraishi hangs over the club, the hearts of many of its fans, and probably the thinking of a number of Midfield Press contributors.
Tampa Bay came out in a 4-4-2 rather than its typical 4-3-3 against Minnesota Saturday. It is tough to say the degree to which this was aimed at stifling United specifically in the midfield, or whether it is the new norm under a new coach (though note that the club tinkered with very flexible 4-2-3-1 and 4-4-2 formats in previous games). The approach was unsuccessful, the club was vulnerable to the counter, and was disjointed in the attack.
It is tough to rank a team for which so much is unknowable right now. Will its core of players stay for the long term? Will they respond to a new coaching voice or not? Will a new view of tactics bring the team back to its peak, or will a midseason shift of strategy under players suited to the old strategy be impossible to overcome? It is all unknowable. In this author's view, the team seems to be looking down the wrong end of the barrel with its recent front office decisions.
9. Indy Eleven
The midweek win that suggested Indy might be able to stem the tide was a mirage, and the only effect it had was to seal the fates of Rongen and Quraishi in Tampa Bay. Though a road point against an above-average side and a four-point week is hardly nothing compared to the four losses in five games that preceded it, the club feels as far from having it together as ever. Saturday's Silverbacks draw came on a Dane Richards penalty (not nothing but the club would take some success from the run of play if it could) followed by a red card and a late game giveaway on the own goal by Greg Janicki. The team will be glad to see if they can begin getting their money's worth from Dane Richards, and Kristian Nicht kept the game winnable when Indy went down a man, but otherwise the team is still trying to put together the border pieces of this puzzle.  When it has to start fitting together the sky pieces, it all falls apart.
10. Jacksonville Armada
The sting is a little more bitter when you are shut out by the Scorpions. San Antonio doesn't do a lot of shutting out. They are more likely to allow a three spot than earn a shutout, in fact. So even without the services of Alhassane Keita, an attacking corps of Jemal Johnson, Pascal Millien, and Akeil Barrett should have what it takes to find the net against a team like the Scorpions. So it goes for Jacksonville on the road, where they are devastatingly poor and remain winless on the season. A smartly built five-man backline by San Antonio, including addition Milton Palacios, may have contributed to the result, and the Armada were left toiling muddily in the midfield without connecting in dangerous places. Respectfully, Tommy Krizanovic is no Keita up top.
11. San Antonio Scorpions
Hardly a scintillating performance, but a 1-0 victory has to feel worthy of lifting a trophy over at his point. The team's last win came six games ago against a Rowdies team we were only just learning was unraveling. Since then, it has allowed at least two goals (usually more) in every game and even its great stretch of scoring was not enough to bring more than two points home until Saturday. The Scorpions will want better than the one goal, but when putting out a 5-4-1 formation and leaving Billy Forbes on the bench, that is the result you are going to get. It was only when Forbes came on that the goal finally came, and his success shows simultaneously how talented he is and how overly-reliant San Antonio is on him for success. Omar Cummings is having an incredible year, but Billy Forbes is the one dishing up any of the team's successes.
Disagree with our rankings?  Let us know in the comments.