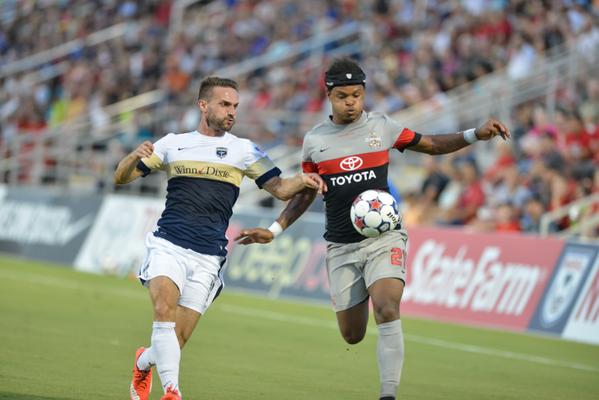 Recap: San Antonio Labor to Win, Still Remain at the Bottom of League
San Antonio Scorpions 1 – Jacksonville Armada 0
Location: Toyota Field, San Antonio, TX
Attendance: 7569
Cautions:
5′-Fabricio Ortiz (JAX)
49′-Jaime Castrillon (JAX)
86′-Pascal Millien (JAX)
87′-Milton Palacios (SAS)
Substitutions: 
SAS-
Cesar Elizondo (RM) off for Billy Forbes (RM) 59′
Martin Chavez (LM) off for Guiseppe Gentile (FWD) 71′
Omar Cummings (FWD) off for Eric Hassli (FWD) 83′
JAX-
Tommy Krizanovic (FWD) off for Derek Gebhard (FWD) 71′
Jaime Castrillon (CM) off for Tyler Williams (FWD) 79′
Goals:
64′-Billy Forbes (SAS)
Highlights:
[youtube http://www.youtube.com/watch?v=w5tRkK1lJ7o&w=560&h=315]
Major Themes:
-There was nothing impressive about either side on Saturday night, yet San Antonio Scorpions were able to prevail. Unfortunately, even with the win the Scorpions still sit firmly at the bottom of the combined standings and in the bottom three of the Fall standings. With two thirds of the season finished, it's very doubtful that the Scorpions will be able to salvage its season. Having said that, a win at home might just be enough to re-energize this lackluster squad.
-Jacksonville had the opportunity to jump up the combined standings to a place that would have had it knocking on the door for the final playoff spot. However, the team failed to generate any kind of concerted effort in attack even though it had multiple chances given just how dreadful San Antonio's defense is. It's maddening that the Armada, collectively the squad with the most pace in the entire league, far too frequently collapses into a forward-less six man midfield ineffectually clotting around and chasing the ball.
In Form:
-Winger Billy Forbes, the engine of San Antonio's attack and best player, started the match on the bench, which accounts for the team's impotent first hour of play. Not five minutes after coming on, Forbes scored the goal that would ensure San Antonio three points.
-New San Antonio rightback Milton Palacios has now started two matches and made a noticeable impact in both defense and offense. He is the only bright spot in an otherwise hapless backline.
-Jacksonville midfielders Akeil Barrett and Jaime Castrillon are doing their damnedest to pull the Armada into the playoff conversation and although they ran out of steam this night both are on the upswing.
Liabilities:
-Even though Jacksonville is pacey, the team lacks strength and height. The average height of the starting XI is 5'9″, which means it'll win nothing in the air and be easily muscled off the ball. I will also respectfully disagree with my fellow Midfield Press contributor Kyle MacNaughton, the Armada defense is hardly 'unbreakable.' It is, in fact, middling on its best day. The goalkeepers for Jacksonville are quality, but its backline is a low fence beaten far too easily and far too often (only San Antonio have allow more goals).
-Without Billy Forbes in the line-up, San Antonio is toothless. Even with the Golden Boot leader, forward Omar Cummings, without Forbes' creativity nothing happens. Too often the Scorpions look like eleven guys all playing a different game & not as a team. Only Forbes seems to be able to glue it all together and produce something.
Lessons Learned:
-When it wants to, San Antonio can play disciplined. Yet that usually means the squad will play without urgency, creativity, or passion. The Scorpions need to learn that professionalism is not a synonym for stodginess.
-Jacksonville's commitment to its formation, like it's insistence on short corners, is holding it back. The Armada are in danger of tactically calcifying.