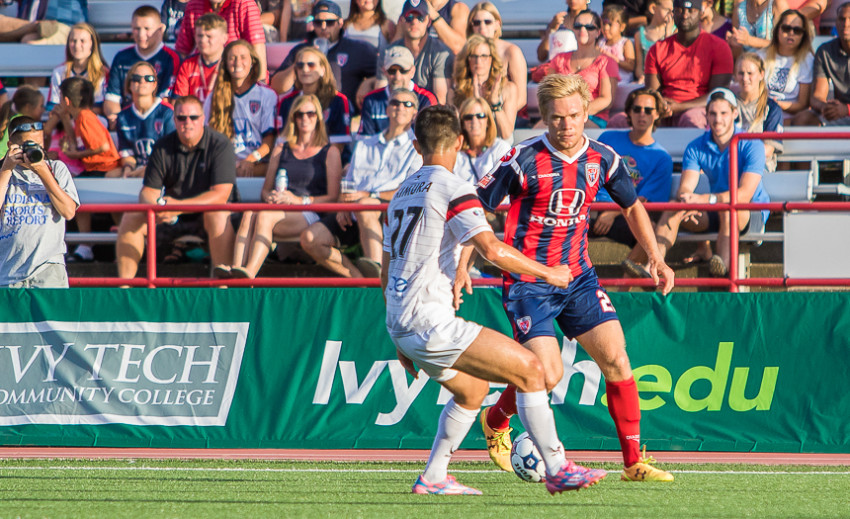 Preview: Indy will attempt to build momentum in Atlanta
Atlanta Silverbacks vs. Indy Eleven
Major Themes:
– Atlanta are undefeated at home in the fall season with a 2-1-0 record. Indy's fall away record mirrors the Silverbacks: They haven't won a road game this season and have a 0-1-2 record.
– Indy come into this game on a high after a midweek win against the Rowdies. However tired legs are likely to be an issue. Sitting in 10th and 9th in the Combined and Fall tables respectively, Indy have had precious little to celebrate about recently. A 2nd straight win would do a lot to motivate the team and raise fan morale.
– Atlanta are 4 points off third place in the combined table albeit with an additional game played. They are also 5 points off the Fall season lead once again with an additional game played. With points dropped in each of their last two, this is a must-win for the Silverbacks if they want any hope of making it into the playoffs.
In the last game:
Atlanta ground out a 1-0 win by stifling Indy's momentum.
Keep An Eye On:
– Squad Rotation (IND) – Indy played very well against the Rowdies and interim head coach Tim Regan faces a tough decision in this game. Keep the squad unchanged to maintain chemistry or reinforce to put out the most energetic 11 available?
– Zach Steinberger (IND) – One man likely to maintain his starting spot is the energetic young midfielder who is at Indy on loan from the Houston Dynamo. Steinberger excelled against the Rowdies, running rings around their back line.
– The Silverbacks' Attack – Kyle MacNaughton noted in his recap of Atlanta's loss to Jacksonville that the Silverbacks seemed to lack an attacking edge. Indy pressure opponents less than Jacksonville which should present Atlanta more confidence moving forward and leaving the defensive duties to their 3 man back line. Indy's defense is also middling and might present more opportunities for good runs.
– Jaime Chavez and Pedro Mendes (ATL) – Tied at five goals a piece, the Atlanta forwards will be looking to get back to form after the team's first scoreless game of the fall season. Indy's back line.
– Kristian Nicht (IND) – The big man in Indy's net has had an up and down season in 2015. The last game was decidedly an up with Nicht making some spectacular saves to preserve a clean sheet. Will the pendulum swing back the other way on his form or will he maintain the upswing?
You Probably Won't See:
– Jon Okafor (ATL) – The midfielder returned to training with the Silverbacks on Thursday and faces a tough task breaking into a midfield that looks like it's clicked well.
– Erick Norales (IND) – Arguably Indy's best player midweek, Norales had an ankle injury scare after landing awkwardly in the 81st minute of that game. He said on Twitter that the injury isn't serious but it remains to be seen if Indy risk putting him on the pitch. Also, past history with NASL tells me that social media posts aren't entirely reliable as metrics of player health for a variety of reasons.