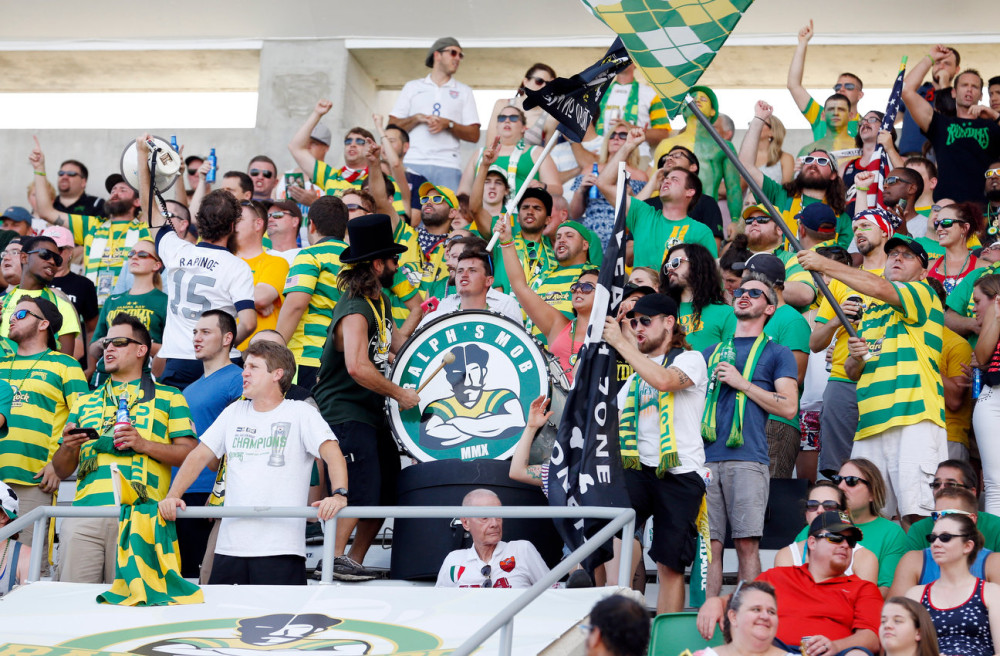 Endline: What Classic Rock Album Is Your NASL Team?
'Endline' is a weekly column in which David Martin surveys the NASL landscape for a topic of interest and fires a broadside of opinion. The content below reflects the opinion of the author alone and not that of Midfield Press or other individual staff.
The wild screams of inebriated fans.  Pounding drums.  Waves of smoke.  Frenzied, wild-haired stars.  Overpriced merch.  Is this a soccer match or a hard rock concert?  If your team and its supporters are doing their jobs, it should be tough to differentiate between the two.  But what kind of rock album is your team?  Is your team best described by wistful ballads with lighters in the air, or by triumphant arena rock celebration?  Is your club a group of talented pranksters peddling winking innuendo, or is your club about to dissolve under the weight of aggressive narcotics use and poor summer signings?  Stop asking yourself these questions.  I've done all the work for you.  Below is an unimpeachable, objectively correct analysis of which classic rock album your team most resembles.  They are organized by current rank in the Combined Table, not alphabetically or by how hard the respective albums rock.  Horns up.
New York Cosmos
Pink Floyd – A Momentary Lapse Of Reason
Here is a team, and a band, outlasting its prime. Surviving only on brand recognition alone and without the key person who made the brand what it became (Roger Waters for Pink Floyd and Pele for the Cosmos), both the Floyd then and the Cosmos now are a dinosaur act of aging stars. Sure, each could still find some success, but the soul, vitality, and necessity of each were ghosts. The comparison fails in one key dimension, though: at least Pink Floyd could still fill a stadium.
Ottawa Fury
The Beatles – Sgt. Pepper's Lonely Hearts Club Band
A great album top to bottom, just like the Ottawa Fury as a team. The club gets by with a little help from its friends, both in terms of sharing the wealth of accomplishment within the team but also is helped by its opponents in the standings doing nothing to bother them. Constant success is just a day in the life for the Fury. Plus the club isn't afraid to dress a little weird, not unlike the Technicolor marching band outfits the fab four don on Sgt. Pepper's cover.
Minnesota United FC
Nirvana – Nevermind
Nevermind was an incredible, groundbreaking album, right? Why don't you go pull it off the shelf and play it right now. I'll wait. Done? It's not as good as you thought, is it? Besides two or three consistently good tunes, the album as a whole is worse than you think it is. So it is with Minnesota. You think they are terrific, you take their great moments as signs of who you think they are, but if you are honest with yourself they are just a good-to-middling team, nothing more and nothing less. The cover of the album, featuring a baby chasing a dollar, is a perfect visual for the state of United right now: in suspended animation while it chases after money for its stadium.
Tampa Bay Rowdies
Black Sabbath – Heaven and Hell or Mob Rules
So you just fired the leader of your occult group. You had a string of unfortunate outputs, and now you've been led to the tough decision of booting the driving force behind your best work. Black Sabbath reached a point with Ozzy Osbourne at which it seemed necessary to dismiss him due to addiction and a legitimate stay at the asylum. To date, no one has found Thomas Rongen unconscious in his hotel room next to a pile of illicit internet memes, but one imagines that is how today's firing was precipitated. Which direction will the team take now? They may find their Ronnie James Dio and put out a solid, return-to-form Heaven and Hell performance, or they might succumb to the limp, vapid sounds of Mob Rules. Only time will tell for the Rowdies. What is certain is that Thomas Rongen will pull an Ozzy and only find more and more success wherever his travels lead him. This author wishes him well.
FC Edmonton
Jimi Hendrix – Band of Gypsys
The star power of FC Edmonton shines on its best days, and when they are all healthy and not on international duty. But that isn't always the case. As with Jimi Hendrix's Band of Gypsys, in which the legendary guitarist finds himself searching for new musical directions in the absence of previous "The Jimi Hendrix Experience" stalwarts Mitch Mitchell and Noel Redding, the Eddies results are uneven and unpredictable despite the obvious talent of certain players. The Canadian club lacks the depth to succeed without each of its best performers, and Hendrix never created any output half as good as he did alongside The Experience. The guitarist reunited with these musicians late in his career and died in the middle of creating a new album with them; what material was produced suggests he might have been right back in the saddle. Edmonton will be hoping the second half of the season gains some similar quality and consistency if injuries can abate and the club can play with the whole gang.
Carolina Railhawks
Queen – Sheer Heart Attack
Carolina is still a good team. Their starting XI has the raw talent to beat any team in the league. The problem is that they just don't always play to their potential. Queen's Sheer Heart Attack is an incredible collection of talents still trying to find their stride and only just on the cusp of gelling. There are hits like "Killer Queen," but then there are headscratchingly poor tunes like "She Makes Me." Carolina is defined by the same unevenness. For every crushing defeat of Minnesota, there is a whimpering loss to Jacksonville. But Queen were just about to solidify a sound that would carry them through the next decade of success…is that where Carolina is headed?
Atlanta Silverbacks
Iron Maiden – The Number Of The Beast
It may be too soon to say, but by the feel of it we could be looking back on this season and remembering it as a high water mark for your team. Just like Iron Maiden's The Number Of The Beast. Sure, you opened slowly this year, but so does Beast, with a lame Paul Di'Anno hangover track and ultra-lame "The Prisoner." But in the second half, you've kicked it into high gear and are tearing up the league. So it is with the album, including title track "The Number of the Beast" and "Run to the Hills." Further, like the band, you were able to ultimately find success after switching up your lineup. Brining in Junior Burgos and Pedro Mendes was like tapping Bruce Dickinson to lead the charge. It worked. Good on you. Now you need to finish strong to avoid becoming children of the damned.
Jacksonville Armada
Aerosmith – Aerosmith
Like Aerosmith's eponymous debut album, you are not great. Look, it's your first time out. You have a couple of high points – a win over the Cosmos here, a "Dream On" over there, and a dynamite front man – but ultimately you have a lot that you need to figure out. Though you've got some success back home, you haven't found out how to earn any success out on the road. That's ok, though. You show promise, and with a few more years and a pile of drugs behind you, maybe you'll become something.
Ft. Lauderdale Strikers
Bob Dylan – Blood On The Tracks
An album about the loss of that very special somebody, Bob Dylan's Blood on the Tracks is at times somber and at times defiant, but rarely rises much above a wistful sigh. Neither do the Strikers. Ft. Lauderdale thought they found the love of their lives in Leo Moura, but it was not to be. Sometimes relationships are like that. Dylan makes clear on the album that it isn't all just her fault, it's his too; his wife at the time might tell you it was all him. One believes that the feelings might be paralleled between the Strikers and Leo. But the Strikers rebounded quickly, seeking out an old lover in coach Kronsteiner to rebound from the heartache. Ah, love.
Indy Eleven FC
Van Halen – 1984
You have immense commercial success and a following topping any rival. Your fans love you, can't get enough of you. But that can't hide the underlying truth: you are just awful. You had a nice little open to the Fall Season, we'll give you that. Even Van Halen had a couple of songs that rose timidly above the level of unquestionable shit. But not many. For the most part, Van Halen solely recorded unlistenable garbage and somehow the proletariat kept gnawing away. Your team is too much fun David Lee Roth, not enough talented Eddie Van Halen. But as long as people have a pile of money to set ablaze, they'll keep showing up in droves.
San Antonio Scorpions
The Scorpions – Savage Amusement
Of course you are most like a Scorpions album. Did you think this was a game? But that's not all this is about. Last year you had a solid season and ended up walking away with the ultimate prize. The Scorpions had a nice little run, too, putting out Love at First Sting and killing it with "Rock You Like A Hurricane." Here's the rub: they couldn't follow it up. Savage Amusement couldn't find any critical success after having a big breakthrough, and neither could you this year. Even more worryingly, can you name another Scorpion's song that isn't "Hurricane"? No? No one can, not even the Scorpions. They never repeated anything like it. A cautionary tale to the team.
Disagree?  Got a better album?  Leave it in the comments.