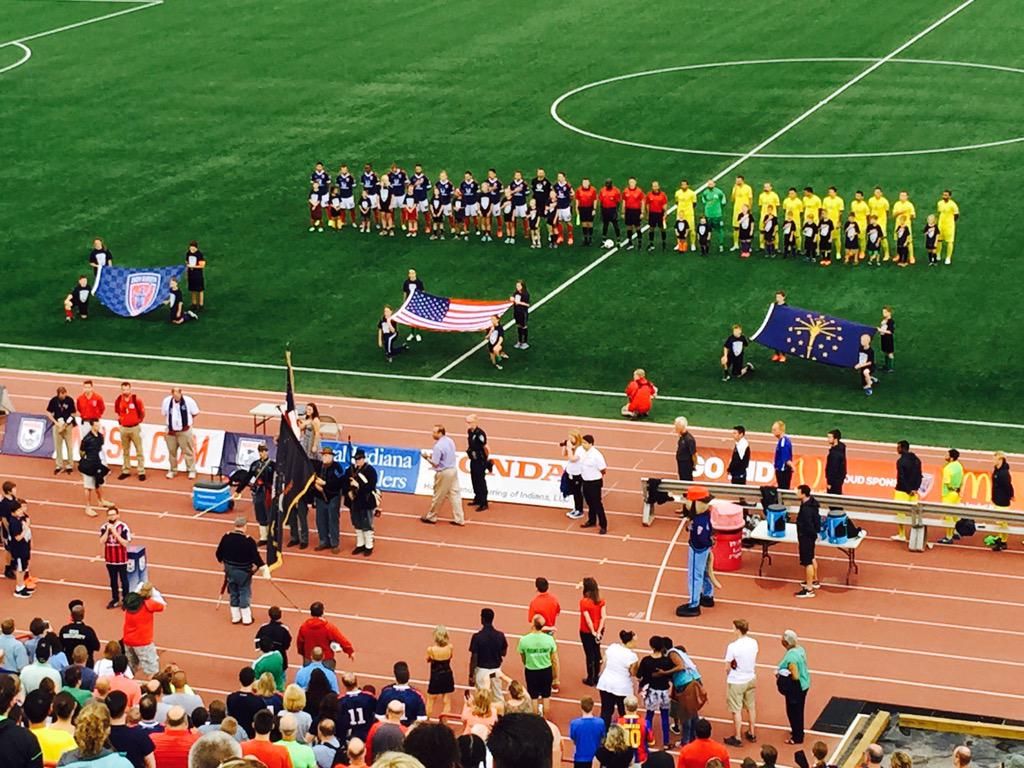 Preview: Rowdies Travel to Indy for Midweek Matchup
Location: Michael A. Carroll Stadium "The Mike", Indianapolis, IN
Weather Predictions: High of 83, Chance of Rain: 0%
Major Themes:
– Rowdies must score early if they hope to bounce back from a disappointing loss in Ft. Lauderdale
– Indy 11 must somehow stop the bleeding if they have any ambitions towards the playoffs
– The Rowdies play 3 games in 8 days, but have so much starting depth that they could start a new lineup in each one of their next two games with no overlap
In the last game:

Keep An Eye On:
– The Starting 11 – The Rowdies may shake up their lineup once again, after last week's dismal performance. Coach Thomas Rongen alluded to both a personnel and a formation change on the most recent podcast of The Unused Substitutes (Episode 47)
– Indy 11 will be without starters (M) Sergio Peña, and (M) Brad Ring, with (M) Marvin Ceballos as a possible sub. (M) Dylan Mares will be out indefinitely.
– Kristian Nicht, is struggling. Possibly because of his pourous defense, or just some missed opportunities, but a clean sheet may be asking too much.
– Kamil Çontofalsky is also struggling. However Matt Pickens has not endeared the Rowdies coaching staff in practice to replace the former Striker star, and Rongen is not one to maintain a doghouse. It's a toss up which keeper will play, and may depend on the formation the coaching staff chooses to go with.
– The Turf Monster loves to feed on the elderly, and both Maicon Santos and captain Marcelo Saragosa are in the upper ranges of age for the team. Both could sit out to rest for the Minnesota home game only 3 days later.
– The Return of Darwin Espinal. The young striker is expected to return from international duty, and may replace Santos as a speedy alternative. Coupled with the perpetual motion machine that is Corey Hertzog, the Rowdies hope to wear the Indy defense down on sheer effort even though both have struggled to find the back of the net.
– The Return of Richard Menjivar. Another young player returning from international duty, he may be asked to step into the role Saragosa normally holds (Tamika Mkandawire would be the captain), depending on the formation.
You won't notice:
– Tampa's stars – No, Freddy Adu will probably not play. The same can be said about Omar Salgado. Both players have suffered minor knocks in intense scrimmages, but Rongen believes in bringing both players along gradually and making sure they are 100% ready to perform once they step on the pitch. As great as they are, the team can survive without taxing the two former #1 MLS Superdraft Picks
– Large viewership numbers – As great as it is to see the league embrace broadcast alternatives like ESPN3, this game will only be available for non-Indy fans on One World Sports, either broadcast or app. The Rowdies will be hosting a watch party at the Rowdies Den in St. Petersburg
You Probably Won't See:
– A lot of set piece scoring. Despite recent events, both teams are both very strong defensively, and very week offensively, at scoring on corners and direct kicks. This one may come down to pure offensive will, and in that regard, the Rowdies have a distinct advantage with depth.
– Another last minute meltdown. With three red cards in the dying minutes of the match, Rongen will not allow another mental lapse like this again, without serious repercussions.
From the Department of Corrections:
In an earlier preview of Rowdies v Strikers, a couple of erroneous statements were made, and are in need of both clarification and correction:
– I erroneously stated that the Strikers rarely move away from the 4-4-2 formation.  However since his return, coach Gunter Kronsteiner has played a 4-2-3-1, with the exception being the match against Atlanta
– Returning Striker Shawn Chin actually played all 10 spring games with 8 starts – but in the right back position, which is not his natural spot.  Unfortunately, his impact was not felt in this role.  He has been held out of much of the fall season due to injury.