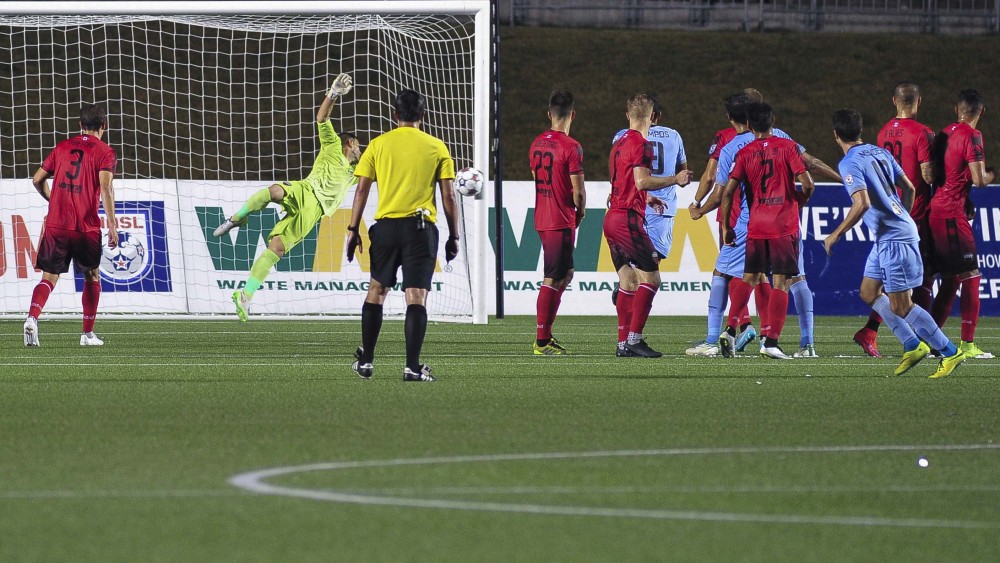 NASL Fall Season Streak Filled Power Rankings – Week 7
As the race for the fall title became tighter, the statistical correlation between the standings and results did not.  This is the reason NASL instituted the Spring/Fall format in the first place, isn't it?  Though the format has its share of detractors, supporters will definitely be clenching their pints all the firmer for it.  Ottawa's slip this week put the fall within reach of more teams, and the combined table is incredibly balanced.  Fourth place gets you a playoff spot, and even the ninth place team is within five points of that window.  Don't look away for a single second.  Unless the game is on One World Sports.  It's the NASL Fall Season Power Rankings – Week 7.
1. New York Cosmos
While Ottawa's streak ended, another streak continued this weekend: New York has not lost at home in sixteen games. The team showed poise by equalizing only moments after they fell behind at the end of the first half, then came out proactively in the second half and capitalized on a Scorpions own goal. Major credit to fullback Hunter Freeman, who had actually been finding his goalscoring touch of late, and this weekend put in the dangerous cross that resulted in the own goal and the win. The Cosmos are now unbeaten in five and are atop the Combined table once again. This is a team to avoid when they are firing on all cylinders, and especially now that their scoring woes are mostly behind them.
2. Ottawa Fury
It began to look as though it would take a miracle to beat Ottawa, and a miracle is precisely what was handed to the Fury as Daniel Mendes sealed the Loons' win with a stoppage time free kick goal. The unbeaten and win streaks are over, so what does it all mean for Ottawa? Not a whole lot. The streak was bound to end some day, and you could lose to far worse teams. Actually, the Fury played a much more positive brand of soccer than it did over a month ago when it tied Minnesota 1-1 on the road. In that previous game, Ottawa remained tied to a bunker-and-counter approach that allowed Minnesota to own possession and generally outplay the Fury but for a late-game penalty equalizer. This time, Ottawa shared possession and shots evenly with the opponents, which is a good sign. Andrew Wiedeman also netted his third in two weeks and seems to be getting hot at an important time of the year.
3. Minnesota United FC
More streaks? How about Christian Ramirez's seventh consecutive game with a goal? His early goal, however, took a distant back seat to two other events: Ottawa doing an impression of its former self by tying the game late, then Daniel Mendes putting away the free kick in stoppage time to send Minnesota fans into a frenzy. There are keys that bode very well for Minnesota in this win. First, it marked the second consecutive game in which United allowed only a goal, meaning the leaking faucet may have been tightened. Second, the team's resolve cannot be called into question again; the club was poised for another late game let down but finally put a game away under pressure. Another similar failure might have put coach Manny Lagos' rear end firmly, carmelizingly into the hot seat. Instead, Minnesota is more tightly ensconced in the playoff positions with 7 of its final 12 games at home.
4. FC Edmonton
WDDWLLWDW. That's the fall form. This weekly article has given Edmonton grief throughout the fall season about its colorfully unpredictable results, but with objective examination I believe we can see a picture starting to emerge. Edmonton began the fall season fairly strong against softer hitters, then suffered a lull when it played two strong teams (Atlanta and Ottawa, respectively), then rebounded against some mostly downtrodden competition. Edmonton's results may not be random at all. In fact, Edmontonian results may be the most statistically valid predictor of an opponent's current form. By this method, one can reasonably assume that Sunday's match with Ft. Lauderdale, which has gone LDW in its last three games, will end in a tie. Take out a second mortgage and bet on this outcome.
5. Atlanta Silverbacks
Fans were brought slightly back down to earth with a humbling loss to Jacksonville, but those fans should take heart. Jacksonville wins at home, it's just what it does. Atlanta simply had a hard time owning possession, and when it did control the ball the team just couldn't find open shooting lanes. But the club had a stronger second half in which it created more chances, and did keep Jacksonville's otherwise-potent offense to a single goal. So a loss, but hardly a catastrophe. What better way to rebound than against Indy, who are just a quagmire at the moment.
6. Carolina Railhawks
Three losses in four, now with consecutive 3-0 poundings to middling teams. Fun fact: Carolina is 2W-0L-2D at home this fall, but a dreadful 0W-4L-0D on the road. Fortunately the Railies will have a weekend of sweet tea and adequate Carolina barbecue ahead of them at home this weekend, but that game will be against a New York side that doesn't much care whether it's on the road or at home. They then trek to the city that never sleeps for a second consecutive Cosmos match, then a game against still pretty-damn-good Atlanta. I guess what I'm saying is that things could get worse before they get better.
7. Tampa Bay Rowdies
Rowdies vs. Strikers may be the most legitimate rivalry in NASL, and Tampa Bay took two very tough lumps in a month to give away the season series to their arch enemies. That's four fall losses in seven for the team that, for a moment, was atop the Combined heap. It is tough to pinpoint where the fix needs to be at this point. On the one hand, the team has only scored a crooked number twice in the fall behind a middle attacking duo of Maicon Santos and Georgi Hristov that should be part of a stout offense. On the other hand, this club has pitched exactly zero shutouts this fall and has allowed two or more goals more times than not. Hard to suggest a tactical shift to emphasize one or the other when both are just not good enough.
8. Ft. Lauderdale Strikers
Sixth place in the fall standings fits this team like an old shoe. That is where they are, and that is just about who this club is. A front pairing of Stefano Pinho and PC is always going to guarantee you a certain minimum point total. But the club is inconsistent defensively and is going to let better offensive teams put games out of reach too often. Any game against Ft. Lauderdale is a trap game, which is both a compliment and a criticism right now. Important factoid to ponder for the rest of the year: the Strikers have given up a goal in every single game but one, a win on May 2nd against an Atlanta side that would be unrecognizable today.
9. Jacksonville Armada
What a week for Jacksonville. A 3-0 victory against Carolina is a statement win, regardless of form, and a 1-0 win against Atlanta is perhaps even more impressive. Jacksonville firmly owned possession in both games and had the better of shots, as well. Add Jaime Castrillón to the list of Jacksonville's front five players who can beat you at any moment (Lucas Scaglia might want to join in the fun sometime soon). The caveat, though, is one we've pointed out before: each of these wins came at home, where the team is a surprising 6W-1L-2D this year. Like Carolina, the team needs to figure out how to play on the road. Finally, it's too early to call the club a defensive juggernaut, but two shutouts is an impressive week. Nothing like two consecutive upcoming games against San Antonio to truly kick the tires on the defense.
10. Indy Eleven
The bye week came at either the best time or the very worst time. After four losses in five games, the team obviously could use a break to get fresh legs and spend some time around the chalkboard. But a 4-1 home loss to Ottawa is also the kind of demoralizing performance that can taint the locker room and leave a bad taste over the holiday. Wednesday night's battle with Tampa Bay has the dreadful air of two teams just hoping not to lose. Indy had better use the chance to turn things around, or it may be already booking an extra two bye weeks at the end of the season.
11. San Antonio Scorpions
Allowing two goals to New York feels like a pretty twistedly low bar to celebrate, but only once this fall has it allowed fewer goals, so let the ironic fist pumping commence. San Antonio continued tinkering with the formation as it has been doing, this time opting for five defenders. The result was predictable. Five defenders helped to limit the goals (in an extremely relative sense) but with midfielders like Billy Forbes and César Elizondo pushing high as they are wont to do, this left a ton of space in the middle of the field and New York capitalized by edging possession and owning the shot totals and chances created. Expect another week at the drawing board for the Scorpions; what else is left but to experiment?
Disagree with our rankings?  Let us know in the comments.