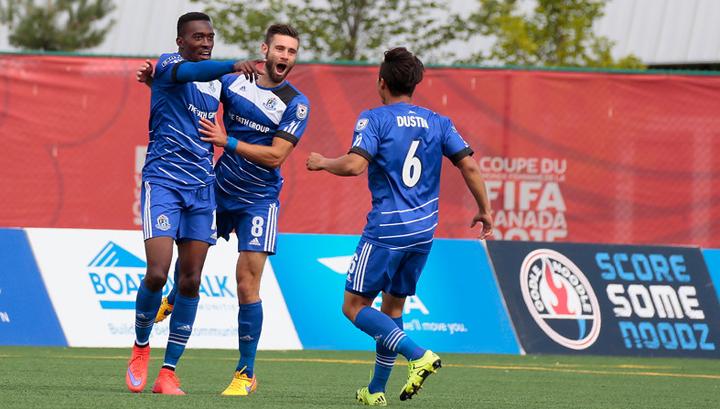 Recap: Edmonton take three off Railhawks
FC Edmonton 3 – 0 Carolina Railhawks
Goals:
Tomi Ameobi 11′
Lance Laing 27′
Dustin Corea 36′
Longest Term Ramifications
For Edmonton, this was a nice win. Their goal differential looks a little nicer, and they sneak a little closer to the playoff chase. They'll feel good about their chances on that front this week, as any team that wins 3-0 should.
For Carolina, this was more disastrous than your typical 3-0 defeat. A solid best XI and a competitive track record had them pegged as at least a playoff team.
With Ottawa running away and hiding with the Fall Title, a sentiment only somewhat mitigated by losing to Minnesota, a top 4 at-large berth has to be the goal. And with two winnable games on the road against Jacksonville and Edmonton, that was still in reach.
180 minutes, zero goals scored, and six conceded later, and the RailHawks have gone from the bona fide playoff contender tier to the smattering of mediocre teams hoping to stay relevant on the fringes of the playoff picture.
Meanwhile, it might be time to start taking the Eddies seriously. That's a difficult notion for NASL fans, who haven't seen FC Edmonton be at all relevant since they stopped letting everyone into the playoffs. Furthermore, they were left for dead after a listless Spring Season. Now here they are, a couple points out of the playoffs with 15 points from 9 autumn games. If Tampa Bay slips even a little bit, watch out for a potential Canadian semifinal.
Most Valuable Player
– Right back Wes Knight retired, Kupono Low was injured, and Wells Thompson was subbed off on account of injury. The unprotected makeshift backline was begging for someone to devastate them, and indeed Lance Laing delivered.
– Chris Nurse, a reserve central midfielder by trade, had an incredibly rough time dealing with Laing's frequent runs. That talent disparity contributed heavily to Edmonton's first two goals.
Least Relevant Half of Soccer
Oftentimes when a team takes a 3-0 or greater lead into the half, the 2nd half is a drab affair you have to sit through to write a review. Carolina has been on the wrong end of two of these lately, and it's wearying their writers.
Most Reasonable but Still Lame Travel Excuse
No team should have to travel from Florida to Edmonton to play a soccer game on four days rest. Unfortunately, probably not a lot can be done about that in a league where three teams are in Florida and three teams are in Canada or Almost Canada (aka Minnesota) and midweek games are a necessity. But still, it's unnecessarily cruel to a team with no real ownership and a clear capital shortage.
(Editor's note: This piece was written by Ian Foster.)