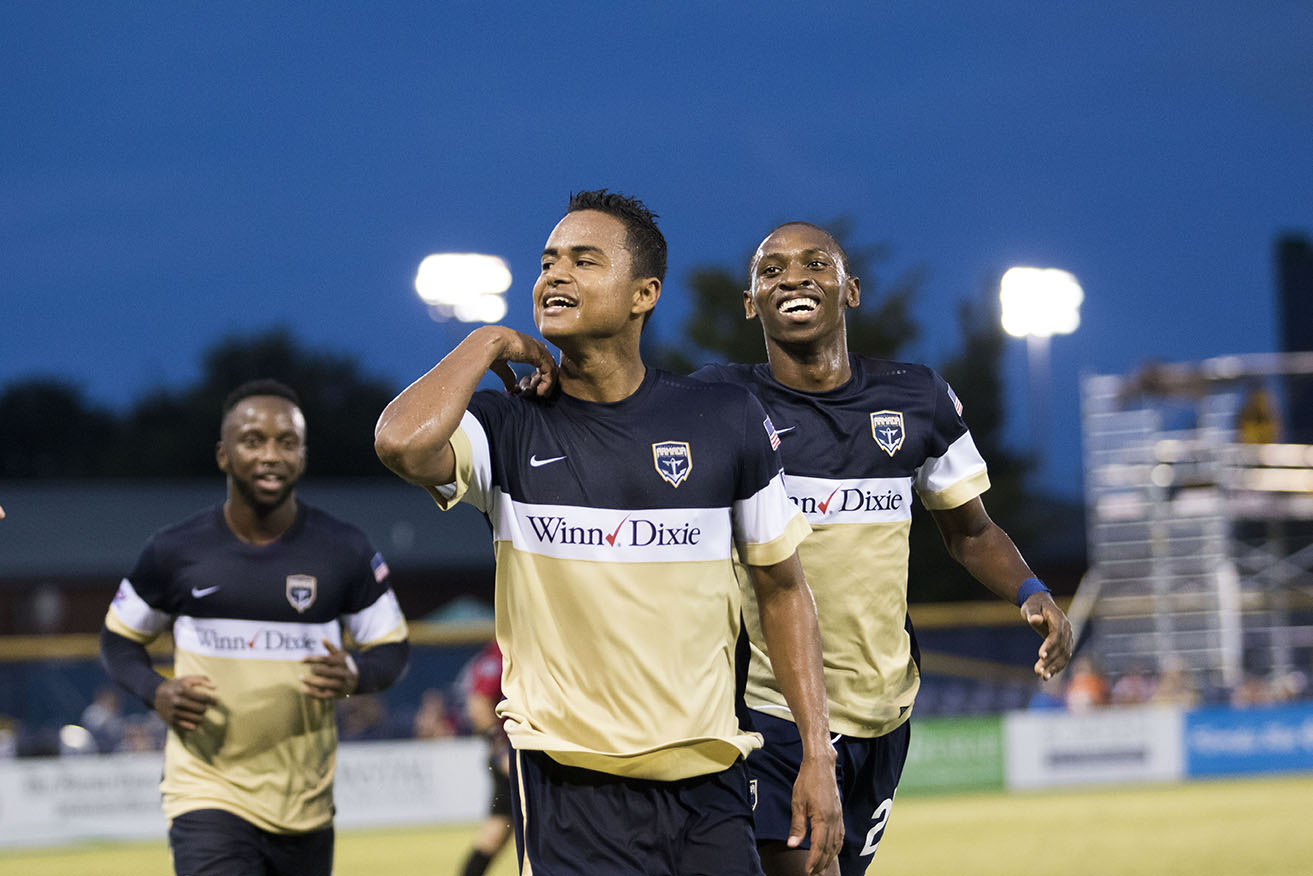 Recap: Armada Poaches the Silverbacks in Jacksonville
Jacksonville Armada 1 – 0 Atlanta Silverbacks
[youtube http://www.youtube.com/watch?v=kJpgEGNAZhY]
Goals: 
41' Jaime Castrillon (JAX)
Major Themes:
– The Armada continue their strong form at Community First Park, remaining unbeaten aside from a single loss to the Railhawks earlier in the year. The stadium has become a safe harbor for a team that struggles tremendously on the road, where the team has only earned two points out of a possible twenty-seven.
In Form:
– Jaime Castrillon (JAX): Jaime has scored goals in two straight games and was deservedly recognized as the NASL player of the week. The Colombian midfielder has always flown under the radar, but he is one of the most consistent performers on the Armada squad. His knack for being in the right place at the right time is finally paying off with some well-deserved goals.
– David Sierra (JAX): The Armada keeper seems to have wrested the starting gig from Miguel Gallardo, and if his performances continue, he will not be losing it. Sierra has posted clean sheets in three of the last four games in which he has played. The fourth game was the 4-0 in Minnesota when the Armada played with ten men for more than half of the match. The Spaniard has definitely found a groove.
Liabilities:
– The Silverbacks Attack: The Silverbacks just did not want to push the ball forward, and much of the match was spent in Atlanta's defensive half. They did threaten several times, but the Armada held Atlanta to just two shots on goal. The offense wasn't there on the night, and the generally free-scoring team was held scoreless because it.
– Lucas Trejo: Trejo was decent during the match, but his dreadful penalty deserves a mention here. His name should be dropped a few spaces on the penalty taker's list.
You Won't See On The Highlights:
– Pascal Millien: Millien was enormous for the Armada. He forced mistakes, controlled the tempo of the match, and bossed every part of the pitch that he touched. It wasn't flashy, which is why you will not see much of it on the highlights, but his tremendous work rate was invaluable to the Armada.
Lessons Learned:
– The Armada might be pulling it together. The team has always had the talent to compete for a high finish, although it is an astonishingly unbalanced squad. Now the players are starting to find their rhythm, and the team is rocketing up the table, racking up a 3-1-1 record over the last five matches.
– The Silverbacks need to be a bit braver with the ball. The Silverbacks have a pretty good squad. They can score well enough, and their defense is pretty solid as well. An abysmal spring campaign set the team back a bit, but they added quality players and now must realize that they can be more proactive on the pitch. If they had shown even a little bit more against the Armada, they might have snatched a point.