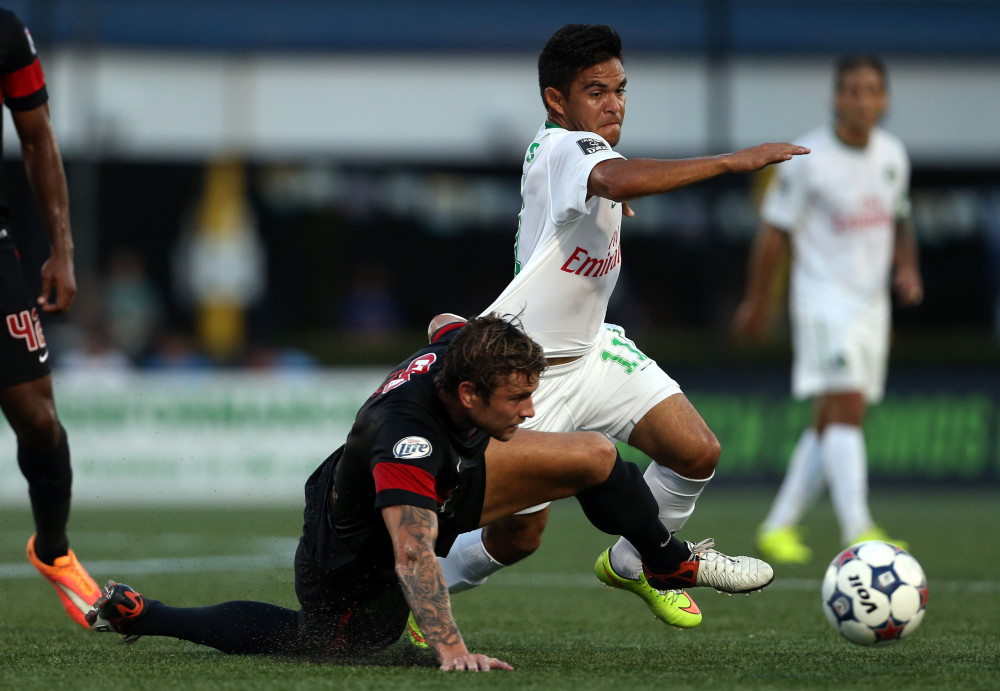 Recap: Cosmos Scorpion Kick Their Way to First Place
New York Cosmos 2 – 1 San Antonio Scorpions
Ejections:
Goals:
45' – Milton Palacios (SAS)
45' – Leo Fernandes (NYC)
47' – Brad Rusin (OG) (SAS)
Highlights:
[youtube http://www.youtube.com/watch?v=oSErl86t8FE&w=560&h=315]
Major Themes:
The Cosmos extended their unbeaten streak to five gamess and re-took control of the NASL combined standings. They succeeded in keeping the Scorpions under constant pressure while smothering most of the dangerous chances usually created by the presences of Omar Cummings and Billy Forbes.
The Scorpions came prepared to defend and counter with a five-man back line and new goalkeeper Daniel Fernandes starting in a bid to turn around a four-game winless streak. Relying on counters seriously dragged down the performance level of the vaunted San Antonio offense and a late red card decided their fate as the Scorpions delivered their worst offensive output of the last six matches.
In Form:
Adam Moffat: Earning another start in the sole defensive midfield position, Moffat once again demonstrated his confidence in the position with excellent ball distribution and great challenges. His versatility also was on display with clearances of dangerous balls in the Cosmos' box and a dangerous shot on the Scorpions' net that almost resulted in a goal.
Leo Fernandes: His second goal in two games and third in four, Fernandes is on fire. He came close to having two, but was rightfully called offsides on the other shot that entered the net. His vision in the midfield has been exemplary.
Billy Forbes: This guy. Nearing the top of the league in assists, you could see why as he created some of San Antonio's best opportunities, including the assist on their only goal of the evening. Forbes makes all his teammates better and it's no wonder Omar Cummings is the leader in the Golden Boot race.
Daniel Fernandes: For his first start/game in the NASL, Fernandes looked pretty solid for most of the match only giving up goals off a crossbar strike that moved him out of position and an own goal off his backline. Speaking of that, let's move to our first…
Liabilities:
Brad Rusin: Rusin did not have the best night. Confusion between him and Fernandes led to a ball that he accidentally fell on in the box and Fernandes snapped up, just before it could get poached by the Cosmos. He then started out the second half with an own goal misplayed off a Cosmos corner. None of the five players tasked to defending played exceptionally well, but Rusin stood out.
Raul: At best, he was a non-factor for the evening, but more often than not his contributions came in the form of poor passing and missed shots. His best contribution of the evening? Missing a shot that banged off the crossbar, moving Daniel Fernandes out of position so Leo Fernandes could get the upper hand in the Fernandes v. Fernandes action.
You Won't See on the Replay:
Scorpions' kit fails. Milton Palacios, the newest Scorpion, was named "Palcios" on the back of his kit, while Daniel Fernandes wore an ill-fitting one that appeared to have torn sleeves.
Cosmos staff ejected for second straight match. Alyssa Alpert, the Cosmos physio, was sent off. An incident with the fourth official resulted in her dismissal. With Cosmos head coach Giovanni Savarese sent off last week, who will be next?