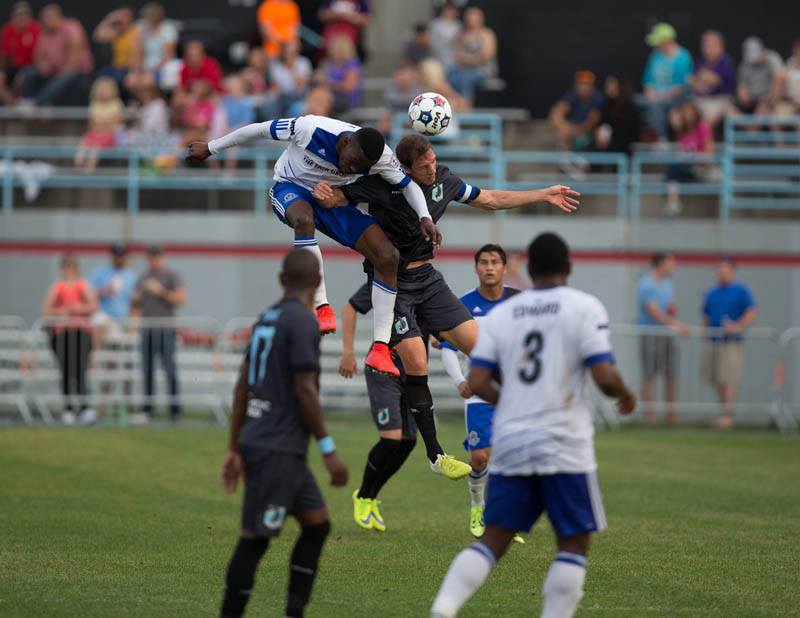 Recap: Minnesota and Edmonton remain even in The Flyover Cup
Minnesota United FC 1 – FC Edmonton 1
Location: NSC Stadium, Blaine, MN
Attendance: 9077
Cautions:
34′-Cristian Raudales (FCE)
40′-Kalif Alhassan (MNU)
58′-Lance Laing (FCE)
70′-Justin Davis (MNU)
82′-Thiago de Freitas (FCE)
88′-Juliano Vicentini (MNU)
Substitutions: 
MNU-
Kalif Alhassan (RM) for Daniel Mendes (RM) 76′
Yago (LM) for JC Banks (LM) 85′
Juliano Vicentini (CM) for Pablo Campos (F) 90'+
FCE-
Dustin Corea (RM) for Sainey Nyassi (RM) 68′
Tom Ameobi (F) for Daryl Fordyce (F) 77′
Cristian Raudales (CM) for Tomas Granitto (CM) 79′
Goals:
47′ (PK)-Christian Ramirez (MNU)
71′-Tomi Ameobi (FCE)
Highlights:

[youtube http://www.youtube.com/watch?v=Lpe4MiWniVk&w=560&h=315]
Major Themes
-With the draw, possession of The Flyover Cup (@TheFlyoverCup) tentatively remains in the hands of Minnesota United's supporters, the Dark Clouds (@MNDarkClouds). However, Edmonton's supporters (@FCESG) could still win it when the teams face each other for the last time this season on September 6th in Edmonton.
-When Minnesota forward Christian Ramirez converted the penalty kick earned by Yago in the 47th minute, he became the franchise's all-time leading goal scorer with 27.
-Injuries caused Minnesota United to roll out a rather odd starting XI moving centerback Cristiano Dias (who hasn't started a match since…) out to rightback, a position that he hasn't played before although he has seen time at leftback.
In Form:
-With the assist to forward Tom Ameobi, left winger Lance Laing is now tied with Georgi Hristov of the Tampa Bay Rowdies for the league lead with six.
-Christian Ramirez extended his goal scoring streak to six games.
-FC Edmonton are undefeated on the road this Fall.
Liabilities:
-Minnesota United's defense has only been able to hold one team scoreless, Jacksonville Armada.
Lessons Learned
-FC Edmonton really only succeed when Lance Laing is heavily involved. The team's very talented midfield needs to step up and take some of the pressure off the Jamaican international.
-Minnesota United is still finding it difficult to close out matches.