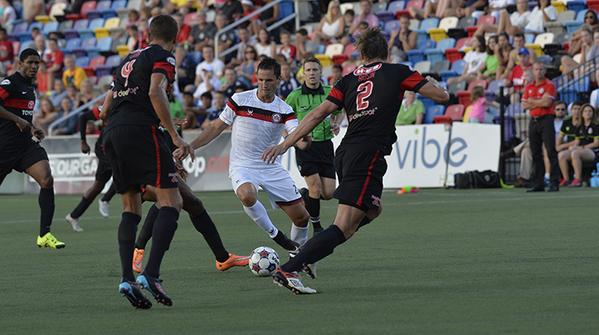 Recap: Silverbacks and Scorpions play 6 goal thriller
Atlanta Silverbacks 3 – 3 San Antonio Scorpions
Goals:
23′ – Pedro Ferreira Mendes (ATL)
25′ – Omar Cummings (SAS)
51′ – Junior Burgos (ATL)
57′ – Jaime Chávez (ATL)
60′ – Billy Forbes (SAS)
71′ – Omar Cummings (SAS)
Major Themes
– The Scorpions started the game looking quite scrappy and lethargic but picked up the pace after Atlanta's first goal went in. Their resilience paid off as they equalize a minute and a half later.
– Atlanta weren't able to stifle San Antonio's movement on the pitch. The attacking trio of Omar Cummings, Billy Forbes and Marvin Chavez were constantly finding themselves in threatening positions with good service from Rafa Castillo.
– The Silverbacks themselves were strong in attack with a threatening trio of their own. Junior Burgos, Jaime Chavez and Pedro Mendes all got onto the scoresheet. Shaka Bengura looked threatening late on but couldn't make a shot stick.
– It all led to an exciting, open game where nether side looked entirely in control and the ball went end to end frequently.
In Form:
– Omar Cummings (SAS) – Making his first start after  treatment for knee related issues, Cummings cemented himself at the top of the NASL scorers list with 2 more great strikes.
– Pedro Mendes (ATL) – Pedro has scored 4 in his last 3 matches. But his defensive work rate is also surprisingly high.
– Billy Forbes (SAS) – Forbes made probing runs all night both on the wing and through the middle.
– Junior Burgos (ATL) – Another Atlanta man on a good run of form, Burgos scored a beautiful curving free kick to put Atlanta 3-1 ahead.
Liabilities:
– Steward Ceus (ATL) – Usually a brick wall, the big Haitian had a weak game. The defense looked less organized than usual and the first San Antonio goal should have been kept out.
– Rauwshan McKenzie and Simon Mensing (ATL) – Atlanta's centerbacks had no answer for San Antonio's speed and predatory runs. Mackenzie was also mostly responsible for the first Scorpions goal when he headed the ball in front of the box inadvertently providing Omar Cummings with a great cross.
– San Antonio's back line – Thanks to injuries, this is not the Scorpions' strongest defensive line and it showed. Only Zourab Tsiskaridze had a somewhat decent game. Rusin, Cann and DeRoux were smoked early and often by the Silverbacks.
You Won't See On The Highlights
– Zourab Tsiskaridze getting away with a foul throw – In the 31st minute, Tsiskaridze took a throw-in where only half of his rear foot remained off the pitch. Incredibly neither the assistant not the referee called the foul throw and play continued.
Lessons Learned
– Atlanta can be broken down – This fall, the Silverbacks have been able to hold down early leads and turn them into wins with good defensive play. In this game, the Scorpions exposed the weaknesses in Atlanta's defense to great effect. With a combination of speed and good link-up play, the visitors were able to take a fair number of shots at goal.
– San Antonio remain a mediocre team of great players – If coach Alen Marcina wants to take this team out of the bottom of the table, he will have to start working on its cohesion. Attack is the only place where individual brilliance is turning into good teamwork.