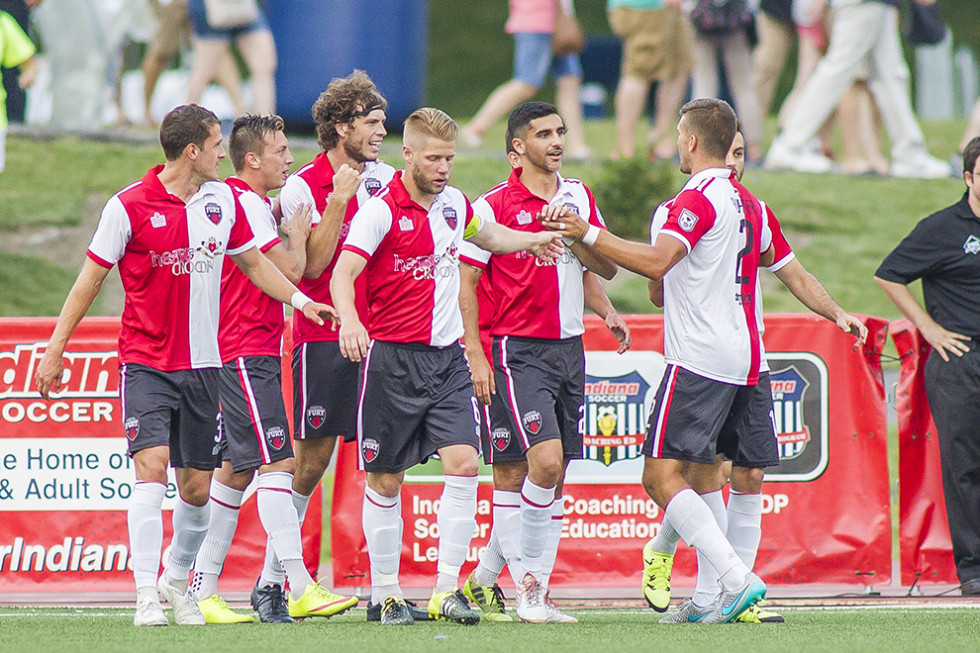 Recap: Fury down Eleven to go top
Indy Eleven 1- 4 Ottawa Fury FC
Goals:
9' – Sinisa Ubiparipovic (OTT)
54' – Andrew Wiedeman (OTT)
60' – Duke Lacroix (IND)
62' – Mauro Eustaquio (OTT)
64' – Andrew Wiedeman (OTT)
Highlights:

Major Themes
Ottawa Fury continued their dominant with a convincing road win against Indy Eleven. Now on a run of 12 games unbeaten, Fury have managed to win all three matches vs Indy this year, scoring 9 goals along the way
Indy Eleven continue to struggle with their form as they have a draw and four loses in their last five matches. Although the club is not out of the playoff picture yet, their odds of a post season berth are dwindling with every loss.
In Form:
Andrew Wiedeman (OTT) was able to notch his first two NASL goals with some clinical finishing. The striker has been moved out to the wing in recent matches and was finally able to end his goalless drought.
Tom Heiniemann (OTT) set up two goals and was a powerhouse in front for Ottawa Fury, winning balls and making clinical passes
Sinisa Ubiparipovic (OTT) has a great game, especially the first half, and will certainly be enjoying the freedom to push forward with Ryan and Eustaquio covering the defensive midfield. He had several shots including a tidy finish to put Fury ahead early on
Duke Lacroix (IND) had a great effort to fight through the Fury defense and slot the ball past Pesier to keep Indy in the game.
Liabilities:
For the first time in a very long time the Ottawa Fury defense seemed to be a liability, at least for the 10 seconds leading up to the Indy goal. La Croix was able to wander into the eighteen yard box with Fury defenders marking other runners.
The entire Indy Eleven team looked liable at times. Fury were able to make them look amateur at moments and the club failed to show the heart or determination necessary to rescue any points.   They momentarily reduced the Fury lead to just one goal, but were scored on less than two minutes late.
You Won't See On The Highlights
Brown and Alves had some pushing in the 22nd minute that looked like it was getting ugly. Brown claimed that Alves put his hands around his throat, while Alves claimed Brown put his hands in Alves' face.  Meanwhile Fury defender Falvey came in to defend his centre back partner and send Brown marching down the pitch.
Lessons Learned
Ottawa Fury are the real deal. Just when you expect this run of fantastic form to end, the club shows up with a big four goal away win.  They continue to collect points both on the road and at home and push for first place in both tables.
Indy Eleven are not the real deal. It seems as though the club are still stuck in expansion blues as they look promising at times but are lacking the final third.   They still have every chance of making a push for post season, but they also have every chance of finishing bottom of the standings if their current form continues any longer.