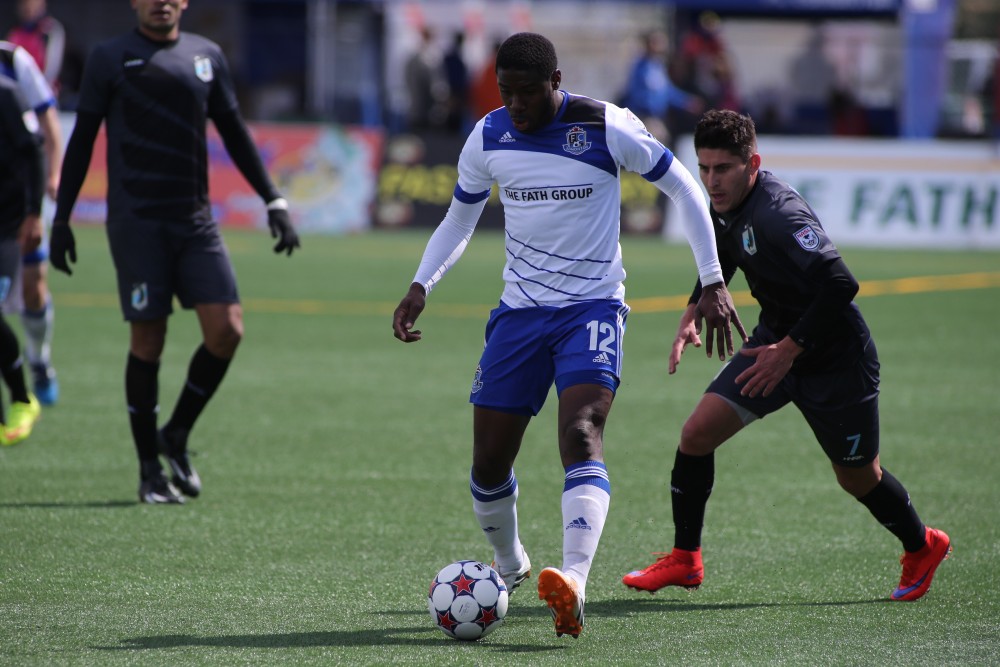 Preview: Eddies Look To Stay Resilient On The Road Against Loons
Minnesota United FC vs. FC Edmonton
Major Themes:
-FC Edmonton are coming off of their first, convincing home win at Clarke Field after a two-game winless streak. The Eddies dropped six points to the Atlanta Silverbacks and Ottawa Fury, finally claiming victory against the Indy Eleven in this past mid-week game. Edmonton's defense elevated them to their win over the Boys in Blue, and the same intensity will be necessary to take down Minnesota.
-After suffering from two shutouts at the beginning of the season, Minnesota United have been excellent on the offensive side of the ball, scoring in 16 straight matches. Expect Minnesota to continue to display its clinical passing in tight spaces on the final third to pull opposing defenders away to create space and scoring opportunities.
In Their Last Meeting:
The Eddies and Loons last met back in May of the Spring Season.  The match ended in a 2-2 draw after FC Edmonton lost their 2-1 lead late in the game due to a questionable penalty kick call by the ref. The Eddies chances to take back the full three points were lost after being forced to play the final 10 minutes of the game with only ten players.
Keep An Eye On:
-Christian Ramirez (MNU) – Last year's Golden Boot winner is so hot right now. Ramirez has scored five goals in the last five games and has a total of six goals, only two behind the NASL league leader and also has three assists under his belt. Expect the striker to do all he can to extend his scoring streak to six games as he continues to lead the Loon offense.
"Dear God, it's beautiful…"
-Lance Laing (FCE) – FC Edmonton's left-winger continues to lead the club in both assists and goals. As evidenced by his absence during the Gold Cup, Laing is the crucial, sharp end of the Eddies' offensive stick. Expect Laing to explode down the flank, looking to connect with Edmonton striker, Tomi Ameobi in the air off a well-placed cross. Minnesota will also be wary of committing any fouls near goal, as Laing has a penchant for finding the back of the net in the resulting free kicks.
-Minnesota's Right-Back – Kevin Venegas left their midweek game against the Cosmos injured in the 23rd minute. There has been no official word on the nature of his knock and Minnesota veteran Brian Kallman may be called in to start.
-Minnesota's Goalkeeping roster – Sammy N'Djock picked up a knee sprain in training on this past Saturday. Backup Mitch Hildebrandt has conceded two goals off goalkeeping errors in 7 days. 3rd keeper Andrew Fontein was also out injured on Wednesday so Minnesota had to loan USL keeper Kyle Renfro for the match. It remains unclear if Fontein is healthy enough for the bench. At this point a coin toss is likely the mostly likely way to predict what Minnesota's goalkeeping lineup will look like in this match.
Expect To See:
-A high scoring game. One strong, lockdown game doesn't equate to FC Edmonton solving all of their defensive woes. The Eddies are still last in goals allowed this season with 29 goals conceded to date. Similarly, the Loons have had issues keeping opposing teams from scoring, recording only one clean sheet during the Fall Season with 12 goals allowed (25 combined).
Yon Probably Won't Notice:
– John Smits (FCE) – Oh how the mighty have fallen. First Smits had to endure being benched for newcomer Matt Van Oekel even though he had beaten him to the previous season's NASL Golden Glove. Then two and a half games into earning his starting spot back from a suddenly blunder prone Van Oekel, Smits was ignominiously yanked out of the Spring Season finale at half time. Now he hasn't even sat on the bench for the last two games with Tyson Farago having usurped his spot as backup.