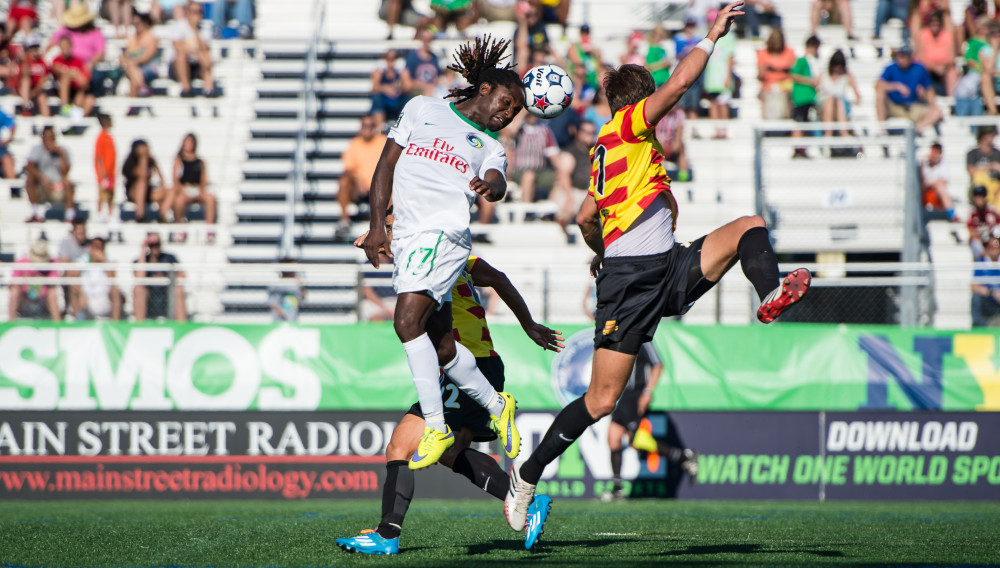 Preview: Deja vu as Strikers host Cosmos
Fort Lauderdale Strikers vs. New York Cosmos

Major Themes:
– The two sides met just last Saturday so everyone should be well aware of how everyone else is playing.
– Fort Lauderdale limp into this game on a two game losing streak and with only a single win to show for six games played in the Fall season. Their midweek game in Atlanta saw three key players sent off over the course of 12 minutes.
– New York recorded their first two wins of the Fall in the 7 days leading up to this game. Playing a team they've beaten twice this year should offer the Cosmos a golden opportunity to cement their form. It should be noted though that neither performance was emphatic. Last Saturday for example, the Strikers were showing themselves to be dominant when Jose Angulo was wrongly called offside. Had it gone in, the pendulum might have swung decisively in Fort Lauderdale's favor.
In the last game:
Keep An Eye On:
– PC (FTL) – The Brazilian is always a pleasure to watch on the pitch. Clearly the most talent man on the Strikers' squad, he skillfully weaves his way through defenses and often only a technical foul denies him a crucial moment in the game.
– Walter Restrepo (NYC) – After squandering some opportunities to score last Saturday, Restrepo was a far more potent threat against Minnesota mid-week. Look for him to get back to his scoring ways.
– Lineup Changes – Both teams are coming off two games in 7 days. The Strikers in particular played 90 very hot minutes down in Georgia. Expect squad rotations and early subs.
– Jose Angulo (FTL) – Usually the supersub, Angulo should start in this game given the Strikers' red card suspensions. He'll have his mind on getting revenge for his wrongly disallowed goal from a week ago.
You won't notice:
– Three Strikers starters including their lead goalscorer – Stefano Pinho earned a seemingly undeserved red card against Atlanta and is suspended for this game. Defender Fabian Kling and midfielder James Marcelin didn't take Pinho's sending off well and engaged in some fairly rough play right afterward. Both were sent off following two separate poorly executed and dangerous slide tackles. All in all the Strikers are missing 3 crucial players who spread themselves
You Probably Won't See:
– Josh Ford (GK) – The on-loan goalie has not had the strongest of showings of late. Former starter David Meves who was sidelined earlier this year with an injury, has returned to training for the past couple weeks is no longer listed as medically unavailable.