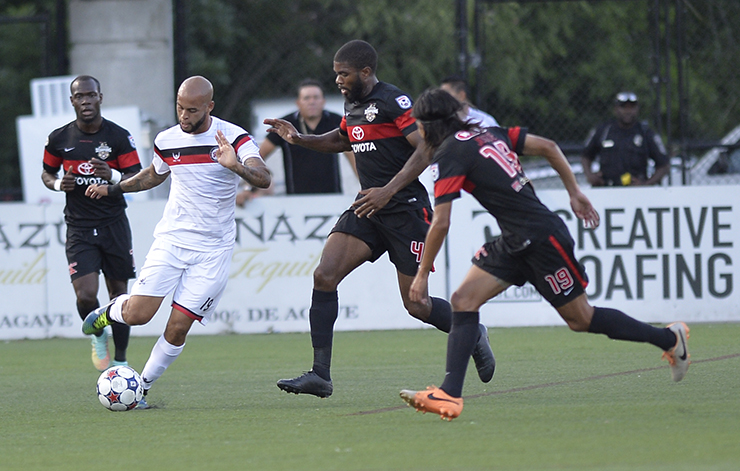 Preview: Silverbacks and Scorpions line up for blockbuster
Atlanta Silverbacks vs. San Antonio Scorpions
Major Themes:
-The Scorpions are coming off a nearly two week break following their 3-4 loss to Minnesota United FC on July 25th. They've added 3 players in the break but the lack of their head coach on the sidelines might cause them headaches. Their 1-1-3 record hides the fact that they're tied with Fall leaders Ottawa for the second highest goals scored per game in the Fall with 2 (Minnesota leads the league with 2.3).
-Atlanta have a 4-1-2 record in the Fall and come into this game on a three game winning streak. Their losses have come against Ottawa at the top of Fall table and Tampa who are sitting in 10th, tied with the Scorpions for points.
– The Scorpions are a team of fantastic individual talent that have so far failed to click as a cohesive unit. The Silverbacks' unity means they are much stronger on the pitch than they seem on paper. Atlanta play a disciplined, defensive game using physicality to break down their opponents and prevent any momentum from building. San Antonio have relied mostly on the speed of their forwards to create their goals and their ability to play rough has been compromised. The Scorpion's most physical player, Julius James is out for the season while another big centerback, Nana Attakora, left the field in 19th minute against Minnesota and his availability in this game is unknown.
In the last game:
A very different Atlanta lineup fell 0-1 at home to the Scorpions.
Keep An Eye On:
– San Antonio's starting forwards – NASL scoring leader Omar Cummings suffered a minor training injury prior to playing the Carolina Railhawks on July 15th and was a half-time sub against Minnesota. It remains to be seen if he will start this game or if Cesar Elizondo will be called into action.
– Pedro Mendes (ATL) – Based on his performance in recent games, it's hard to believe that Mendes had a miserable scoreless 2014 and sat out the 2015 Spring season without a contract. Pedro has racked up 4 goals in only 6 games with Atlanta.
– Jaime Chavez (ATL) – Chavez leads the league with 5 assists (tied with 3 other players) and has recently shown himself to be in stunning form. He constantly finds space where there is little seemingly available and has knack for noticing players making good runs.
– Billy Forbes (SAS) – The Scorpions' speedster has consistently shown himself to be one of the most talented forwards in the league. He's one of the 3 players tied for 5 assists with Chavez and has combined well with the strikers in his lineup. Look for his runs down the wing.
– The referee's pocket – Atlanta can be brutally physical and when in the lead, waste time mercilessly. It all adds up to a lot of frustration for their opponents, particularly paired with their ability to score and then sit on early goals. San Antonio on the other hand have a reputation as an ill tempered team and they've earned their fair share of cards this fall. Depending on the way things shake out, we may see an explosive game.
You won't notice:
– Alan Marcina or Eric Hassli (SAS) –  The Scorpions head coach and forward were both sent off in the game against Minnesota. An assistant will be in charge on the sidelines.
You Probably Won't See:
– The Scorpions' new signings – Midfielder Khari Stephenson, goalkeeper Daniel Fernandes and defender Milton Palacios are all new members of the Scorpions. It remains to be seen if any of the 3 will be available for this match.
– A boring game – Whether it's the Silverbacks masterfully defending or the Scorpions breaking down said great defending, this match should be a good one for the neutral viewer.