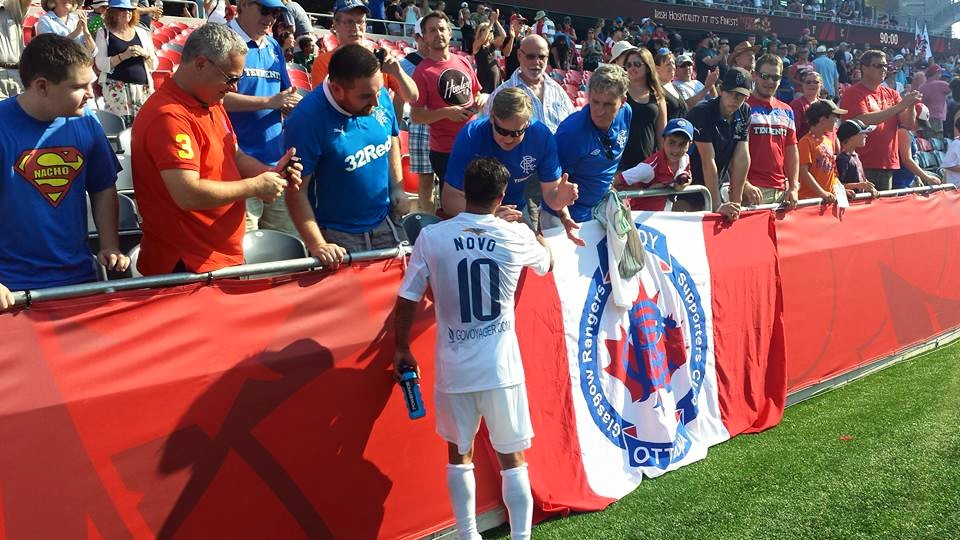 Interview: Nacho Novo Finding Success In North America
Its not often a player from the away team carries with him so much support, let alone for a club he played for years ago.  Sure, there will be Raul fans in the stands wearing Real Madrid jerseys at Cosmos games, but the welcome that Nacho Novo recieved by Rangers fans in Ottawa was simply the best.
It was this time last year that the Carolina Railhawks signed Spanish striker Nacho Novo to bolster their attacking line, and at first, it wasn't a name most people recognized.  At the time, Novo was 35 and had a string of European clubs in his wake, along with some amazing memories.  Although he may not have been a household name to many NASL supporters, in certain circles he is a footballing legend who would never need to pay for a drink at the pub.  I was able to chat with Novo while he was he was in Ottawa, and we discussed his past career with Glasgow Rangers FC, his move to North America and his impressions of the North American Soccer League after a year plying his trade.
Nacho first moved to Scotland to play with Raith Rovers in 2001, before making a move to Dundee 2002.  After finding success in eastern Scotland he found himself in the middle of a tug of war between Glasgow giants Rangers and Celtic, eventually opting to famously say "No Thanks" to Celtic and sign on with Rangers.  From that point he earned his place in Rangers history, scoring famous goals in cup finals, European competitions and most importantly in one of the greatest football theaters, Old Firm matches.
In Scotland, and anywhere that Rangers fans call home, Novo is a household name that brings along euphoric memories of lifting trophies and scoring goals.  Despite being Spanish by birth, Novo fell in love with Glasgow and Rangers, including getting the clubs five stars tattooed on his arm, and up until early 2015 he lived in Glasgow during the off season training at Rangers famous Auchenhowie training facilities.  His passion for the club continues to burn to this day, where he is known to be a member of a supporters group and attend Rangers fan conferences.
Novo was recently highlighted by Midfield Press as one of 5 NASL Players to Play in Europe's Top Leagues
Novo's move to North America may have come as a shock to some at first, as he wasn't a top name like Gerrard or Lampard and he wasn't coming from a top team like Raul was from Real Madrid.  His move,., however, was one that would allow him to play at a competitive level while still getting to play week in and week out.  When asked what he thought about the game in North America, Novo said "I think the quality over here is good.  Its physical but they can play some good football and have good footballers."
On the North American Soccer League itself Novo said "The league has quite surprised me, it's quite competitive.  As long as it's competitive; that's the important thing, because then everyone can enjoy it."  Novo currently sits with seven goals, just one goal off NASL scoring leader Omar Cummings. He seems to be fitting in well with Carolina under coach Colin Clarke as they push for a spot in the post season NASL championship.
While visiting Ottawa for an away match vs Fury FC, Novo took time to meet with a group of Rangers fans in a hotel conference room, where he spent time exchanging stories, signing autographs and meeting fans.  The following day the sound of "There's Only One Nacho Novo", a song from his Rangers days, rang out from the stands as Novo faced Fury, with his fans from Rangers vocally supporting him throughout the match, including when he scored in the 81st minute.
"It's absolutely amazing." Novo said on having Rangers fans come out to see him.  "Where ever I go there is always Rangers fans trying to meet me and see me.  I always have the time for them; they have always supported me as a player.  Its nice to see the faces and make people happy."   Despite losing the match via a last minute Carl Haworth goal, Novo took the time to meet his fans in the stands post match, sign autographs and take photos.
Although Novo may not be a worldwide superstar name like Raul or Gerrard, his move to North America has certainly helped revitalize his professional game and helped grow the sport, even if it means getting Rangers fans in North America out to support their local team when Novo comes to town.  More importantly, Nacho Novo is helping Carolina score goals and earn vital points in their push for a top four finish in the combined standings, and aiming towards a post season berth.