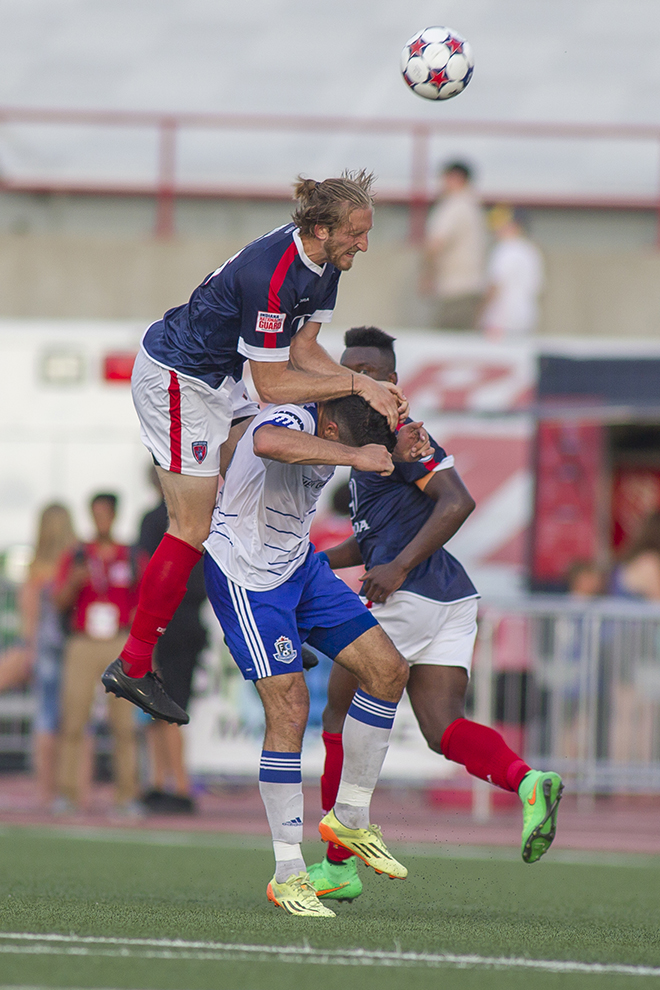 Recap: Eddies Elevate Early to Edge Eleven
FC Edmonton 2 – 0 Indy Eleven
Goals:
16' – Albert Watson (FCE)
70' (PK) – Tomi Ameobi (FCE)
Major Themes:
-After two consecutive losses, FC Edmonton finally recorded their first win at home. The Eddies' overall solid performance earned them a clean sheet and a much needed three points. With this win in hand, the team has moved back up in the tables to 3rd place.
-Right from the opening whistle the Eddies laid down the pressure attacking the Boys in Blue relentlessly. FC Edmonton's attack produced seven shots on target compared to two from Indy, who appeared to be on their back foot much of the match despite holding the majority of possession (53%) during the game.
-As I mentioned in the Match Preview article, we expected a very physical game from two teams desperate for a win after coming off of big home losses. We weren't disappointed, as the ref allowed the teams to hold no quarter and didn't fall into the trap of calling what could have been multiple game-changing fouls in the penalty box (PK in the 70th minute was a handball).
In Form:
-Lance Laing – After a quiet game in FC Edmonton's home loss against the Ottawa Fury, the Jamaican midfielder made an immediate impact on the game, providing Albert Watson with the corner across Indy's goal for the header in the 16th minute. Laing was involved with the second goal as well, attempting a flick in Indy's box and straight into defender Judson McKinny's hand that resulted in the penalty kick.
-Albert Watson – FC Edmonton's captain provided the opening salvo in the Eddies' attack, connecting beautifully onto Laing's corner kick for the goal. Watson, in addition to the rest of his backline, locked down their defensive half for the remainder of the match. Indy being outshot eleven to five, with only two shots on target, is a testament to the strong defensive game the Eddies played (never thought I'd say that anytime soon…)
Liabilities:
-Indy' Offense – Yes, FC Edmonton locked down their defense, but some blame needs to be laid at the feet of Indy's frontline for the lack of goals. A good offense is capable of dissecting an opponent, discovering their weaknesses, and taking advantage of said weaknesses.
Lessons Learned:
Soccer Players Are Terrible Actors. Remember how I mentioned that the ref didn't call any game-changing fouls in the penalty box? Well, that's because he didn't fall for any of the flops by players on either team. In all honesty, some yellows should have been awarded for the players' acting that were worthy of some Razzie's.
DE-FENSE. DE-FENSE. DE-FENSE. Scoreline.