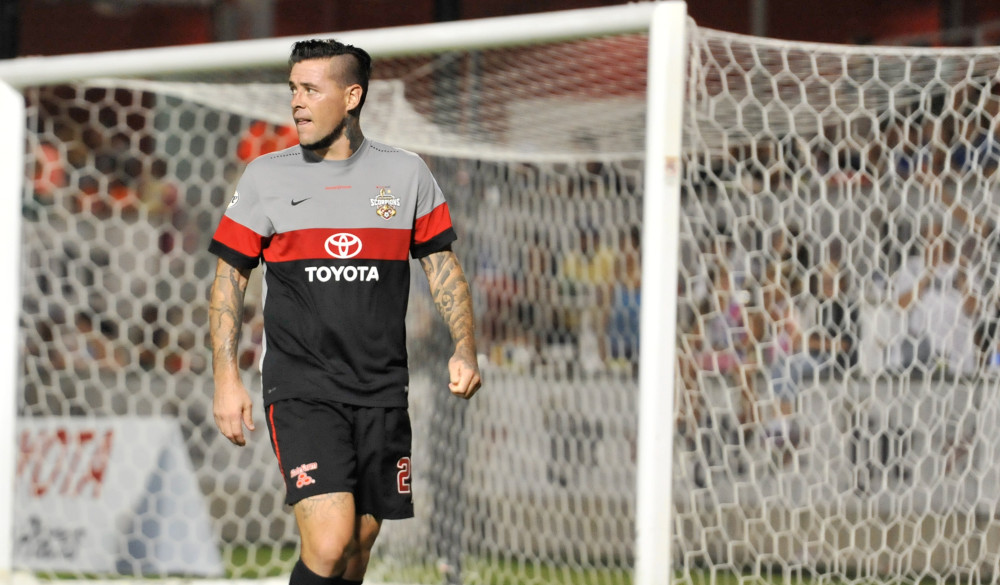 5 Players Who Played In European Top Leagues
Every Thursday, Midfield Press presents five new players for your consideration.  This week, to celebrate the commencement of league play throughout Europe, we look at players who spent time among the top leagues in various countries in Europe.
Eric Hassli, Forward, San Antonio Scorpions
Frenchman Eric Hassli is certainly not new to North American soccer. He joined the Vancouver Whitecaps in 2011, netting an award-winning goal against Seattle that year, then bounced to Toronto and FC Dallas before arriving in San Antonio in 2014. But before his North American journey, Hassli spent significant time on some of Europe's biggest stages. The forward had his big breakthrough early in his career at St. Gallen in the Swiss Super League, Valenciennes in Ligue 1, then found his longest tenure back in Switzerland for FC Zürich. His performance was strong, as well, and he featured among the top of the goals rankings in several of his Swiss campaigns. This enabled him to earn a Designated Player contract when he crossed the pond to MLS, though his trajectory quickly pointed a bit lower and more recently he has found it difficult to earn significant minutes on San Antonio's squad.
Frank Jonke, Forward, FC Edmonton
Edmonton rotation player Frank Jonke is a Canadian-born striker come home. Jonke earned significant minutes with AC Oulu during one of its spells with Finland's top-flight Veikkausliiga before moving to FF Jaro in the same league. His strong performance in Finland earned him a call up with the Canadian national team, where he made his lone international appearance in a friendly against the United States. With injuries and other roster pressures biting at Edmonton, they will need Jonke to reclaim the form he found overseas; he has yet to bag his first goal with the Eddies after joining in 2014.
Simon Mensing, Defender, Atlanta Silverbacks
Simon Mensing came from Germany to join Wimbledon F.C. (since rebranded as MK Dons) and grew as a player on loan to Scottish clubs like Clyde and Motherwell. Mensing's big break, and his longest tenure, came with Hamilton Academical as he helped them earn promotion to the Scottish Premier League. Despite playing mostly as a defender in his career, he was able to net 24 times in 148 league appearances with Hamilton. Today, he is a crucial part of Atlanta's stalwart defense, and has played every single minute of their 2015 campaign.
Nacho Novo, Forward, Carolina Railhawks
NASL has a fair share of players with overseas experience, but many fewer who have been branded a "coward" by a top flight European boss. Nacho Novo moved from Scottish First Division to the Scottish Premier League to play for Dundee, where he remained for three years, in 2002. After spending the lion's share of his career with Rangers, Novo signed with Sporting Gijón. The love affair was briefer than some would have liked. Then-coach Javier Clemente blasted Novo as a coward and indicated he asked Novo to leave to avoid a loss of locker room morale resulting from contract concerns with the player. Whether one agrees with the assessment or not, it is tough to argue that Nacho has been anything but cowardly in his lightning-in-a-bottle year for the Railhawks.
Adrian Cann, Defender, San Antonio Scorpions
It has been a tough season in defense for San Antonio, overall. There are a lot of reasons for that, but a player like Adrian Cann will feel they can do better. Paired with fellow Canadian international and former Toronto FC man Nana Attakora, Cann continues his career which has been primarily in North America. For two years, however, Cann attempted to emerge in Europe as he enlisted with Esbjerg fB in the highest tier of Danish football. However, in those two seasons he struggled to earn first team minutes, only appearing fourteen times in that span and ultimately being released in the middle of a four-year contract. Now 34, the defender has an NASL crown under his belt and looks to right the ship in a year in which defending that throne has been a challenge.
Have a player you think we overlooked?  Tell us in the comments.