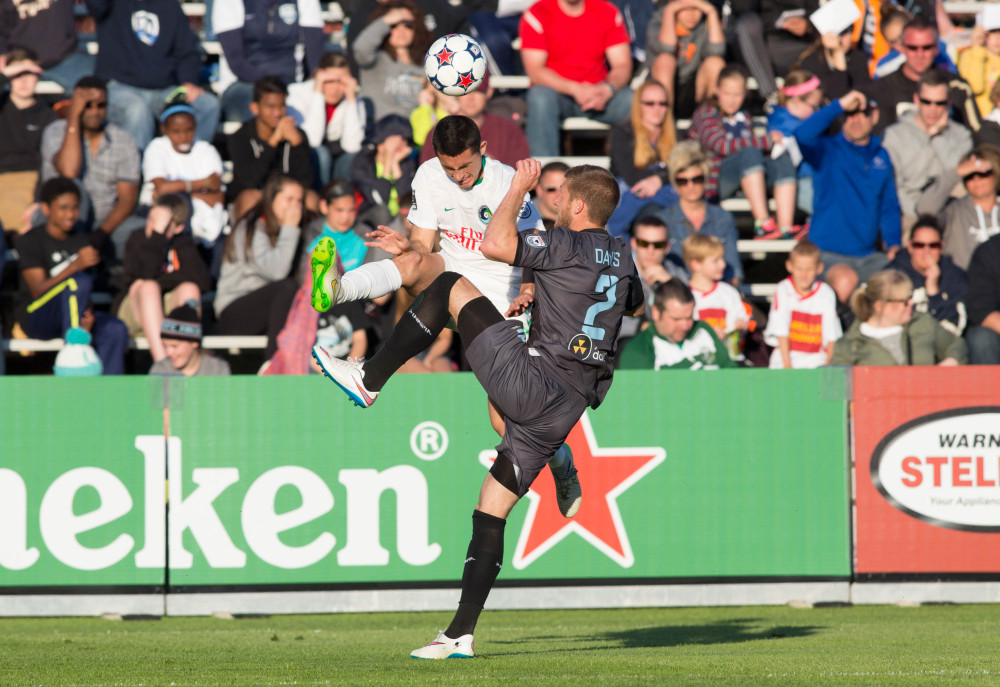 Preview: New York and Minnesota Look To Sustain Momentum
New York Cosmos – Minnesota United FC 
Major Themes:
The midweek matchup amid a crowded schedule means each manager will have an eye on fatigue and depth in their squads.  We may see alternative XI's and/or early substitutions to keep each squad fresh.
New York has prevailed over Minnesota, historically.  United has never reached the summit and beaten the Cosmos.
This will be the story of a powerful offense (Minnesota, 11 goals in their last three games and leading the league in goals this year) and an immovable defense (New York, fewest goals allowed this year, though still with games in hand).  This may be a high scoring game, or it may be a snoozer.
In the last game:
The spring meeting between the two teams saw Minnesota take the lead and almost bag its first three points ever against the Cosmos, before Raúl brought down a lofted ball over the middle and slotted home a 90′ equalizer.  The late giveaway was only one of a half a dozen times the Loons gave back points late in a game this year, while the draw allowed the Cosmos to maintain a then-formidable 5-4-0 record with fingers tightly on the spring title.
Keep An Eye On:
Christian Ramirez (MNU) – The NASL Player of the Month has scored in each of his last four games since being restored to the starting lineup.  He has also provided a handful of assists and has made good runs off the ball to open space for his teammates, as well.
Walter Restrepo (NYC) – The midfielder recently found his stroke, scoring two of New York's four goals early in this fall season.  More importantly, Restrepo's speed could be lethal for a Minnesota defense that is slow down the middle and likes to press high on the outsides.  If Restrepo can get a ball at his feet on a counter, it may be off to the races with no one able to catch him.
Minnesota's Goalkeeper – Typical starter Sammy N'Djock sprained his knee during warm-ups on Saturday, did not play against Jacksonville, and was listed as day-to-day according to United's website.  The backup, Mitch Hildebrandt, has been middling at best in his work this year, while N'Djock seems to have overcome some early-season mental mistakes to be a capable starter.  Who starts between the pipes may have a big impact on the game.
You won't notice:
Ayoze Pérez (NYC) – So much attacking attention is paid to legend Raúl, speedy Restrepo, and others like Lucky Mkosana and Marcos Senna.  New York operates by dominating possession, something it achieves in part by pushing fullbacks forward in support of the midfield.  So while your eyes are drawn to Raúl, look for outside defenders like Ayoze to enable them with aggressive positioning.
Aaron Pitchkolan (MNU) – I've argued elsewhere for midfielder Pitchkolan to be used in a defensive midfielder role without being asked to advance further upfield (Minnesota has a bit of a leaky defense).  But after some soul searching, arguments with other writers, and the emergence of Juliano Vicentini as fairly successful from the position, I have come around to the idea of using Pitchkolan further forward in support.  "Pitch" is unglamorous: you likely won't see him notch a goal, make a beautiful pass, or a clinical assist.  Instead, he applies his defensive attributes to set the table for his teammates.  That means cycling the ball, finding good positions off the ball, and providing pressure relief outlets against a Cosmos team that smothers possession out of other clubs.  You won't put his poster on your wall, but he provides value nonetheless.
You Probably Won't See:
The game.  Tonight's matchup is part of NASL's Wednesday Night Soccer series on One World Sports.  Which is too bad, because you probably also won't see the same type of game played on May 30th between the two clubs.  New York, at that time, looked very intimidating while Minnesota looked capable-but-unsteady, having come off an embarrassing performance in the Open Cup and not yet knowing they were about to enter a long and dark tunnel.  Today, New York has only just won its first game in over two months and is not long removed from a frustrating loss to lowly Jacksonville, while Minnesota has been assaulting the goal and looks poised to be the team they were predicted to be.  Tonight may not look anything like the first encounter, and that is probably all the better for fans.  Find a local watch party and grab a babysitter for two hours.