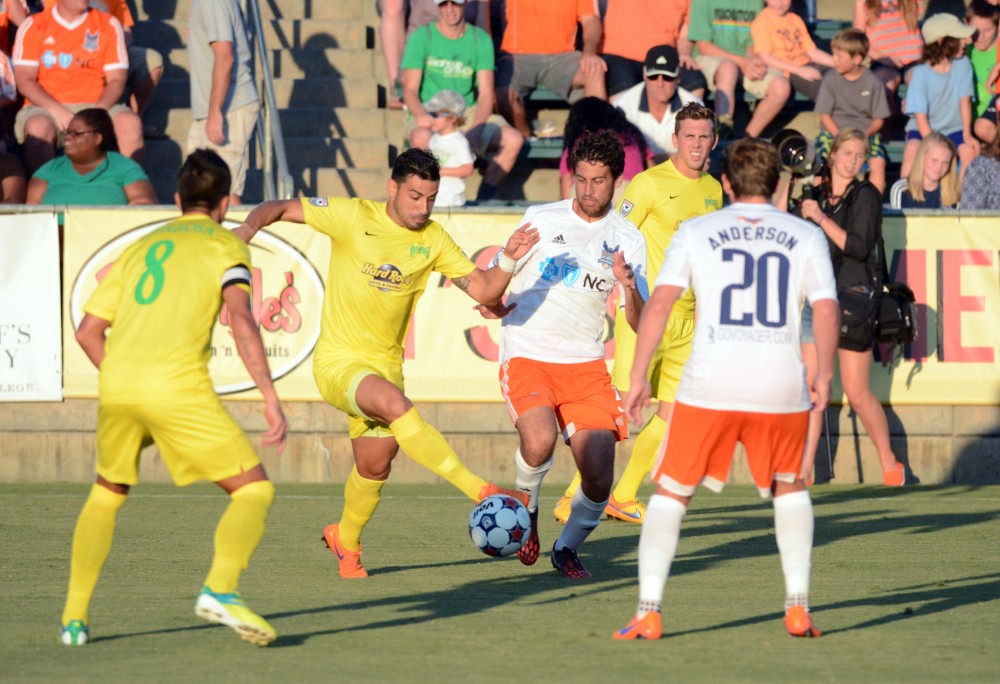 Recap: RailHawks and Rowdies Settle for Draw
Carolina Railhawks 1 – 1 Tampa Bay Rowdies
The Carolina RailHawks only managed a point against the struggling Rowdies in a mostly drab 1-1 affair.
Most Agreeable Result
Everyone after the game agreed that the 1-1 draw was fair, if disappointing. "We came here for three but we're pleased with one," Tampa Bay coach Thomas Rongen said after the match. RailHawks Head Coach Colin Clarke echoed a similar sentiment.
What was disappointing was that both sides felt like they both needed and could have gotten three points from the night. "I thought we had enough," RailHawks goal-scorer Mark Anderson said. "We lacked the final ball, and we were a bit lazy and sloppy at times."
Meanwhile the Rowdies will lament Ben Sweat missing the best chance of the night, including the goals, when he broke free of the back line and was able to walk in on Akira Fitzgerald. However, a point on the road, in Cary no less, will be a pleasant reprieve from their three-game losing streak.
Most Valuable Player
Mark Anderson and Georgi Hristov scored the goals and Akira Fitzgerald's wonderful save kept the draw intact, but Connor Tobin may have made the biggest impact on the result. Tampa Bay had a barrage of chances around the 70th minute, but Tobin stepped in and made the final challenge or final dig almost every time, with Danso bailing him out once or twice as well.
However, the match MVP goes to Sweat. Yes, he missed that chance that would have won the game for the Rowdies. But Saturday night was Tiyi Shipalane's first game back from injury. It was expected he would combine with Austin da Luz and Nacho Novo to recreate that dynamic attack from earlier in the season.
Novo was plenty dangerous. Shipalane was not, and Sweat was to credit for this. Sweat was so effective that for a period of 15 minutes in the second half, the RailHawks were bunkering-and-countering without the countering.
Biggest No-Call
Of course, a huge turning point in the Shipalane v Sweat battle almost but not quite happened in the 85th minute.
Shipalane, as he is wont to do, flew to the endline. He was prevented from doing this when a sudden Sweat leg impeded his run.
Referee Daniel Fitzgerald declined to reward Shipalane, prompting eruptions from the RailHawks sideline. On review, it seemed Sweat both got the ball and went through Shipalane in the process. Fitzgerald shouldn't be faulted either way, and a late penalty call and goal against the Rowdies would honestly have been a little unfair.
Most Ado About Nothing
As you can probably guess, this section is about Freddy Adu. He wasn't here, which greatly disappointed me as a DC United fan. However, Adu, DC's #1 overall pick in 2004, was only the 4th most important figure in DC United history involved in this game. Coach Thomas Rongen managed the last team in that great 90s DC United dynasty, and captain Marcelo Saragosa and forward Maicon Santos were both significant contributors to the last DC United team to make the MLS Conference Finals in 2012.
DC United aside, Rongen said after the game that Adu had picked up a knock in training and wasn't fully fit anyway. That should come as a surprise to no one.
Most Emotional Post-Game Moment
Wes Knight played his final game on Saturday, once again doing a fine job shutting down Tampa's left flank. His turnaround was quick, as he drove through the night to Charlotte to conduct his first training session at 1pm on Sunday.
Before that happened though, he shared his thoughts and emotions of playing his last game, including a moment with fellow defender Futty Danso. I'll have more on Wes Knight later in the week, but let it be known that few walk into a media room for a press conference and command the energy, vibe, and sentiment. Knight did all three.