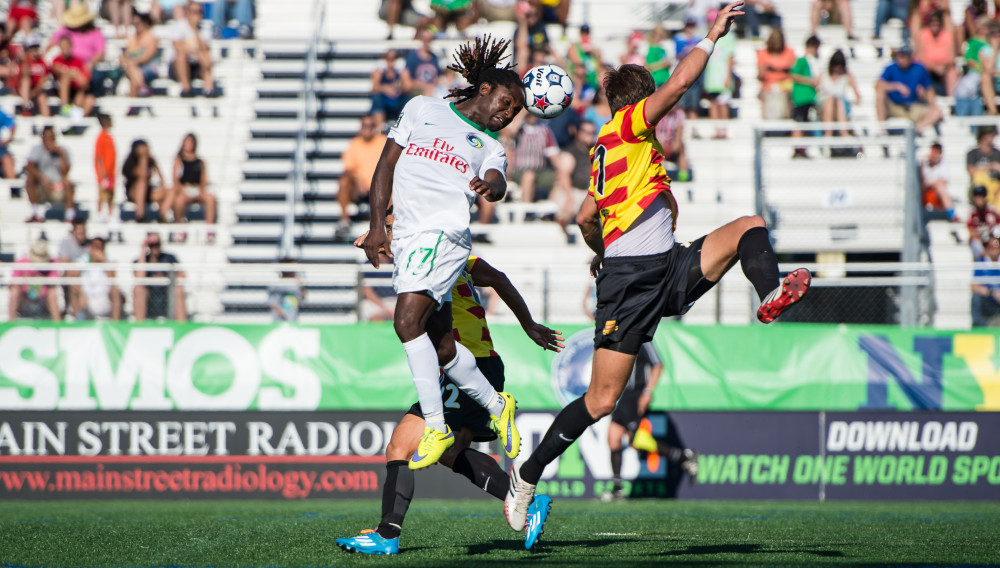 Recap: NY Find First Fall Win; Break Strikers' Unbeaten Streak
New York Cosmos 2 – 0 Ft. Lauderdale Strikers
[youtube http://www.youtube.com/watch?v=l6vqigjyt6Q&w=560&h=315]
Goals:
27' – Hunter Freeman
43' – Leo Fernandes
Major Themes:
After a five-game undefeated streak and the first win of the Gunter Kronsteiner 2.0 era, the Strikers experience the first loss of this new era and get shut-out, in part because of a poor offsides call, but mostly because of their inability to generate serious chances.
The Cosmos snap a five-game winless streak, including their first loss of the season to put themselves back in winning form and obtain their sixth league shutout of the season.
It was a tale of two halves as the Cosmos clearly looked the better team in the first half, while the Strikers came out more aggressively and played a higher back line in the second half, resulting in more chances for the visitors.
In Form:
Jimmy Maurer (NYC) – The Cosmos netminder was not tested as often as his Strikers counterpart, but read the game well, coming off his line to clear the ball on more than one dangerous occasion, preserving the shutout and the win.
Samuel Caceres (NYC) – The center back has seen increased playing time with Roversio recovering from injury. He has been up to the task repeatedly, but had an excellent performance this week, aside from one poor back pass rescued by Maurer. He also had a hand in the first goal scored by breaking up the Strikers attack prior to it.
Liabilities:
Marlon Freitas (FTL) – The midfielder wasted multiple chances across the evening sending balls wide and failing to put them on frame. A large portion of the Striker's failure to even the match lies with him.
Walter Restrepo (NYC) – While Restrepo did bring his typical pace and excellent  ball control, more than a few opportunities were wasted by poor touches and crosses.
You Won't See on the Highlights:
Cosmos Audio Issues – In the 30th minute, the fire alarm went off in Shuart Stadium. It was impossible to miss, especially on the broadcast on One World Sports. While the issue was eventually resolved it took awhile to do so.
Cosmos Audio Issues Part Deux – In the second half, a Lucky Mkosana goal was called offsides, but not before the Cosmos began to play their goal anthem. After it was abruptly cut short, it went off again about ten minutes later. Not a good night for the audio crew.