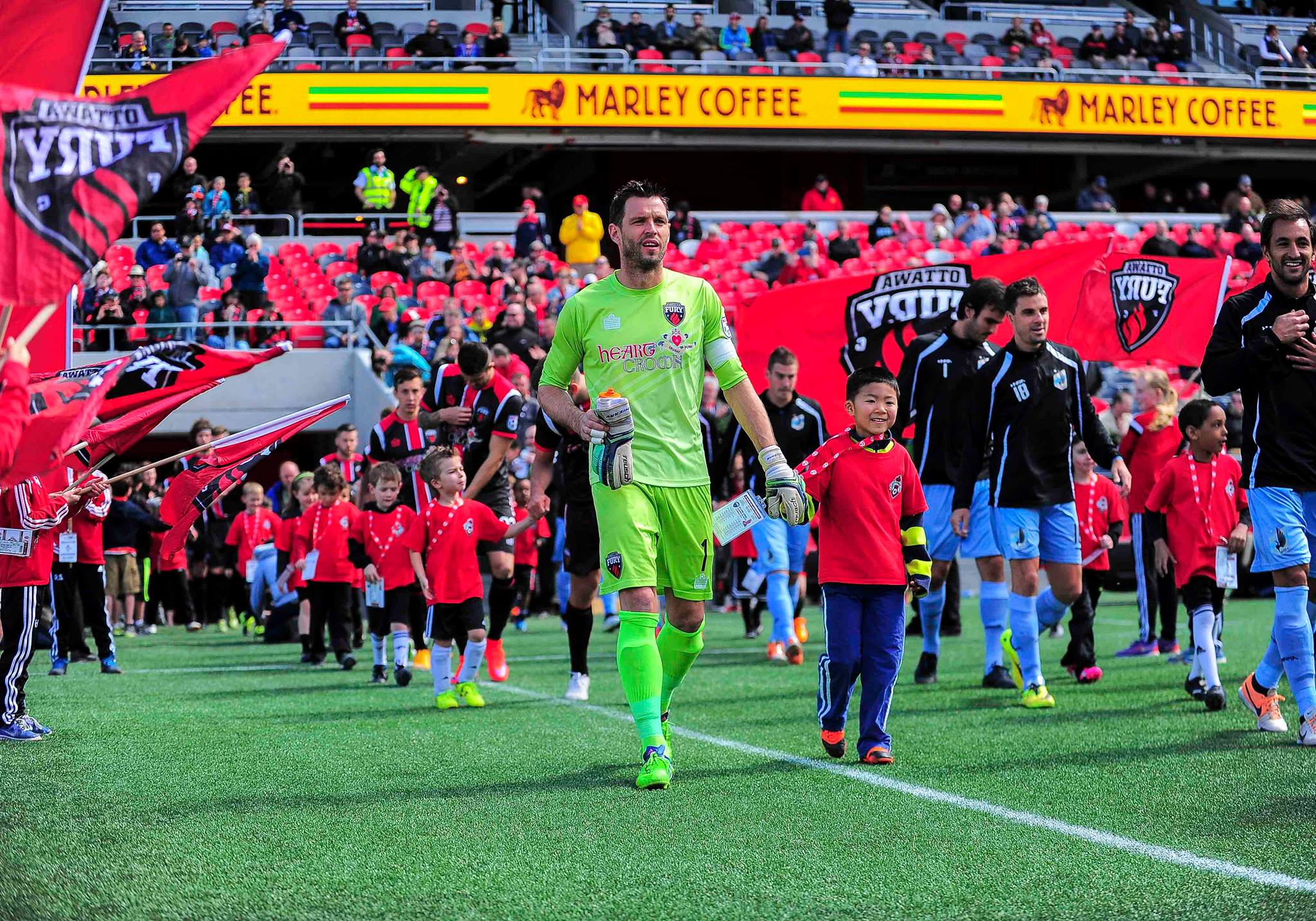 NASL Fall Season Power Rankings – Week 5
It's the usual suspects atop the Fall Season table. Your Ottawa Furys, your Atlanta Silverbacks, your FC Edmontons. Meanwhile, perennial fringe teams like the Cosmos, Scorpions, and Rowdies languish in the bottom half of the table where the odds makers pinned them to start the year. The Midfield Press staff recommends you rush to the nearest ATM, withdraw every cent to your name, and call your bookie to bet on all the obvious teams. It's the NASL Fall Season Power Rankings – Week 5.
1. Ottawa Fury FC
The Fury's hotness factor has reached volcanic levels. The lossless streak is at eleven games, the win streak is at four games, and the club's last three games have come against three of the four teams chasing them in the fall standings. In other words, this is the league's best team, winning against its hottest teams, and leaving only a vapor trail in their wake. Just when you thought the club might cool, Rafael Alves pulls off a stoppage time miracle. By the way, if you are looking for the top center back pairing in the league, look no further than Alves and Colin Falvey in Ottawa.
2. New York Cosmos
The Cosmos' Rip-Van-Winkle factor has reached "just woke up" levels. It had been 71 days since the Cosmos had won in league action, a detail somewhat smoothed over by the fact that they've only just recently suffered their only loss of the season. Sunday's win not only was pivotal, but it came against a team that was one of the more in-form clubs of the fall in the Strikers. New York played something like a 4-3-3 but rather than the formidable front grouping of Raúl, Andrés Flores, and Lucky Mkosana, the goals came from noted non-Restrepo midfielder Leo Fernandes and defender Hunter Freeman. That versatility, if sustained, could mean bad news for the rest of the league.
3. Carolina Railhawks
The Railhawks' unpredictable-results factor has reached FC Edmonton levels. To sum up Carolina's fall, they have beaten good and bad teams, lost to good and bad teams, and mostly tied all the mediocre ones. So why third place in the Power Rankings? First, one needs to visit a history museum to find the last time Carolina didn't score at least one goal in a game (and it's only happened once this year). Second, the team's recent mediocre run has come as star winger Tiyi Shipalane sat with an ankle injury that seemed to take longer than expected to heal (Saturday was his return, and he will need a game to get back into a groove). Third, which of the combatants below really deserves to be here any more than the Railhawks? We said earlier this year lack of depth may bite the team in the dog days of [fall]. Carolina has a few teeth marks in them now.
4. Minnesota United FC
The Loons' Ibson factor has reached The Wild Duck levels. The midfielder has turned a tendency to over-dribble into crisp, precise, one-touch passing and the Brazilian has been finding the net, as well. Ibson's three consecutive games with a goal is only outdone by NASL Player of the Month Christian Ramirez's four game streak. The rub? United needs every single goal its offense can muster. Three goals only earned a tie against one of the league's worst teams in Jacksonville, and four goals was barely enough against another of the league's worst in San Antonio. Minnesota is right in the playoff hunt, but it needs to start putting away bad teams if it wants to succeed against the best. A midweek game against New York will be an important barometer.
5. Atlanta Silverbacks
The Silverbacks' new-signings factor has reached "league-pwned" levels. Never mind that the win against Indy belied the far superior offensive showing by the opposition. There aren't bonus points for style. Atlanta played a defensive-minded 3-5-2, created havoc in the midfield to disrupt Indy's attack (the Eleven were forced into taking plenty of speculative shots), and a lone goal by newcomer Pedro Mendes was all it took to bring home all the points. The Silverbacks will be happy with seven points from a four-game road trip, and bring their physical midfield style back home for two very winnable games against Ft. Lauderdale and San Antonio coming up.
6. Tampa Bay Rowdies
The Rowdies' disappointing-output factor has reached "80's-era Rush records" levels. At the very least, Tampa Bay staunched the hemorrhaging by earning a draw, and against a good team on the road no less. But the winless run continues, and the Rowdies will lament that their offense (the club's ostensible strong suit) could not net more than a goal against another team running a 4-3-3. In fact, the team hasn't scored more than a goal in a game for over a month. The good news is that the club has a home game against a Jacksonville team that hands out goals like its Christmas, so perhaps a full rebound is in sight.
7. Indy Eleven
Indy's dysfunctional-at-home factor has reached "Married With Children" levels. The team has won twice this year at home, equaling last year's total. That the club's attendance at home is incredibly high speaks to the devotion of their fans. Saturday, that devotion was put to the test as Indy chased an inevitable 1-1 draw against New York with a desultory 1-0 loss to Atlanta. Observers can take heart that the Eleven were the better team, but that five game unbeaten streak that led into the fall seems to be a long way in the rear view mirror after two losses and a draw. Where is that goal scorer?
8. FC Edmonton
The Eddies' Canadian-inferiority factor has reached "Bryan Adams cover band" levels. Edmonton thought they had ground out a "home" draw at inviting-sounding SMS Equipment Stadium. But, at the death, they succumbed to the classic Siniša Ubiparipović-to-Rafael Alves attacking combination and lost in stoppage time. More concerning, the team played with game changer Lance Laing and Tomi Ameobi back in the lineup, so pinched as the squad is by injury, the excuses sound a lot more empty now. But losing to Ottawa is hardly a rare sight these days, and the team is still fourth in the fall standings. A lot of time to do a lot of good, but is a signing like Dustin Corea truly the solution to Edmonton's particular woes?
9. Ft. Lauderdale Strikers
The Strikers' bandwagon factor has reached "a thief stole six oxen and two axels" levels. Just as the Midfield Press began to believe Ft. Lauderdale might be emerging as a quiet playoff threat this fall, the Cosmos snapped out of it to hang two first-half goals on the Florida team. The Strikers had PC pushed out to a wider role in the midfield and played Gabriel in a central role. The experiment didn't work as hoped, and Ft. Lauderdale struggled to hold meaningful possession for stretches of the game. Ultimately, it was a loss on the road to what is still a pretty good New York team, and when you have PC and Stefano Pinho on the field together you always have a shot to do something special. But Ft. Lauderdale needs to avoid losing that momentum they enjoyed to start the fall or they will soon find it is far too late for them.
10. Jacksonville Armada
The Armada's naval-fearsomeness factor has reached "Disney cruise" levels. Jacksonville has allowed three or more goals six times this year; three of those instances have come against Minnesota. The club felt they might have turned the ship around after a statement win against the Cosmos, its first in a couple of months, then appeared to have another big three points in pocket against in-form Minnesota before conceding the draw through two late goals. The team should take heart in scoring three; they'd only scored once all fall heading into Friday. But what could have been momentum was instead a momentary exhale. This is not a good soccer team.
11. San Antonio Scorpions
The Scorpions' mascot-terror-alert factor has reached "code brown" levels. San Antonio managed not to allow any goals over their bye week, but the previous stretch of nine goals allowed in three games has the club looking up at four teams who did play this weekend, lost or blew wins, and still sit higher. Now the team must come back from vacation to face surprise conquerors Atlanta and maybe-resurgent New York, all on the road. But I hear the river walk is nice in San Antonio, so they'll always have that.
Disagree with our rankings?  Let us know in the comments.