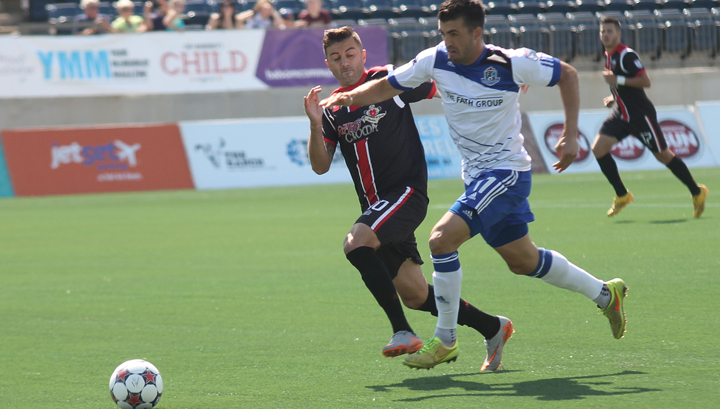 Recap: Stoppage Time Goal Lifts Fury Past Eddies
FC Edmonton 0 – 1 Ottawa Fury
Goals:
90+' – Rafael Alvez (OTW)
Major Themes:
– After such a strong initial start to the Fall Season, FC Edmonton loses its second game in a row at home, much to the dismay of fans. The Eddies have dropped from 2nd in the tables down to 4th.
– Neither team could find the back of the net during the first half of the match, resulting in a 0 -0 scoreline as the players went into the locker rooms. That isn't to say there was no effort, as both teams went back-and-forth on multiple opportunities. However, it's safe to say the Ottawa Fury applied the most pressure during the match, forcing FC Edmonton on the back heel.
In Form:
– Rafael Alvez (OTT) – Good on Alvez for recognizing that the area near the bottom right post of the goal was the spot to direct his header given no defender was there (more on that in a bit). His effort gives Ottawa three points and keeps the Fury at the top of the Fall and Combined Season tables.
– Matt VanOekel (FCE) – The Eddies' keeper had another great showing, making four key blocks and preventing the Fury from scoring until Alvez's stoppage time goal. However, that goal wasn't so much an error on his part but that of FC Edmonton's backline once again.
Liabilities:
– Kareem Moses (FCE) – It was Moses' responsibility to mark Alvez on the corner kick leading up to the Fury's left centerback. While not taking away from his effort and ability to get onto the ball, Moses left Alvez largely unchallenged on the corner for the last-minute goal.
You Won't See On The Highlights:
– John Smits' Exclusion from the Edmonton squad – 2014's NASL Golden Glove has fallen so far out of favor that he wasn't even on the bench for this home game. Edmonton journalist Steve Sandor confirmed that Smits is healthy but low on the depth chart. The Eddies instead used Tyson Farago, who has played one competitive game for the team, as their backup. I suspect Smits' time in Edmonton will be at an end sooner rather than later.
Lessons Learned:
– Mind The Post – As the commentator in the highlight reel said, why wasn't a defender on the post during the corner kick that led to the Fury's last-minute goal? Had somebody been there, the header from Alvez would have been an easy clearance for the much better result of a draw.